The use of gold leaf can add a lot to your paintings and artwork. I have always loved using gold leaf for my artwork so I use both gold and silver leaf a lot in my paintings.
Gold leaf is a material that is made out of either real gold or bronze. Some gold leaf material can oxidize over time, so when you are painting you may want to take this into consideration. Gold leaf is a very fragile material to work with. It can be messy to work with gold leaf. You can apply the gold leaf onto your canvas by using paint. But you must be sure to give it enough time to dry or you will have problems with your gold leaf application.
Before you decide to use the gold leaf with your paintings, it is good to know a little bit about the gold leaf material.
What is Gold Leaf?
Gold leaf is a material that has been around the art world for centuries. In fact, it was the Egyptians that first discovered that gold could be beaten, pounded or pressed into very thin gold sheets. This allowed the Egyptians and others to put the gold leaf onto a variety of objects.
Here is some general information on the gold leaf material:
Gold leaf is made by pounding or beating the gold into very thin sheets. They call this gold beating.
These sheet of gold can adhere to a variety of materials and can be used in a variety of ways
Gold leaf is usually not glued on but is put on with paint.
Some gold leaf that is used today is actually a gold-copper. This is a bronze and zinc alloy but the gold leaf sheets look just like gold but are actually bronze.
To discover more about gold leaf you can read the blog What is Gold Leafing Used in Home Decor Products? by clicking here.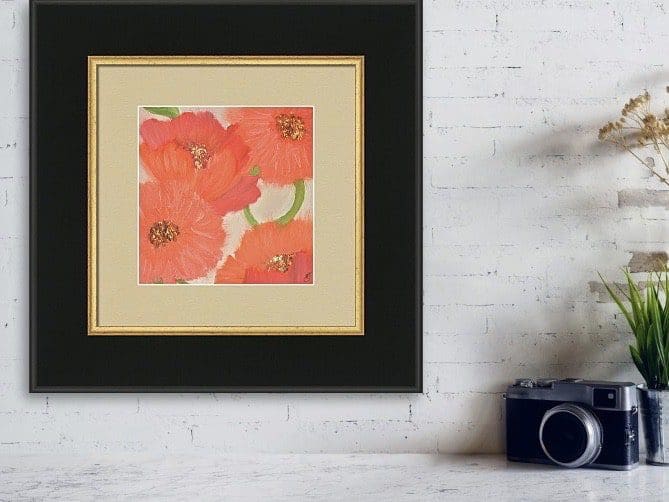 Here are 5 tips that you can use to add a gold leaf to your paintings.
Tip One – Get the right kind of gold leaf.
You can buy the very expensive gold leaf which is actually gold or you can also purchase what is known as imitation gold leaf or bronze gold leaf. I use the bronze gold leaf a lot as it still gives out a nice shine and has the look and color that I want.
The main thing with the gold leaf is the different kinds of gold leaf can have different colors. So you need to be sure the gold leaf you decide to use has the gold color and shade you desire
Tip Two – Some Gold Leaf Can Oxidize Over Time
Many gold leaf materials will oxidize over time. This is part of the natural beauty of the gold leaf. So if you are using gold leaf in your painting you may want to take that into consideration and understand that some gold leaf will probably change color over time. If you are selling your art, you may also want others to also know that could happen.
I happen to like the oxidized look but this is something that you need to understand will happen as the gold leaf is exposed to the air, chemicals and other things like that. If you do not want any kind of oxidization then you will need to look at getting a very good quality 100% gold leaf made from real gold.
Tip Three – Gold Leaf is Fragile to Work With
Gold leaf is very fragile to work with and working with it will take some practice. When you pick it up it can crumble in your hands. This is why they have sheets of paper with the gold leaf as it will help keep the gold leaf sheets separate.
I use the sheets when I am putting the gold leaf on. I will leave the gold leaf on to the sheet and then use my brush to completely rub the gold leaf in place. Once I know the gold leaf is secure then I will take off the sheet. The reason I do this is that I do not want to break the gold leaf during the application and I do not want the gold leaf to get in all my brushes.
Tip Four – There Will Be Wastage When You Work With Gold Leaf
When I am working with gold leaf on my paintings the gold leaf will fly all over the place This is in part because of the way I use it but also the nature of the gold leaf material. Even if you have been in a factory that produces gold leaf home decor products you will find that even when they are applying gold leaf on a flat surface there is always some gold leaf flying in the air.
You need to be prepared for the gold leaf flying about, as the gold leaf can easily get mixed into your brushes, paints, palette, other paintings that are not dry. This is why when I am gold leafing I will do several paintings all at once. This means I just need to clean up one time and I can more easily prepare my painting area for the gold leafing.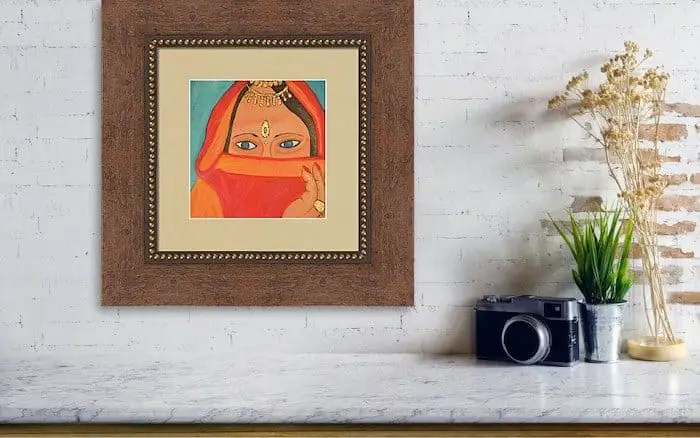 Tip Five – Gold Leaf is Applied With Paint
The gold leaf is applied with paint. I use my regular oil paints to apply the gold leaf. What I will do is I will paint where I want the gold leaf to go then and then apply the gold leaf on top of the paint.
it is also important during this step that your painting is completely dried. The gold leaf will stick to any kind of wet paint. So if your painting is wet it will stick to any paint that is wet. This is also another reason why I will try to brush off as much of the gold leaf as I can. I do not want the gold leaf to stick to other areas of the painting.
Tip Six – You Must Give the Gold Leaf Enough Time to Dry
You must give it time to properly dry. If you are working in oils as I am, you should let the gold leaf dry double the time as you would your oil painting. One reason I make sure it is extra dry is that once you brush off the gold leaf and if it is not dry enough it can mess up your painting.
Tip Seven – You Can Paint On Top of Gold Leaf
If you make a mistake or the gold leaf sticks where it is supposed to you can try to carefully scrape it off or you can also paint over it. I have also taken a black or indigo blue brush and outlined the gold leaf. c
To add some gold leaf to your oil painting is a great way to add some glamour to the painting. It also sets your painting up as being something unique that others may not have or may not be using on their paintings.
Related Questions
How Do You Stretch Your Own Painting Canvas?
At one time or another, most artists will need to learn how to stretch their own canvas. I know it can seem to be very daunting to have to do this when you are first starting out, but it is not as difficult as it may seem.
To stretch your own art canvas you will first need to have all the correct supplies and tools. Then you will need to assemble the stretcher bars on to a frame and put the canvas on the frame with a staple gun. The canvas should be taut and tight like a drum. Once you are sure the canvas fabric is taut or tight as a drum, you can then put the gesso on to the canvas to prepare the art canvas for painting.
You can read our blog A Beginners Guide to Stretching Your Own Art Canvas by clicking here.
Is It Worth It To Sell Your Artwork on Red Bubble?
Many Artists may be like me and what to know if it is really worth trying to sell your artwork on a site like Red Bubble? Like most art selling websites platforms, there is a lot of pros and cons involved in selling your artwork on a website like Red Bubble.
Selling your artwork on Red Bubble has some pros and cons. Among the pros are that is free, easy to use, has a global audience and a great variety of products that they give you some really good marketing materials with. You can also link your Red Bubble store to your website so you can almost immediately start selling your products from Red Bubble with your own website. But with the pros, there are also some cons such as you must be willing to promote yourself within and also outside of the Red Bubble website to sell your products. And that the competition is very high so working to get noticed is difficult and you do not know who has purchased your products.
You can read our blog The Pros and Cons of Selling Your Artwork on The Red Bubble Website by clicking here.