When I was in Copenhagen, I picked up some Royal Copenhagen porcelain figurines for my mother many years ago. I visited some of the Royal Copenhagen shops in downtown Copenhagen. The shops that carry the Royal Copenhagen brand showed how important Royal Copenhagen is to the identity of Denmark.
Royal Copenhagen is now made in Thailand and Denmark. The pieces of porcelain are still painted by hand by the skilled workers in both their Thailand and Denmark factories. One of Royal Copenhagen's most essential designers was Nils Thorsson. Thorsson was an extremely prolific artist who created many timeless Royal Copenhagen pieces.
Where Royal Copenhagen Is Made And Why
Royal Copenhagen is a name that bears the name of Denmark's largest city – Copenhagen. Today Royal Copenhagen's products are either produced in Thailand or Denmark.
Even though they are produced in Thailand and not all products are produced in Denmark, it can take several years for a very skilled Royal Copenhagen hand painter to be fully trained. Royal Copenhagen manufacture in Thailand because Thailand has the talent, artisans, and other skills needed to produce the quality they require.
The Royal Copenhagen factory is just outside Bangkok, Thailand. The only Royal Copenhagen still produced in Denmark is the Flora Danica Series – the other items are now created in Thailand.
Finding people who can paint high-quality porcelain is not easy, and I would assume that finding those hand painters in Denmark is now quite difficult.
From first-hand experience in dealing with many porcelain and ceramic hand painters for my work with Mondoro, I know that it is not always easy to train qualified hand painters. Just because someone can paint does not mean they have the skills to paint porcelain figurines and other objects.
Royal Copenhagen uses excellent brushes made from the hair of the cows' ears. Even today, some of the best-quality brushes use hair from oxen or cows. Training hand painters to paint using the brushes and to paint the fine hand painting without any error is very difficult.
Even if the Royal Copenhagen is now produced in Thailand, the technique, skill, training, and quality have all been transferred over from Denmark. The Thailand factory and products are the same standards as the Royal Copenhagen factory in Denmark.
Besides, finding and training skilled hand painters in Thailand would be much cheaper for Royal Copenhagen to produce their products in Thailand than in Denmark; the labor and other costs in Denmark would be extremely high, which would also mean they would have to sell their products at a very high rate.
Producing their products in Thailand also allows Royal Copenhagen to remain more competitive while also producing and selling high-quality products. Otherwise, the products would be so highly-priced that most people could not afford them.
So even though Royal Copenhagen bears the name of Copenhagen, most of its figures and art are produced in Thailand. Their designs come from Denmark; one of their most essential designers was Nils Thorsson.
Nils Thorsson & The Royal Copenhagen Designers
One of Royal Copenhagen's important designer is Nils Johan Thorvald Thorsson. Thorsson was a ceramist, glasswork, potter, and designer who lived from 1898 to 1975.
Nils Thorsson was born in Eslov, Sweden, Skane county, in the southern part of Sweden. Even though he was born Swedish, he went to train at the Technical High School in Copenhagen and later became an apprentice at the Royal Copenhagen in 1912.
Thorsson graduated as an apprentice from the Royal Copenhagen academy in 1917. He went on to work his way up in Royal Copenhagen while becoming one of their most prolific and essential designers.
He became the artistic director of Royal Copenhagen from 1949 and was also the creative director of Alumina from 1928 to 1969.
About Aluminia Factory And Royal Copenhagen
Aluminia was a Danish factory for salience or earthenware. The factory was established in Copenhagen in 1863. In 1882 the owner of Aluminia purchased the Royal Copenhagen porcelain factory.
The same owners owned the Aluminia factory and the Royal Copenhagen factories for a long time. Still, each factory was independent and sold their products under their respective names, i.e., Aluminia and Royal Copenhagen.
In 1969 the name Aluminia was dropped, and the products are all now sold under the mark "Royal Copenhagen Denmark Fajence."
Nils Thorsson was an essential designer for Aluminia and Royal Copenhagen brand names.
Nils Thorsson's Important Collections And Artwork
Nils Thorsson believed in the Danish style of simplicity and functionality. His belief in this kind of work can be seen throughout this artwork.
Some of Nils Thorsson's most important works of art include:
Solberg Designed By Nils Thorsson, (Royal Copenhage- 1930s)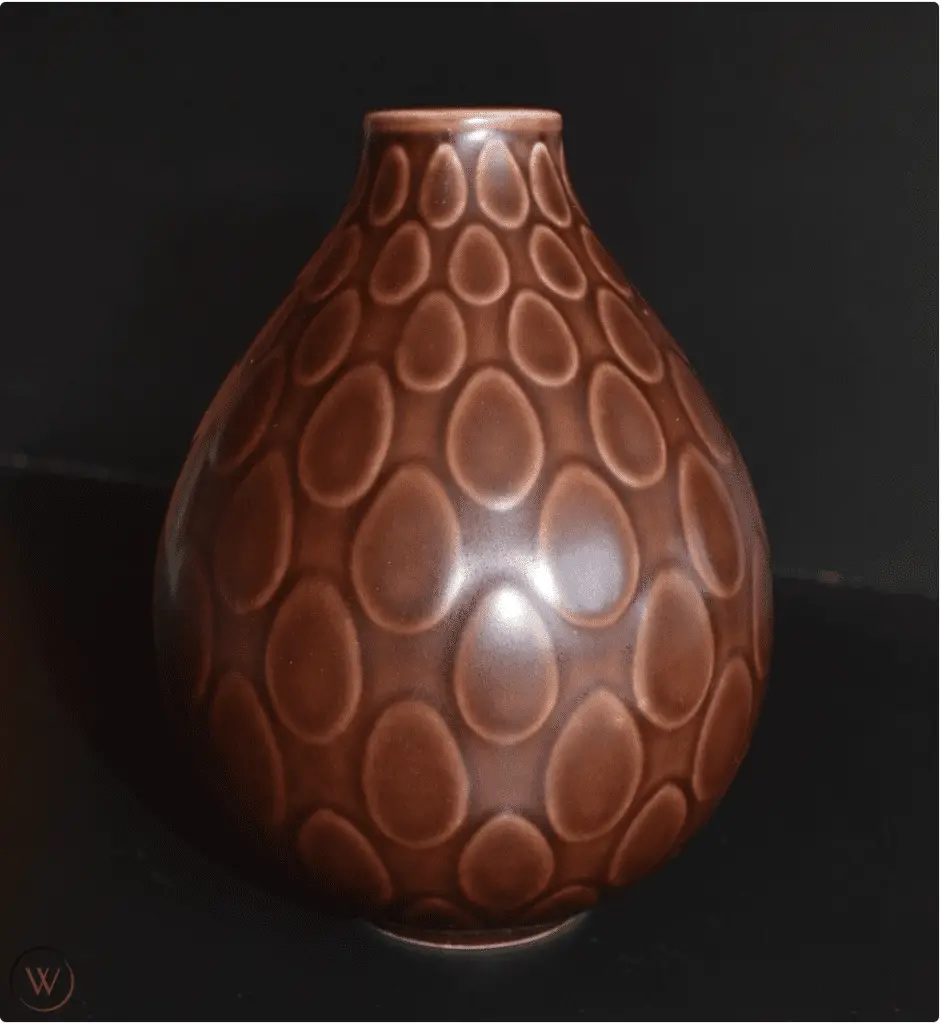 Marselis – Created by Nils Thorsson and has the Aluminia name (1950's)
Tenera Collection, created by Nils Thorsson (Royal Copenhagen, the 1960s)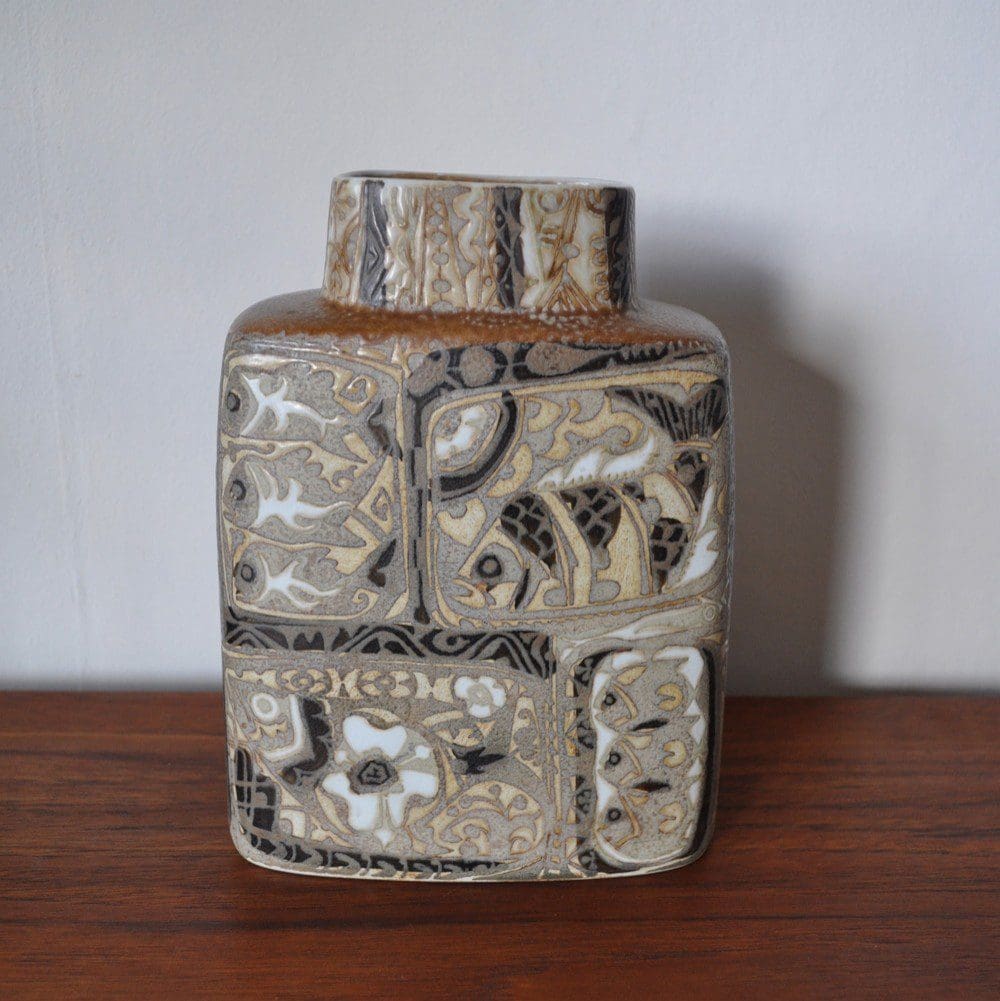 Baca Designed by Nils Thorsson, (Royal Copenhagen, 1960s and 1970s)
The truth is that Nils produced so many great works of art while at the Royal Copenhagen and Aluminia it is hard to highlight them all. He understood the trends and fashion of the times and made works of art considered masterpieces.
Many of the pieces he created are also considered to be timeless. For example, the Baca and Tenera collections remain some of Royal Copenhagen's most famous works as they are a prime example of mid-century modernism.
Thorsson was an extremely prolific designer and artist. His motif in designs went from naturalistic to abstract geometric designs. He embraced all kinds of motifs such as birds, fish, and butterflies.
Thorsson is an artist that should be celebrated, not only for his unique works of art but also his ability to create so many timeless and essential works of art that continue to inspire artists today.
Anita Louise Art is dedicated to art education, great artists, and inspiring others to find and create their art. We love art that uplifts and inspires. #ArtToMakeYouSmile! #ArtToMakeYouHappy!
If you are interested to see any of my art, you can find out more by clicking here. If you are interested in what inspires me and my paintings, you can discover more by clicking here.
We have a free newsletter and would love you to be part of our community; you can subscribe to the newsletter by clicking here. If you have any questions, I would be happy to talk to you any time. You can reach me, Anita, by clicking here.

Subscribe to our Anita Louise Art YouTube Channel filled with great videos and information by clicking here.
Related Questions
Fine Arts Vs. Craft, Is There A Difference?
Fine art is a broad term that encompasses many art forms, from the visual to the written word. Dance, music, theatre, painting, writing, poetry, and sculpture would all be under the fine art umbrella. Craft is about objects made by hand and usually refers to quilting, knitting, pottery, sewing, and woodworking.
By clicking here, you can learn more by reading Fine Arts Vs. Craft, Is There A Difference?.
Where Did Art Come From?
The more you study art, the more you learn about yourself, cultures, and people who have gone before you. Art has been around for thousands of years.
Many historians believe art started first in Africa; many ancient art forms have been found worldwide. Cave dweller's art is some of the earliest forms of art. Many cultures put art on their bodies through tattooing and other art forms.
By clicking this link, you can discover more by reading Where Did Art Come From?.