Leonardo da Vinci, one of my most admired artists, is credited with creating some of the world's most monumental paintings.
Famed for his work, da Vinci was more than just an artist – he embodied the essence of a Renaissance man through his prolific inventiveness. His lifetime saw an array of designs that, at the time, may have been deemed imaginative. Still, their practicality is evident in everyday objects such as parachutes, airplanes, and helicopters. Astonishingly, da Vinci envisioned these possibilities back in the 15th century. As we delve deeper, we will unfold why da Vinci is lauded as a quintessential Renaissance man and an inventive genius.
Table of Contents
Why Leonardo da Vinci Is The Renaissance Man?
"Renaissance man" is often associated with individuals with diverse knowledge and skills in various disciplines. One name that epitomizes this idea is Leonardo da Vinci. While renowned as a brilliant artist, da Vinci's contributions to science, technology, and invention are equally remarkable.
His sketches and designs showcased his visionary thinking, offering glimpses into a world of possibilities far beyond his time. We will delve into some of Leonardo da Vinci's most famous inventions, exploring their significance and lasting impact on our world.
Flying Machines: Pushing The Boundaries Of Flight
Anemometer By Leonardo da Vinci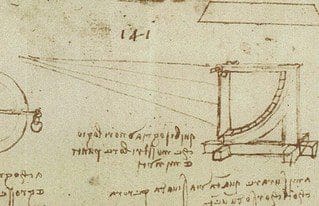 Among da Vinci's inventions was the anemometer, a device used to measure wind speed and direction. This invention showcased his keen interest in meteorology and his desire to understand the natural forces at work in the world around him.
Today, anemometers are widely used in weather forecasting, aviation, and environmental monitoring.
Flying Machine By Leonardo da Vinci
Leonardo da Vinci's fascination with flight led him to design a flying machine, envisioning human beings soaring through the skies like birds. Although his flying machine was never built, it laid the foundation for modern aircraft development.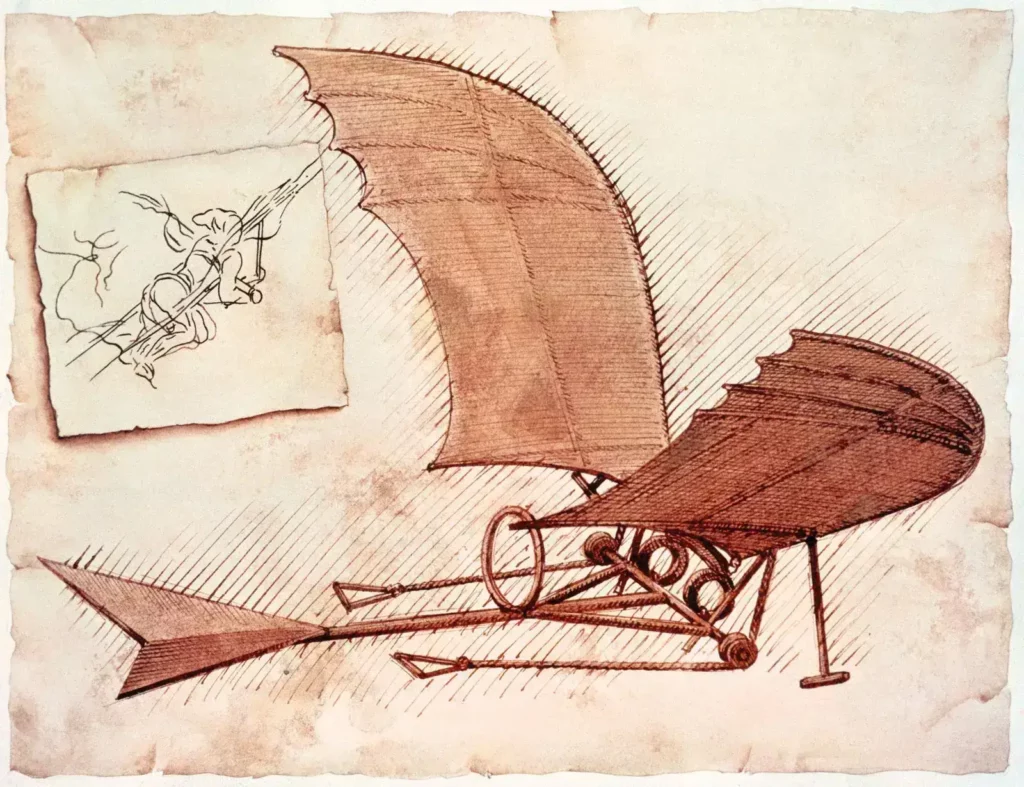 His concepts and principles influenced subsequent inventors, ultimately leading to the invention of the airplane.
Helicopter (Aerial Screw) By Leonardo da Vinci
Another groundbreaking invention of da Vinci was the helicopter, or what he referred to as the "aerial screw." This device resembled a large screw and was intended to achieve vertical flight.
While his design never flew, it established the basic principles of rotorcraft, paving the way for the future development of helicopters.
Parachute By Leonardo da Vinci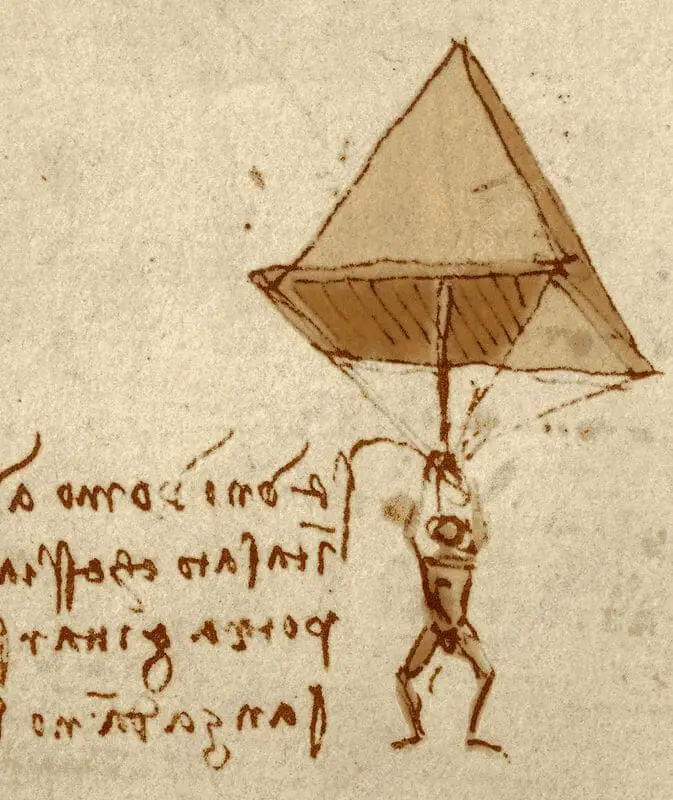 The parachute is yet another remarkable invention attributed to da Vinci. His design featured a pyramid-shaped frame covered with cloth and a harness for the person using it.
Although not proven to have been tested during da Vinci's time, his parachute design became a precursor to the life-saving devices we rely on today.
War Machines: Engineering For Defense
33-Barreled Organ By Leonardo da Vinci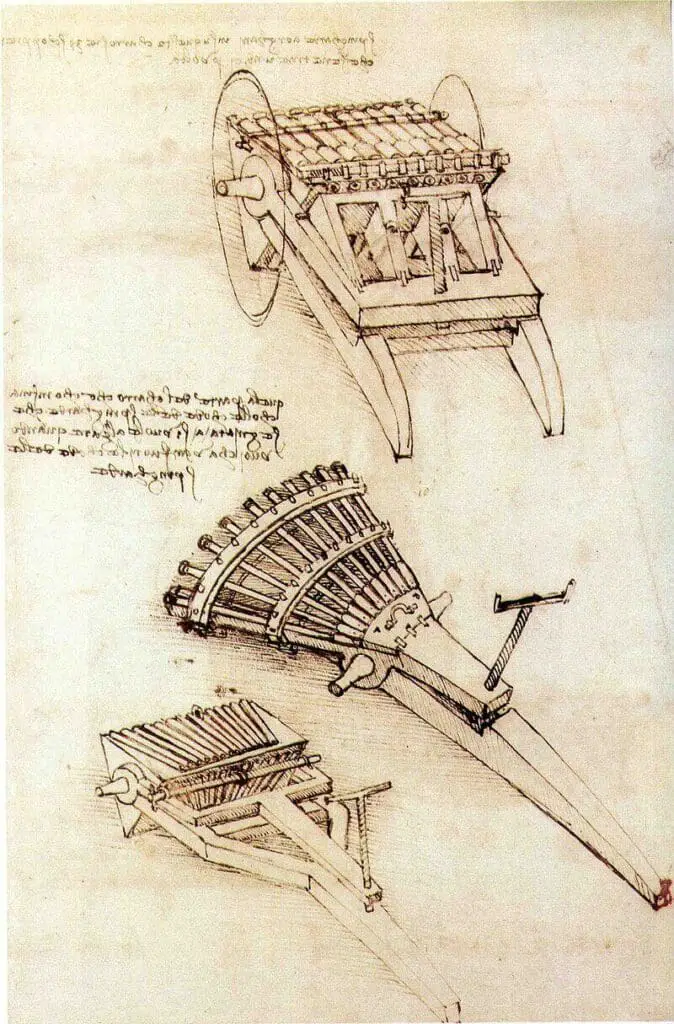 One of da Vinci's war machine inventions, the 33-barreled organ, was a multiple-barreled cannon capable of simultaneously firing a volley of projectiles. This invention demonstrated his understanding of military tactics and innovations in weaponry, setting the stage for advancements in artillery technology.
Armored Car By Leonardo da Vinci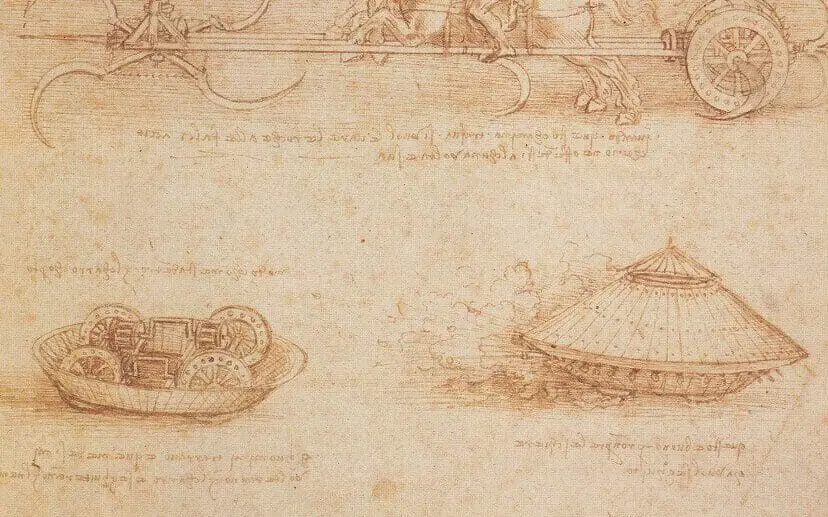 Da Vinci's armored car design was a precursor to modern tanks. It featured a covered vehicle with multiple cannons mounted on its sides.
Although the technology to construct such a vehicle did not exist during his time, his concepts influenced the development of armored vehicles in later centuries.
Giant Crossbow By Leonardo da Vinci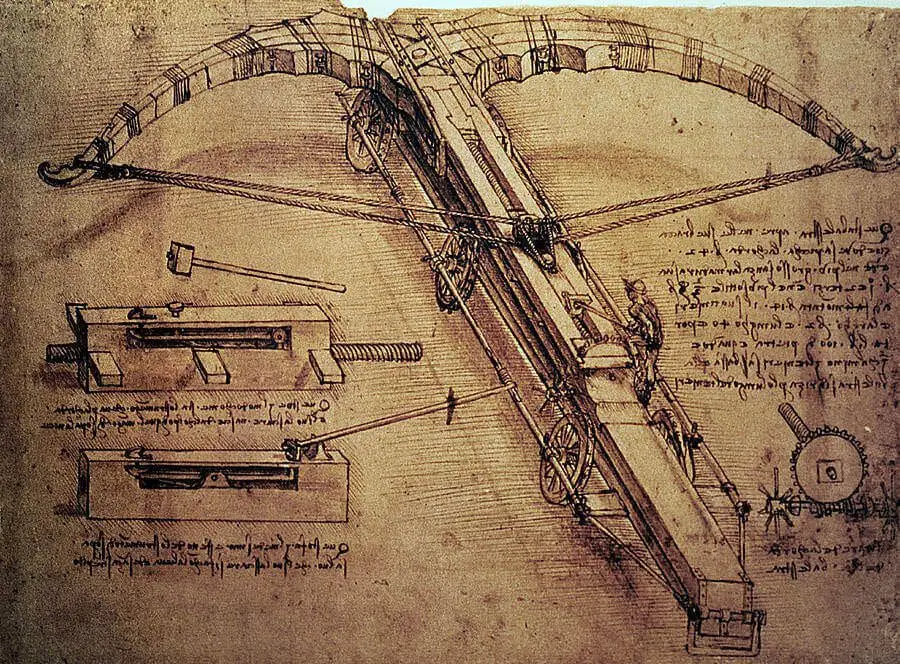 Leonardo da Vinci's giant crossbow design aimed to create a more powerful and effective weapon for warfare. His meticulous drawings and calculations showcased his engineering prowess and influenced the development of artillery and siege weaponry.
Triple Barrel Cannon By Leonardo da Vinci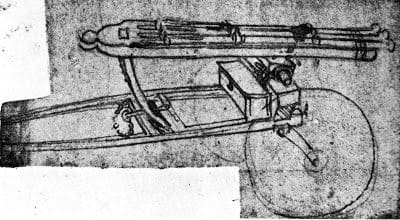 The triple barrel cannon, as imagined by da Vinci, incorporated three cannons mounted on a rotating platform. This innovation allowed for quicker reloading and increased firepower, providing a glimpse into the future of artillery technology.
Architectural Innovations: Merging Art And Engineering
Clock By Leonardo da Vinci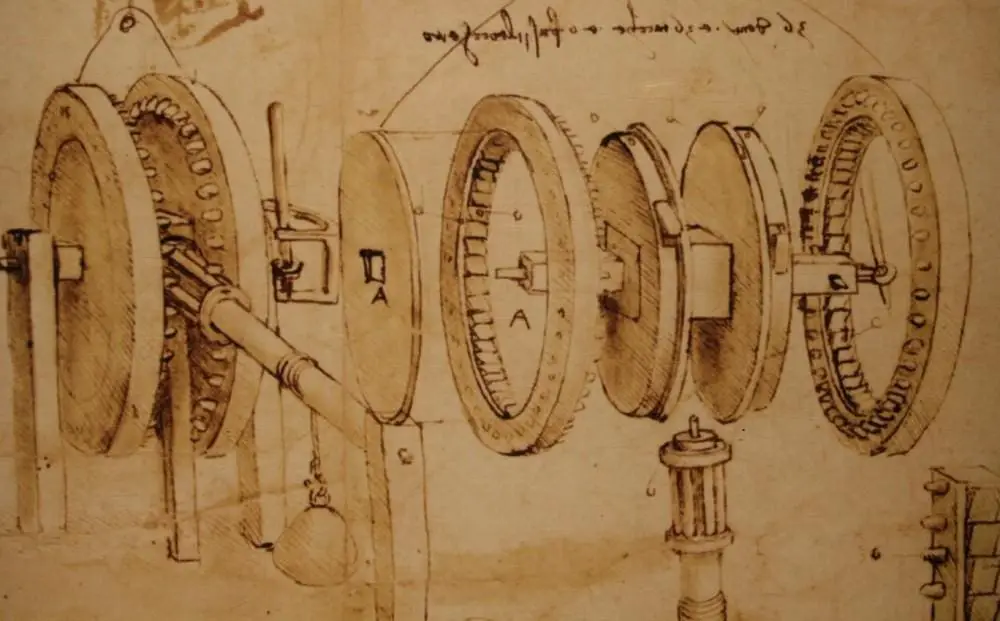 Da Vinci's clock design was a testament to his mastery of both art and engineering. It incorporated intricate mechanisms and displayed the time unconventionally, reflecting his penchant for blending aesthetics and functionality.
Colossus By Leonardo da Vinci
Da Vinci envisioned a colossal bronze horse statue to symbolize the Duke of Milan's military might. While the statue was never fully realized, his intricate sketches and models displayed his unparalleled attention to detail and ability to bring life to his architectural visions.
If he had been able to complete the horse, it would have been an architectural marvel for its time,
Ideal City By Leonardo da Vinci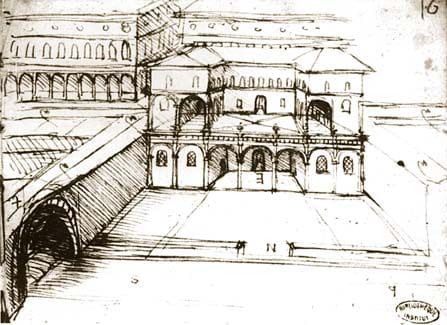 Leonardo da Vinci's concept of the ideal city, also known as the "urban utopia," was a groundbreaking vision for urban planning. His design focused on creating a harmonious and functional cityscape, incorporating geometric layouts, green spaces, and efficient transportation systems.
Although never realized, da Vinci's ideas influenced subsequent urban planners and architects in their quest to create more livable and sustainable cities.
Robotic Knight By Leonardo da Vinci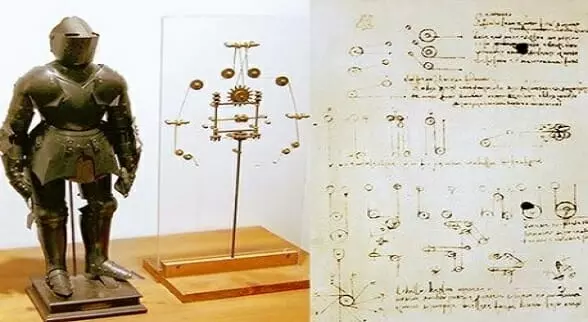 Da Vinci's robotic knight, also known as the "Mechanical Knight," was a remarkable invention showcasing his mastery of mechanics and engineering. This humanoid automaton was designed to mimic human movements and was controlled by a pulleys and cables system.
While the original mechanism was never built, da Vinci's design laid the foundation for future automata and robotics development.
Self-Propelled Cart By Leonardo da Vinci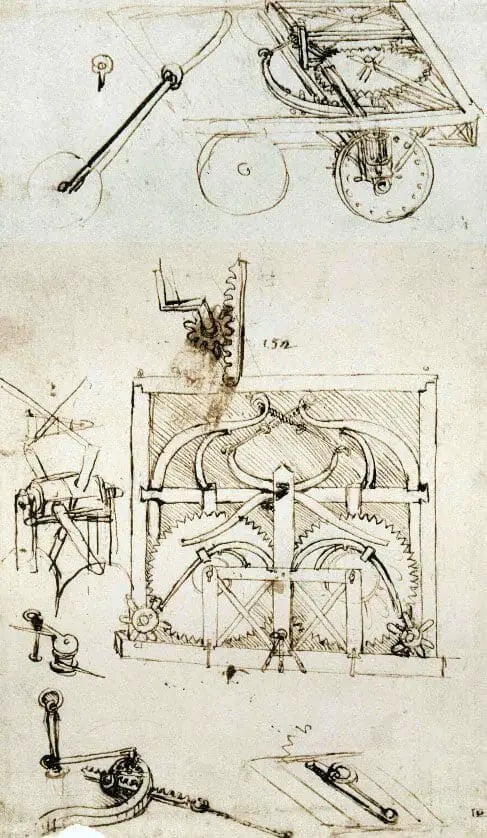 In his quest for innovative transportation solutions, da Vinci conceptualized a self-propelled cart. The design featured a spring-driven mechanism that enabled the cart to move forward without animal or human power.
This invention foreshadowed the development of self-propelled vehicles and contributed to the evolution of transportation technology.
Water And Land Machines: Harnessing Nature's Forces
Scuba Gear By Leonardo da Vinci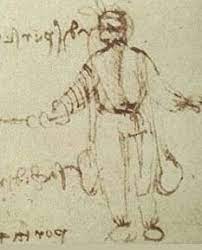 Leonardo da Vinci's scuba gear design displayed his curiosity about exploring the underwater world. His apparatus included a breathing tube connected to a floating device that allowed divers to stay submerged for more extended. While not built during his time, his scuba gear design laid the foundation for modern diving equipment.
Revolving Bridge By Leonardo da Vinci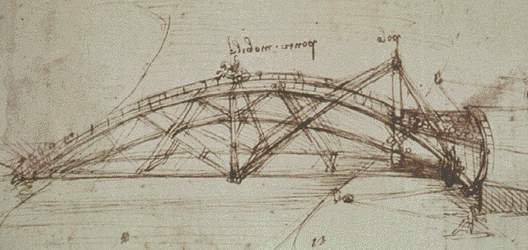 The revolving bridge was an ingenious invention by da Vinci that aimed to provide efficient and flexible river crossings. His design incorporated a mechanism that allowed the bridge to rotate horizontally, enabling boats to pass through without raising or lowering the entire structure.
This innovation improved transportation and navigation on waterways and inspired future bridge designs.
Leonardo da Vinci's inventions reveal a mind that transcended the limitations of his time. His visionary concepts and designs pushed the boundaries of human knowledge and paved the way for future advancements in various fields.
From his exploration of flight and weaponry to his architectural and engineering innovations, da Vinci's inventions continue to inspire and influence modern-day technology and design. His legacy as a Renaissance man, blending art and science seamlessly, serves as a reminder of the power of human curiosity, imagination, and innovation.
Leonardo da Vinci's inventions remain a testament to the enduring impact of one individual on shaping the course of history.
Anita Louise Art is dedicated to art education, great artists, and inspiring others to find and create their art. We love art that uplifts and inspires. #ArtToMakeYouSmile! #ArtToMakeYouHappy!
If you are interested to see any of my art, you can find out more by clicking here. If you are interested in what inspires me and my paintings, you can discover more by clicking here.
We have a free newsletter and would love you to be part of our community; you can subscribe to the newsletter by clicking here. If you have any questions, I would be happy to talk to you anytime. You can reach me, Anita, by clicking here.

Subscribe to our Anita Louise Art YouTube Channel with great videos and information by clicking here.
Join us for our podcast "5 Minutes With Art." Spend just 5 minutes a week with us to discover and learn about great art and artists. You can find out more about our podcast by clicking here.
Related Questions
Is There Any Painting Of The Young Leonardo da Vinci?
There is a painting by Giovanni Cariani (c. 1490-1547) at the National Gallery of Art, Washington DC, called Portrait of Man With a Dog (1520) that some people have said a painting of the younger Leonardo. Leonardo would have already been dead by the time this painting was completed. There is also a little-known artwork called Romanzo di Paolo e Daria by Gaspare Visconti that some feel is making fun of Leonardo da Vinci and his red hair.
By clicking here, you can learn more by reading Is There Any Painting Of The Young Leonardo da Vinci?.
What Inspired Leonardo da Vinci To Paint The Last Supper?
Duke Ludovico Sforza commissioned Leonardo to paint the Last Supper mural. What makes the Last Supper mural so unique is that he painted it at the exact time when Christ told the Apostles during The Last Supper meal that one of them would betray him. Leonardo showed the apostles' reactions, including Judas, who betrayed Christ.
By clicking here, you can learn more by reading What Inspired Leonardo da Vinci To Paint The Last Supper?
Mona Lisa Painting And The Paris Louvre Museum
The Mona Lisa is one of the key paintings of the Louvre Museum. It is one of the most visited paintings in the world. The Mona Lisa is a painting studied, sung about, written about, and spoken about. There is still a mystery surrounding exactly who the Mona Lisa is and why Leonardo da Vinci painted it. This mystery adds to the allure of the painting.
By clicking here, you can learn more by reading Mona Lisa Painting And The Paris Louvre Museum.