Few painters have affected the American Modernist movement as Georgia O'Keeffe, so she is called the Mother of American Modernist Painting. Not only was she a great and prolific painter, but she has left us an amazing legacy of her artwork.
Georgia O'Keeffe was a dairy farm girl from Wisconsin who became one of America's iconic female modernism painters. She had to leave college due to her father's untimely bankruptcy. When she was in school in New York, she met her future husband, the photographer and gallery owner Alfred Stieglitz.
Georgia O'Keefe is well known for her many American western subject matters and oversized flowers that she painted. She had a home and studio in the US state of New Mexico. You can visit her home in New Mexico and the Georgia O'Keeffe Museum in Santa Fe, New Mexico.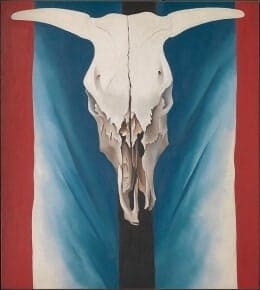 Georgia O'Keeffe, Earlier Years
Georgia O'Keeffe was born on November 15, 1887, in a farmhouse in Sun Praire. Wisconsin. Her parents were dairy farmers. Her father was Irish, and her maternal grandfather was George Victor Totto, a Hungarian count who came to the United States in 1848. She was named after this Grandfather, George.
Georgia grew up in a larger dairy farming family. She was the second oldest of seven children. Even today, Sun Prarie, Wisconsin, is a small town in Wisconsin in an area with many dairy farms, so there is no surprise that the schools she attended were small and limited in resources. But still, by the age of 10, she had already decided that she wanted to be an artist.
Georgia and her sisters Ida and Anita were able to receive watercolor instruction from a local watercolorist named Sara Mann. She attended High School at the Sacred Heart Academy in Madison. Wisconsin from 1901 to 1902. In late 1902 her family decided to move to Peacock Hill in Williamsburg, Virginia, so her father could start a cast concrete block business.
What is interesting about this part of her earlier life is the despite the disruptions of her home life, which included a lot of moving and changing schools, and even living for a time with an Aunt in Madison, Wisconsin, Georgia O'Keeffe continued to develop her artistic talent and interest in art. In 1905 she graduated from the Chatham Episcopal Institute in Virginia (now known as Chatham Hall).
In speaking about her life and living life Georgia O'Keeffe said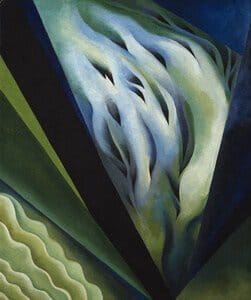 College Education
In 1905 Georgia O'Keeffe started to attend the School of the Art Institute of Chicago and consistently ranked at the top of her class. After just a year at the School of Art Institute of Chicago, she had to leave her studies due to typhoid fever. For one year, she very sick and unable to attend school.
A year later, in 1907, she returned to school but attended the Art Students League in New York City. While at the Arts Students League in New York City, she won many awards and prizes for her paintings.
While in New York City, she took time to visit a lot of museums and art galleries. One of the galleries she visited was gallery 291, co-owned by her future husband and photographer Alfred Stieglitz. This 291 gallery was an important New York gallery. It helped bring photography to the same statue in America as painting and sculpture as it pioneered artistic photographers like Alfred Stieglitz. This 291 Gallery also introduced some of the most Avant-Garde European artists of the time, including Henri Matisse, Auguste Rodin, Henri Rousseau, Paul Cezanne, Pablo Picasso, and others.
In 1908 Georgia O'Keeffe found out that she could no longer finance her studies. Her father had gone bankrupt, and her mother was seriously ill with tuberculosis. She also decided that based on the education she had received so far in her studies, she did not want to be a fine artist due to the mimetic tradition she had been taught with her art training. During this time, art education was mainly one of just copying or recreating what was already in nature.
In fact, Georgia O'Keeffe said this about art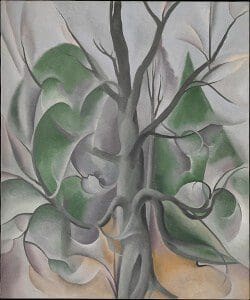 Early Working Career
In 1908 Georgia O'Keeffe left her studies due to her father's bankruptcy, as she was no longer able to continue her education. Georgia worked for two years as a commercial artist in Chicago. Then between 1911 and 1918, she taught art in Virginia, Texas, and South Carolina.
It was during this time when she was working full-time and teaching that she had her summers off. She would use the time during the summer to further her art education. It was Arthur Wesley Down who introduced her to creating works of art based on personal style, design, and interpretation of subjects instead of just trying to copy them. This was a major change in how she approached her art and her artistic pursuits.
In speaking about her artwork Georgia O'Keeffe said
Exhibition of Work and Marriage.
In 1917, Alfred Stieglitz held an exhibition of her work at his art gallery. In 1918, at Alfred's request, she worked seriously as an artist, accepted his financial support, and returned to New York City. Alfred Stieglitz was 24 years old her senior was married.
When they met, Alfred Stieglitz was famous in New York City as the owner of one of the most important and prominent galleries. On the other hand, Georgia O'Keeffe was a completely unknown art school teacher. Alfred Stieglitz helped promote her through his art gallery and gave her a place to exhibit her work.
When Georgia O'Keeffe came to New York City in 1917, this started the first of many photographs that Alfred Stieglitz took. Many of these caused quite a public stir as they were nude photos. When Alfred finally retired in 1937, he had taken over 350 portraits and 200 nude photos of Georgia O' Keeffe. In speaking of the nudes, he had taken of her in 1978, Georgia O'Keeffe said:
In 1924 Alfred Stieglitz divorced his wife Emmeline and married Georgia O'Keeffe. But their relationship was not one of a happily ever after. Georgia wanted children, but Alfred was not interested in having children as he had children from his first marriage.
It could be said that their marriage was quite difficult. By 1927 Alfred Stieglitz had an affair with Dorothy Norman, 22 years old, married, and had a child. In fact, Dorothy Norman was the beautiful young wife of an heir to the Sears, Roebuck & Co department store fortune. For Georgia O'Keeffe to get Dorothy Norman out of their lives was not easy as Dorothy Norman would remain in their lives until the end with her managing some of the galleries and attending to Alfred until he died.
In 1928 Georgia O'Keeffe was hospitalized for depression, and again in 1933, Georgia suffered a mental breakdown. This is said to be in part because Alfred would not give up his affair with Dorothy Norman.
But despite this, Georgia and Alfred remained married. In speaking of Alfred and her work, she said:
So despite any of the hardships they had in their personal lives, her having the approval of her husband Alfred Stieglitz with her work was obviously still very important to her.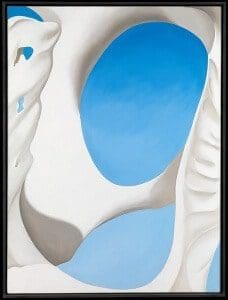 Georgia's New Mexico Retreat
In 1929 Georgia O'Keeffe was 41 years old, and she took her first trip to New Mexico by train with her friend Rebecca "Beck" Strand, wife of the modernist photographer Paul Strand. Georiga had found out about her husband's affair with Dorothy Norman. Many feel this was her way of rebelling by refusing to spend the summer with his family at St George in New York; instead, she went to New Mexico. After all, by this time, she was starting to become known as a premier American Modernist painter.
Georgia and Rebecca were met at the train station by the art patron Mabel Dodge Luhan, who had persuaded them to travel with her to Taos, New Mexico. Georgia O'Keeffe fell in love with New Mexico as she recalled:
From then on, Georgia O'Keeffe started to paint the landscape, flowers, and other things native to New Mexico. So much so that many times, this part of New Mexico is called "O'Keeffe Country" as she spent her time in New Mexico painting and exploring the countryside in her Model T Ford.
Some speculate that her love for New Mexico and the western United States was due to her libration from Alfred Stieglitz and the affair he was carrying on with Dorothy Norman. It could be that it gave her a sense of freedom. But whatever the reason for her coming to New Mexico, there is no doubt that New Mexico played a significant role in her artwork.
In 1940 she moved into a house on Ghost Ranch in New Mexico. And in 1945, she purchased a second house, an abandoned hacienda in Abiquiu, New Mexico. She renovated this into a house and studio.
In the summer of 1946, Alfred Stieglitz died in New York City. Georgia O'Keeffe spent the next few years in New York City settling his estate. But by 1949, she had left New York City behind and moved permanently to New Mexico, spending time between her home in Ghost Ranch and her studio at her Abiquiu house.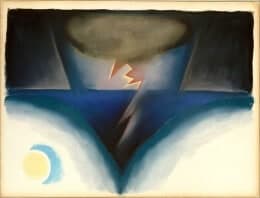 Georgia O'Keeffe, the Woman
Many historians say Georgia O'Keeffe was said to have a kind of "prickly personality," but I see her instead as a woman who may be lived before her time. Her friend, the American photographer Todd Webb also took many photos of Georgia O'Keeffe, and his photos show her as a woman with a kind of quietness and calm. She was known to spend hours out in the New Mexico desert exploring the countryside. Maybe for her, this was the time and place she could get her quiet artistic inspiration.
Later in her life, she was thought by many to be a recluse. She spent a lot of her time alone or on walks with her companion  Agapita Lopez who worked for Georgia O'Keeffe. Her grandfather had worked for Georgia O'Keeffe for many years. Later in life, Georgia O'Keeffe is sai to have said:
It was statements like this and her lifestyle of being alone, walking in nature, and staying mostly clear of the social limelight that may have earned her the name as a recluse. Maybe she was just simply a woman who found more comfort out in the countryside of New Mexico, picking up old bones, skulls, and stones than in the limelight of her fame as an artist.
I also see Georgia O'Keeffe as a woman who was not afraid to live life and to have some adventures. She was known to travel to Europe, go around the world to explore other cultures and places. She also took rafting trips down the Colorado River and even the Glen Canyon in Utah.
Georgia O'Keeffe was not afraid to try new things. In 1973 she hired John Bruce (Juan) Hamilton, a 27-year-old potter, as a live-in assistant and caretaker of her property. Hamilton taught O'Keeffe how to work with clay and also helped her to write her autobiography. She eventually left her estate to him, which was contested in a famous court case by her family.
In the last years of her life, with her eyesight failing, she stopped painted and started to do pottery. On March 6, 1986, she died at the age of 98 years old in Santa Fe, New Mexico.
In speaking about her life and life in general, Georgia O'Keeffe said:
Georgia O'Keeffe, The Legacy.
Georgia O'Keeffe was a prolific artist who has forever left her mark on the art world. She will go down to be one of the greatest women artists of all time.
Here are points to remember about her legacy
She spent over 70 years of her 98 years of life contributing to the American modernist art movement.
She was a member of the Alfred Stieglitz circle that also contributed to the early American modernist movement.
A prolific artist, she made over 2,000 works of art during her lifetime.
She was a pioneering female artist who helped to set the path for other female artists to follow.
She had a strong influence on the women of the feminist art movement of the 1960s. Her work influenced women, feminist movement artists, as Judy Chicago and Miriam Schapiro, who both saw feminist imagery in Georgia O'Keeffe's flowers.
The Georgia O'Keeffe Museum in Santa Fe, New Mexico, is the first museum in the United States to be dedicated to a female artist.
In speaking of her legacy. Georgia O'Keeffe said:
The Georgia O'Keeffe Museum, Research Center and Houses
In July 1997, the Georgia O'Keeffe Museum was open in Santa Fe, New Mexico. The museum also operates the Georgia O'Keeffe home and studio on the Chama River in Abiquiu, New Mexico, about 1 hour north of the Georgia O'Keeffe Museum.
Georgia O'Keeffe Museum
Here are some points about the Georgia O'Keeffe Museum:
The Georgia O'Keeffe Museum gives insight into the creative process of Georiga O'Keeffe and the light and landscape that inspired her.
Besides the Museum, the Georgia O'Keeffe Museum also maintains the two Georgia O'Keeffe homes and studios in northern New Mexico, a research center and library, and various collections relating to Georgia O'Keeffe and modern art.
The museum has over 3,000 artworks comprising of 140 Georgie O'Keeffe oil paintings, nearly 700 drawings, and hundreds of additional works dating from 1901 to 1984. Also, it has work of other American Modernists work.
To find out more about the museum or to plan your visit to the Georgia O'Keeffe Museum you can click here.
Georgia O'Keeffe Research Center
As part of the Georgia O'Keeffe Museum, there is also a Georgia O'Keeffe Research Center.
The purpose of the research center is to:
The Research center was open in 2001 and served as the intellectual hub of the Georgia O'Keeffe Museum.
Its purpose is to promote and sponsor research and conversation about Georgia O'Keeffe, Alfred Stieglitz, the Stieglitz Circle, and their modern art contemporaries.
The research centers goal is to promote research from the 1890s to modernist art, architecture, design photography, music, and literature.
The research center has a library and archive collections that are open to the public by appointment only.
You can find out more about the Georgia O'Keeffe Research Center in Santa Fe, New Mexico by clicking here.
Georgia O'Keeffe Home and Studio in Abiquiu, New Mexico
The museum owns the Georgia O'Keeffe home and studio in Abiquiu, New Mexico. This home and studio is about 1 hour north of Santa Fe, New Mexico, along the Chama River in Abiquiu, New Mexico,
This home is considered one of the most important artistic landmarks in the United States and is a registered National Historic Landmark.
The home is open to the public but by appointment only, so if you plan to visit Georgia O'Keeffe's home, you will need to make an appointment. You can find out more about booking an appointment with the Georgia O'Keeffe Abiquiu, New Mexico home by clicking here.
Georgia O'Keeffe Home At Ghost Ranch
Ghost Ranch is a 20,000-acre educational retreat operated by the Presbyterian Church. It is a partner with the Georgia O'Keeffe Museum. You can visit Ghost Ranch to see some of the scenery that inspired Georiga O'Keeffe. You can find out more about how to plan a visit to Ghost Ranch by clicking here.
Georgia O'Keeffe had a home in Ghost Ranch, and though it is an asset of the museum, it is not open to the public for viewing. You can read more about it and watch a video about the Georgia O'Keeffe Ghost Ranch property by clicking here.
When speaking about the American modernist art movement, Georgia O'Keeffe's name comes to mind. She left a legacy in the American modernist art movement that was profound and prolific. Because she lived a long life and spent over 70 years of that time creating great works of art, we have been left with many of her wonderful works of art to view and get inspired by today.
Related Questions
What is the American Modernism Art Movement?
The American Modernism Art Movement was artistic and cultural in the early 20th Century. With the main cultural focus of the art movement between World War 1 and World War II. During this period, art was considered a part of a kind of experimentation.
It is also said that the birth of the American identity influenced the American Modernism Art movement. as American cities were experiencing population booms an America was becoming a country with a uniquely American culture. So when you take all this together, you can also see why artists like Georgia O'Keeffe, who were painting some western American scenes were so popular.
What is the Definition of Modernism?
The Oxford dictionary defines modernism as: