Gustav Klimt is still remembered as one of the greatest decorative painters of the 20th century. He also painted one of the century's most erotic pieces of art.
Another painter known to have the same style as Gustav Klimt is the Austrian artist Egon Schiele. Schiele was Klimt's protege; you can see the similarities in their styles when you compare some of their art work. Both of them influenced the Vienna Modernism movement.
Egon Schiele Had A Similar Style To Gustav Klimt
When we talk bout an artist with a similar style to Gustav Klimt, we need to talk about Egon Schiele. Egon Schiele and Gustav Klimt had a mentor-student relationship throughout their artistic careers. From copycat styling to love triangle rumors, their story is told in many of their paintings.
Egon Schiele Was Gustav Klimt's Protege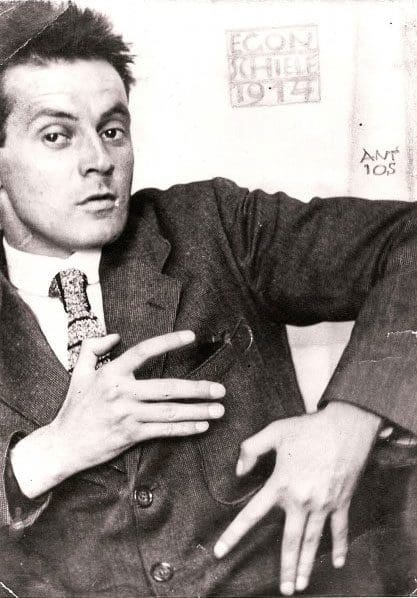 Egon Schiele and Gustav Klimt were two giants of the Viennese modernism movement. They had an overlapping artistic style that gave a rebirth to the Viennese art scene.
In 1907 Schiele saw Klimt as his artist idol and sought him out. Schiele came to Vienna as a child protege and quickly absorbed the life in Vienna; Schiele quickly gained an appreciation for not just Klimt but many of the older artists in Vienna.
The two fostered an artistic friendship, and what some have eluded to was also a love triangle. With 30 years between them, Klimt was born in 1862 and Schiele in 1890; these two formed an unlikely friendship and artistic alliance.
Love Triangle With Valerie (Wally) Neuzil
Klimt took Shiele under his wing. He introduced him to the elite of Austria, art galleries, and other artists. He introduced him to Valerie (Wally) Neuzil, a model for Klimt, who was thought to be his mistress at one time.
Some say that Wally was never Klimt's mistress, but we know that Klimt was notorious for sleeping with most of his models. Still, there is no written documentary evidence to verify that Klimt and Wally were ever lovers, but just Vienna-based rumors.
In 1911 Wally moved with Shiele to Krumau in the Czech Republic; this started a four-year love affair with him. Their time in the Czech Republic was plagued with issues and rumors; Schiele, like Klimt, was notorious for sleeping with his young art models.
Similar Paintings Between Schiele And Klimt
Many paintings of Schiele and Klimt show similarities and similar styles. Not only did they paint similar paintings, but also many times painted the same subject matter.
Schiele was determined to have his artistic voice, but he also saw himself as the successor to Klimt. Schiele's ideas about the purpose and meaning of art always remained deeply inspired and tied to Klimt's ideals.
They both felt that being an artist was more than just the art, but they saw themselves as a kind of prophet or seer whose role was to link communities, individuals, and art lovers together.
Some artworks show how similar they were in their painting, subject matter, and style.
The Hermits By Egon Schiele 1912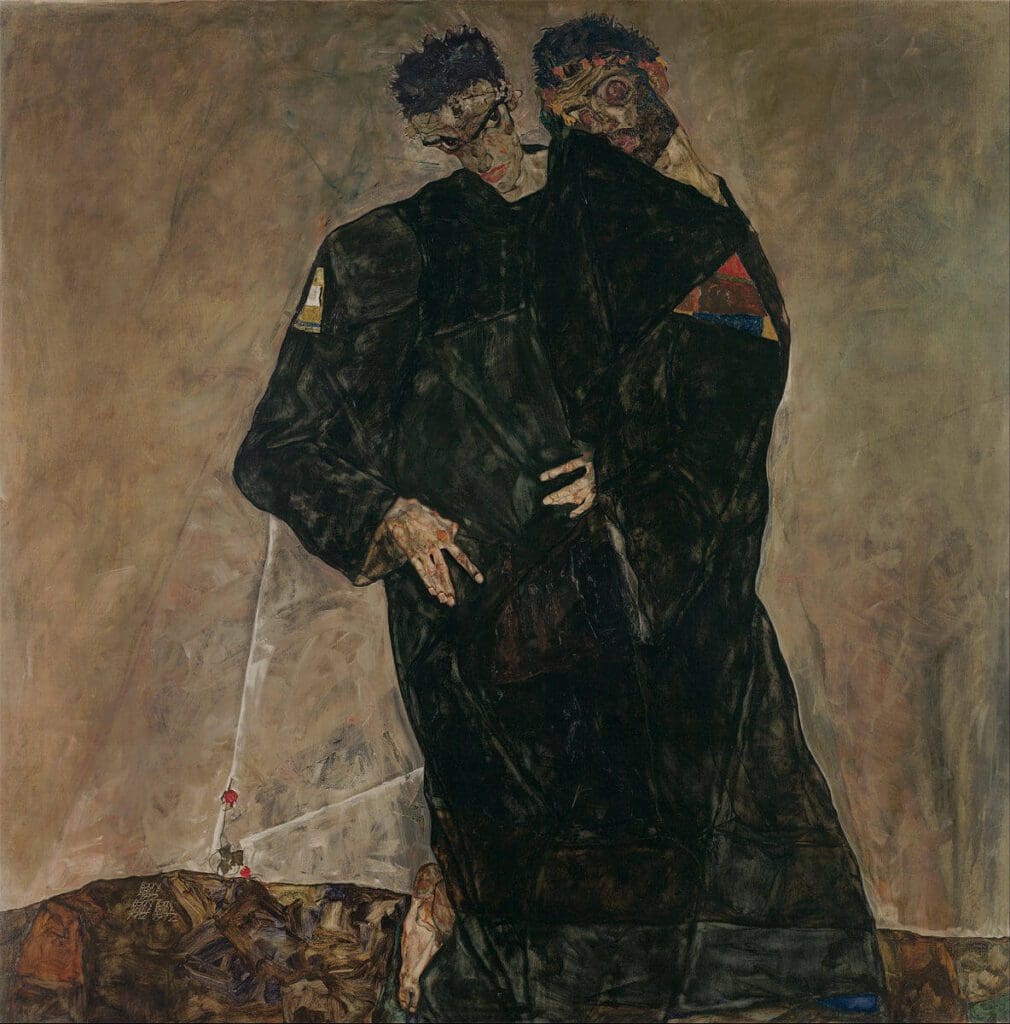 Perhaps no other painting shows how Egon Schiele felt his destiny was merged with Klimts than his 1912 painting of The Hermits; this painting shows two figures joined as one by the dark colors of their robes.
The figure on the left is Egon Schiele, and the one on the right, most art critics believe, is his friend and mentor, Gustav Klimt; the painting symbolizes how the two figures merged as almost one.
The Cardinal and the Nun (Caress) 1912 by Egon Schiele and The Kiss By Gustav Klimt (1907)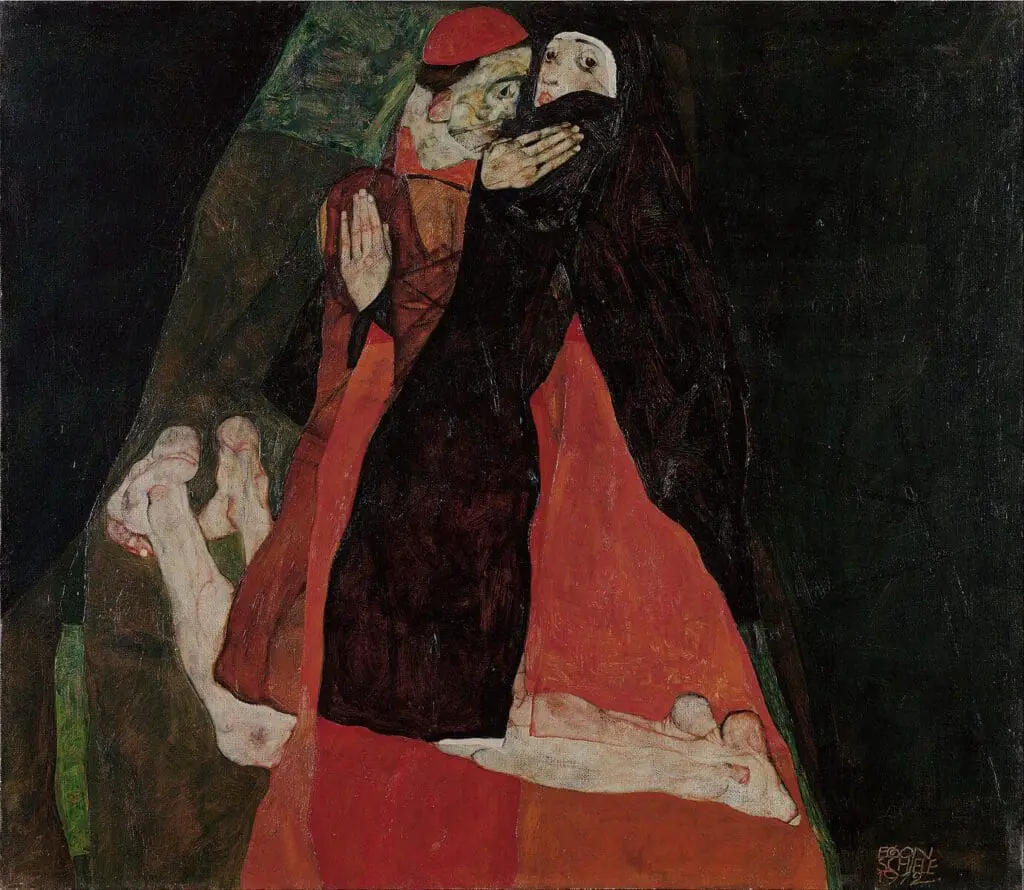 The Kiss is Gustav Klimt's most famous painting of two lovers, a man and a woman symbolically blended into one embrace. The painting has long been a symbol of Klimt's artistic abilities.
A lesser-known painting is Egon Schiele's The Cardinal and the Nun (1912), which shows a Cardinal and his forbidden embrace with a nun. You can see in this painting some similarities to Gustav Klimt's technique of placing two people as one in an embrace.
Potrait of Friederike Maria Beer-Monti by Egon Schiele and Portrait of Friederike Maria Beer-Monit by Gustav Klimt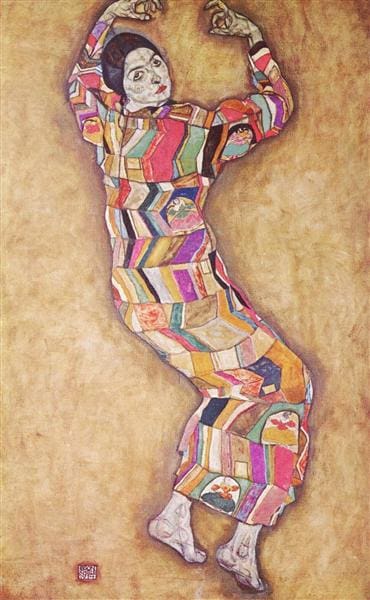 Friederike Maria Beer-Monti (1891 – 1980) was a well-known Austrian-American muse of painters in Vienna. She was known to be a friend of Gustav Klimt.
Egon Schiele first painted her in 1914 in an almost angst, Z-shaped position wearing a zigzag patterned fabric.
She then suggested to Gustav Klimt that he should paint her in the Viennese workshop dress that she wore almost exclusively. She also had a fur coat she was very proud of as she still owned it after the hardships of World War 1. Klimt painted her in both the dress and the fur coat.
Egon And Klimt And Vienna Modernism
Both Klimt and Schiele influenced what is known as Vienna Modernism or Viennese Modernism. They were both at the forefront of this movement; Gustav Klimt was critical to this art movement.
Here are a few things that helped drive the Vienna Modernism Artistic Movement
Clash Between Modern And Tradition – At the forefront of the art movement, Gustav Klimt and Egon Schiele were living in a Vienna that clashed between the modern world and the old traditional world.

Spirit Of Invention – The clash in Vienna of the old and new revitalized the decorative arts movement and beyond. Innovation was starting to blossom everywhere, from Sigmund Freud to architects such as Josef Hoffmann and Adolf Loos; Vienna was transformed into a modern city of ideas and architecture.

Had Far-Reaching Effect On Life In Vienna – The revitalization of the arts had a far-reaching effect on Vienna's society and culture.

Gesamtkunstwerk – The term used is called Gesamtkunstwerk, which means "total work of art." The city of Vienna was fired up for a rival of all kinds of artistic expression.

Human Sexuality – Klimt and Schiele pushed the human sexual form in their artwork. This was in line with other things happening in the city as the teachings of Austrian neurologist and founder of psychoanalysis Sigmund Freud.
Gustav Klimt and Egon Schiele influenced Vienna Modernism and the art scene in Vienna.
The tragedy of Egon Schiele is that he died in 1918 at the young age of 28 years old. Gustav Klimt also died in 1918 at the age of 55 years old.
We could see more of Klimt's artwork and talent than Schiele's as he died at such a young age; we are not sure what kind of artist he would have developed into if he had lived longer.
Anita Louise Art is dedicated to art education, great artists, and inspiring others to find and create their art. We love art that uplifts and inspires. #ArtToMakeYouSmile! #ArtToMakeYouHappy!
If you are interested to see any of my art, you can find out more by clicking here. If you are interested in what inspires me and my paintings, you can discover more by clicking here.
We have a free newsletter and would love you to be part of our community; you can subscribe to the newsletter by clicking here. If you have any questions, I would be happy to talk to you at any time. You can reach me, Anita, by clicking here.

Subscribe to our Anita Louise Art YouTube Channel with great videos and information by clicking here.
Related Questions
Who Was Gustav Klimt Inspired By?
Many people know Gustav Klimt as the artist who produced the famous 1907 painting "The Kiss." The Kiss is the masterpiece of two figures that melt into each other with a hungry embrace. Many artists have been inspired by this artwork and created variations of it.
By clicking here, you can learn more by reading Who Was Gustav Klimt Inspired By?.
Who Is The Vietnamese-American Artist An-My Lê?
An-My Le is an American – Vietnamese artist known for her landscapes that incorporate cultural history and architecture in unique and exciting ways. She has photographed war reenactments and military training exercises through the lens of the complicated beauty of the landscape itself.
By clicking here, you can learn more by reading Who Is The Vietnamese-American Artist An-My Lê?.
Who Was The American Artist Georgia O'Keeffe?
Georgia O'Keeffe was a dairy farm girl from Wisconsin who became one of America's iconic female modernism painters. She had to leave college due to her father's untimely bankruptcy. When she was in school in New York, she met her future husband, the photographer and gallery owner Alfred Stieglitz.
Georgia O'Keefe is well known for her many American western subject matters and oversized flowers that she painted. She had a home and studio in the US state of New Mexico. You can visit her home in New Mexico and the Georgia O'Keeffe Museum in Santa Fe, New Mexico.
You can discover more by reading Georgia O'Keeffe, The Mother of American Modernism Painting by clicking here.