I was recently looking at the Milwaukee Public Art Museum; it was interesting to learn they were exhibiting photography from the Vietnamese-American artist known An-My Le. My curiosity was piqued as I am from Milwaukee, but I live in live Hanoi, Vietnam.
An-My Le is an American – Vietnamese artist known for her landscapes photography that incorporates culture, history, and architecture in unique and exciting ways. She has photographed war reenactments and military training exercises through the photographic lens of the complicated beauty of the landscape itself.
Many of her photographs have been shown all over the world in major museums.
Table of Contents
The Artist An My Le – Vietnam, France and America
An-My Le was born in 1960 in Ho Chi Minh (Saigon), Vietnam. She was born right in the heart of the Vietnam War. Le and her family fled first to France and then eventually settled in the United States.
War would have affected much of Le's life growing up in South Vietnam. Le said that a lot of her life was considered normal in that she got up and went to school, even though the war and effects of the war were constantly all around her. When she got to the United States and saw some footage of the war, she realized how scary the war was.
Infact An-My Le did not start to become an artist. She studied biology at Stanford University, receiving a BA in 1981 and later a MA in 1985.

It was during her time studying biology at Stanford that she discovered photography. Because of the recommendation of a professor, she decided to take a job photographing artisan studios in France in the mid-1980s. Later she decided to attend Yale University and received her Masters of Fine Art from Yale in 1993.
After Le received her MFA from Yale University, she traveled back to Vietnam and started making and producing the kinds of photographs she is known for today. When she returned to her roots in Vietnam, she confronted her past and discovered how our past and history could manifest themselves in landscapes.
She used these landscapes in a sense to tell her own story of her life.
Le's work has been shown worldwide from Baltimore, Chicago, San Francisco, Seattle, New York, Belgium, United Kingdom, to name a few. She has received many awards and author of several books.
You can view An-My Le's work on her website by clicking here.
The Past And How It Shapes Us All
Le's photographs look at how history shapes attitudes and people today. Many of her pictures have to do with war. Of course, that is understandable as war would have affected and shaped her early years in war-torn South Vietnam.
There is no doubt that Le sees history as a way to show the attitudes and actions of people. She photographed Vietnam War skirmishes and reenactments in the forests of North Carolina and Virginia for her book "Small Wars" (1999-2002).
In her series Small Wars, An My Le uses the landscape to understand the consequences of war and the aftermath of war.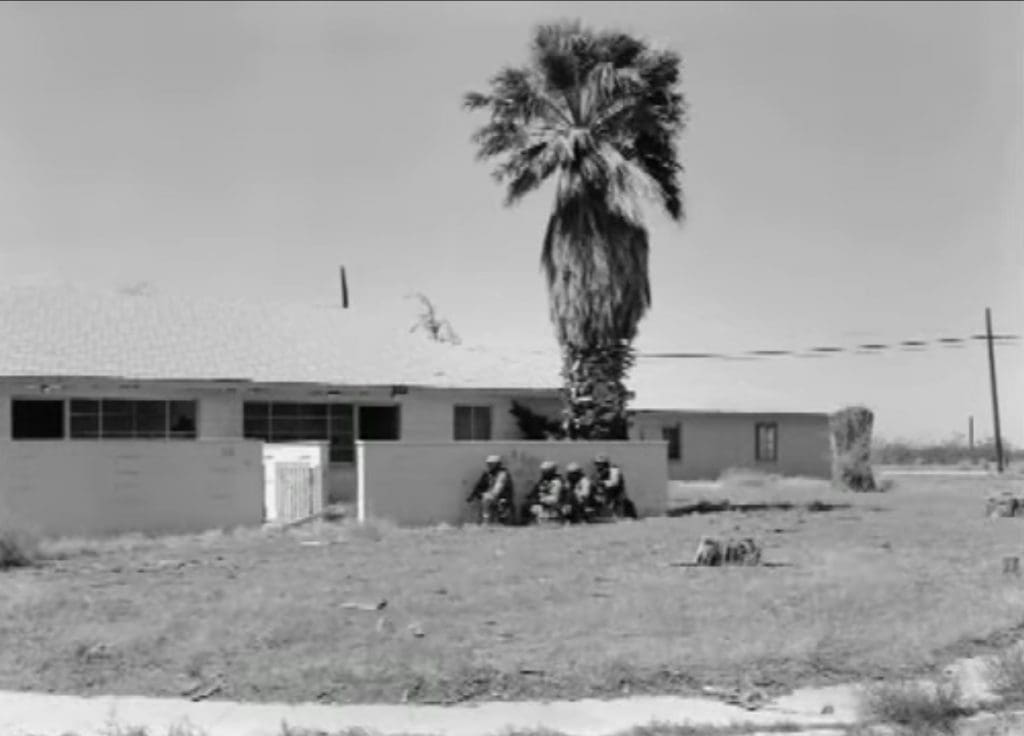 She also photographed the American military personnel in training exercises in Southern California in "29 Palms" (2003-2004). And service members at work in Ghana, Indonesia, and the North Arabian Gulf for "Events Ashore" (2005-2014).
The difference between "Small Wars" and "29 Palms" is that "Small Wars" was about the filming of a battle reenactment, and "29 Palms" was when soldiers were training and doing an actual training or war rehearsal exercise.
Le has also gone to the US-Mexico border to film in West Texas along the Rio Grande and other locations. Le has long had an interest in immigration and some of the US border issues.
Undoubtedly, being uprooted from your home country, immigrating to a new country, and living through war would affect anyone. No doubt war has affected Le and the how and why she is photographing the landscapes the way she does.
In speaking of the war and returning to Vietnam, Le said this in an interview with Brian Sholis for Art in America on how her photographs helped bring a new perspective to her past:
An My Le's Photography
Le has some fantastic photographs. She admits that her photography is there to help her answer some questions or war in her own life and the effect it has had upon her. But unlike many other photographers, she does not use people to tell this story as much as using landscape.
And through her landscape photography, we can discover things about architecture, history, and culture.
Here are elements she uses in her photography:
Incorporates Architecture, History and Culture in Landscapes – Le is able to eloquently incorporate pieces of architecture, history and culture into a photograph. It is a landscape photograph but also there is so much more as it is also a piece of history, culture and even architecutre.

Complicated Beauty – In speaking of her photography and the landscapes Le using the terms "complicated beauty." This is more than just beauty but many times her photographs do not just show a beautiful landscrape but with photograph is also something that is problematic – a partly bombed building, soldiers reenacting war, etc. Beautiful images that have a complicated and even problematic touch to them.

Order and Chaos – Many of her photographs show a sense of order among all the chaos that is going on around it.

Inspired by 19th Century Photographs – If you look at may of the old 19th century black and white photos, especially those with scenes of war as World War 1 or World War II you can see how the photographers many showed a complicated landscape and images. Le draws inspiration from these images.

Black and White -Le purposely shows a lot of her photography in black and white. The black and white gives the photographs a very interesting feel and almost eiry feel. The photographs go back to the feeling of the early 1900s.

Color Photos – Even though many of her photos are black and white Le has an amazing array of photos in color. Le has an inate sense to know when an image is better shown in black and white and in color.

Large Scale – She will show many of her photos in large scale 50″ x 60″ or even larger. This help the viewers to be able to view the entire piece as truly a work of art.
An-My Le is one of these rare artists who has brought something new and creative to the artist's landscape. She is not only a critical artist to continue to watch but one that we continue to see great things coming out of her camera lens as she shows us all a new way to view landscape, architecture, culture, history, and beauty.
Great photographers and artists like An-My Le inspire me. Anita Louise Art is a website dedicated to art education, great artists worldwide, and inspiring others to find and create their art. We look for all kinds of art that are made to uplift and inspire. #ArtToMakeYouSmile! #ArtToMakeYouHappy!
If you are interested to see any of my art, you can find out more by clicking here. If you are interested in what inspires me and my paintings, you can discover more by clicking here.
We have a free newsletter and would love you to be part of our community; you can subscribe to the newsletter by clicking here. If you have any questions, I would be happy to talk to you any time. You can reach me, Anita, by clicking here.

Subscribe to our Anita Louise Art YouTube Channel filled with great videos and information by clicking here.
Related Questions
What Type Of Artist Is The Japanese Artist Yayoi Kusama?
Yayoi Kusama calls herself an obsessional artist or an artist who does stereotypical repetition. Her art does not fit into one single art movement. Kusama calls herself an environmental artist as her art will encompass the entire space, including the walls, ceilings, and floors. A lot of her art is about perspective and infinity that never ends.
By clicking here, you can learn more by reading What Type Of Artist Is The Japanese Artist Yayoi Kusama?.
Who Was The American Artist Georgia O'Keeffe?
Georgia O'Keeffe was a dairy farm girl from Wisconsin who became one of America's iconic female modernism painters. She had to leave college due to her father's untimely bankruptcy. When she was in school in New York, she met her future husband, the photographer and gallery owner Alfred Stieglitz.
Georgia O'Keefe is well known for her many American western subject matters and oversized flowers that she painted. She had a home and studio in the US state of New Mexico. You can visit her home in New Mexico and the Georgia O'Keeffe Museum in Santa Fe, New Mexico.
You can discover more by reading Georgia O'Keeffe, The Mother of American Modernism Painting by clicking here.