Recently I have become very fascinated with the Japanese art style of ukiyo-e woodblock prints. When I look at these woodblock prints and many of the colors and designs used, I am fascinated by how many of these prints are on trend today. One of the great artists of this Japanese art style of ukiyo-e woodblock prints is Utagawa Kuniyoshi.
Utagawa Kuniyoshi was a Japanese artist who was a ukiyo-e art style woodblock print master. His woodblock prints are artistic masterpieces. Kuniyoshi became an artist early in life, but success did not always come easy to him. He eventually became very popular as his artwork influenced the trends and fashions of his day.
Kuniyoshi was known to have produced about 10,000 woodblock prints during his lifetime.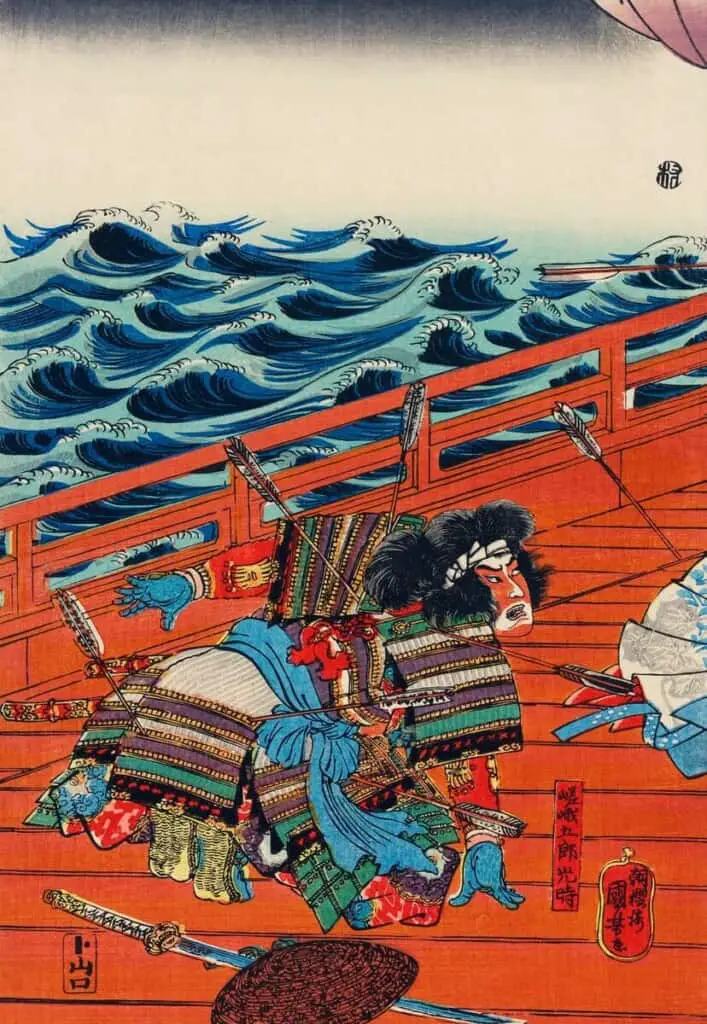 Utagawa Kuniyoshi's Early Life
Kuniyoshi was originally named Yoshisaburo, started very early in life to become an artist. Born in Japan in 1798, his father, Yanagiya Kichiyemon, was a silk dyer. Kuniyoshi would assist his father's business, even at a very young age as a pattern designer. Because he was exposed to the textile business, many people have suggested that he used many textile patterns in his woodblock prints.
At about age 7 or 8 years old, Kuniyoshi became very impressed with the ukiyo-e art style of warrior prints. The pictures of artisans and commoners influenced him. All of these subjects he would put into his own prints.
As early as age 12, Kuniyoshi's talent was brought to the ukiyo-e print masters' attention. He was officially admitted to the Utagawa school at age 13 (1811). He studied there until 1814 and was known to be one of their star pupils.
At the age of 16, he became an independent artist. During this time, he also started to publish his first works of art. He no doubt was one of the most promising young ukiyo-e artists during this period of time.
As is customary, he took on a new name or the artistic name of Utagawa Kuniyoshi. Utagawa was actually the name of the Utagawa School (Utagawa-Ryu)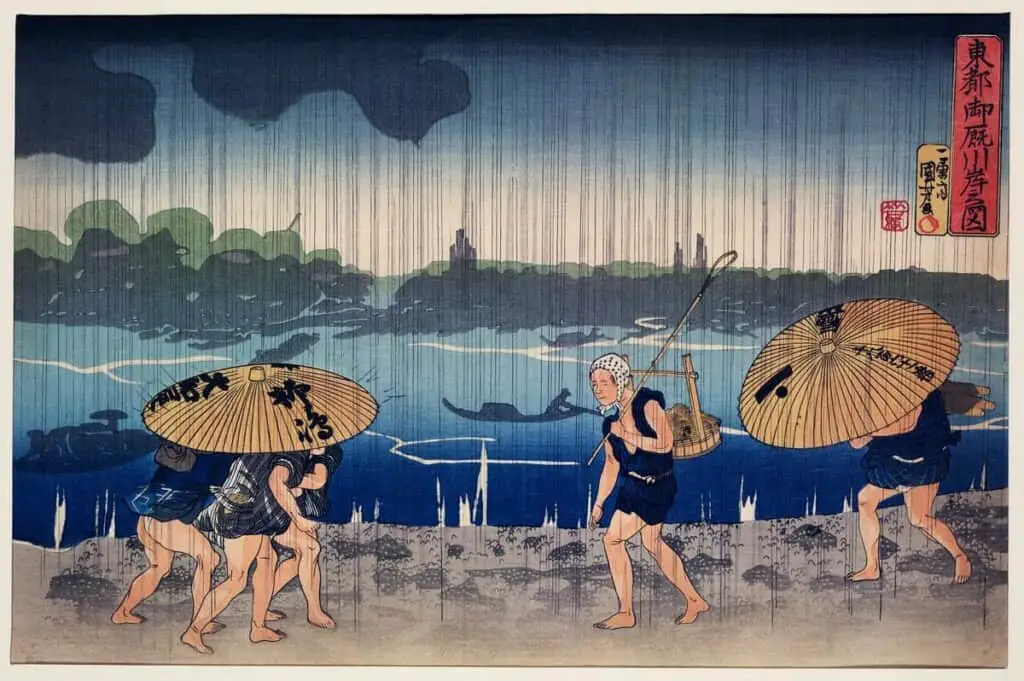 The Utagawa School and Ukiyo-e Art
The Utagawa school was one of the main art schools of the ukiyo-e art movement. Utagawa Toyoharu founded the school. It was one of the largest and most important ukiyo-e art schools for its time. The Utagawa school was so successful that today more than half of the surviving ukiyo-e prints are from this school.
The ukiyo-e art movement is a Japanese art form that flourished in the 17th to 19th centuries. The artist produced woodblock prints and paintings of subject matters such as women, kabuki actors, sumo wrestlers, history, folk tales, travel, flora, fauna, landscapes, and erotica. The word ukiyo-e translates to mean "pictures of the floating world."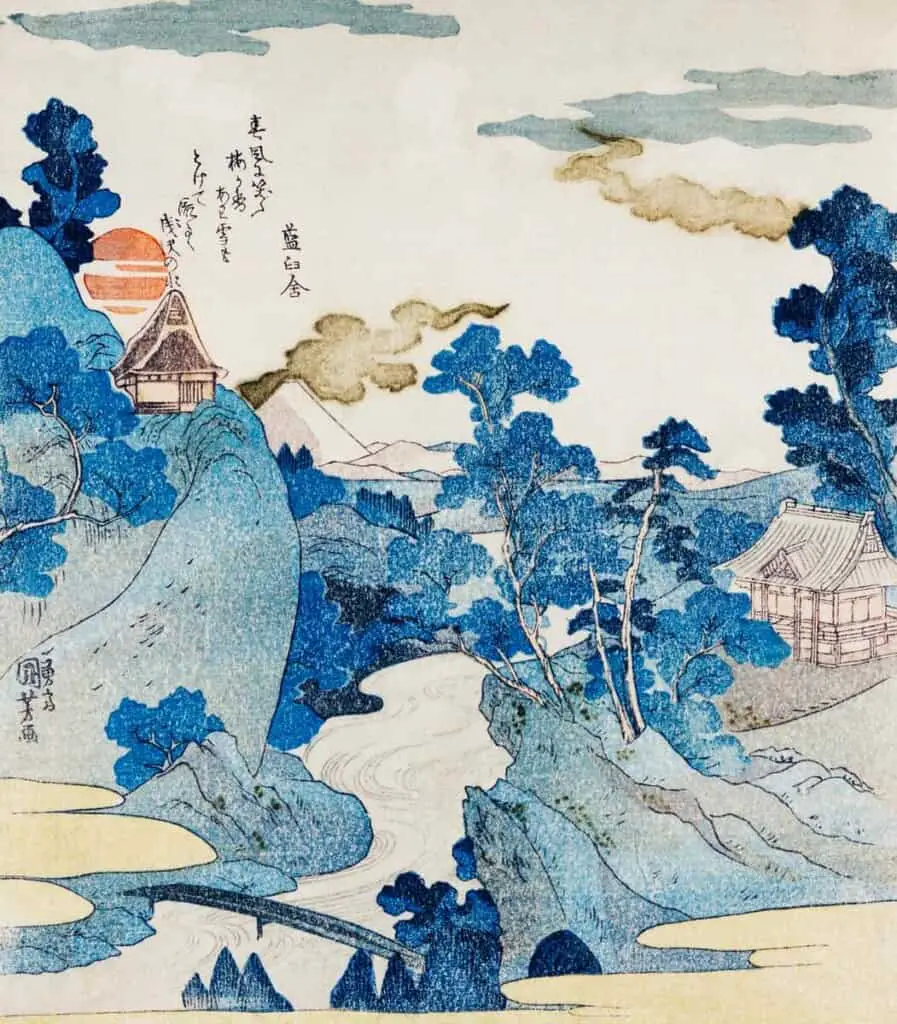 Kuniyoshi's Years of Economic Decline
For some reason, the years 1818 to 1827 were not very productive years for Kuniyoshi. We are not sure if this is due to a lack of paying art commissions from publishers as there was too much competition from other artists or other personal reasons as to why he was not very productive.
At one point, his economic situation turned very desperate. To survive economically, he was forced to sell tatami mats. During this time, a chance encounter with a prosperous former fellow student, Kunisada, led Kuniyoshi to redouble his efforts to produce art and get back into the art world. He rightfully felt he had more artistic talent than Kunisada, yet he suffered so much more economically that he now had to resort to selling tatami mats.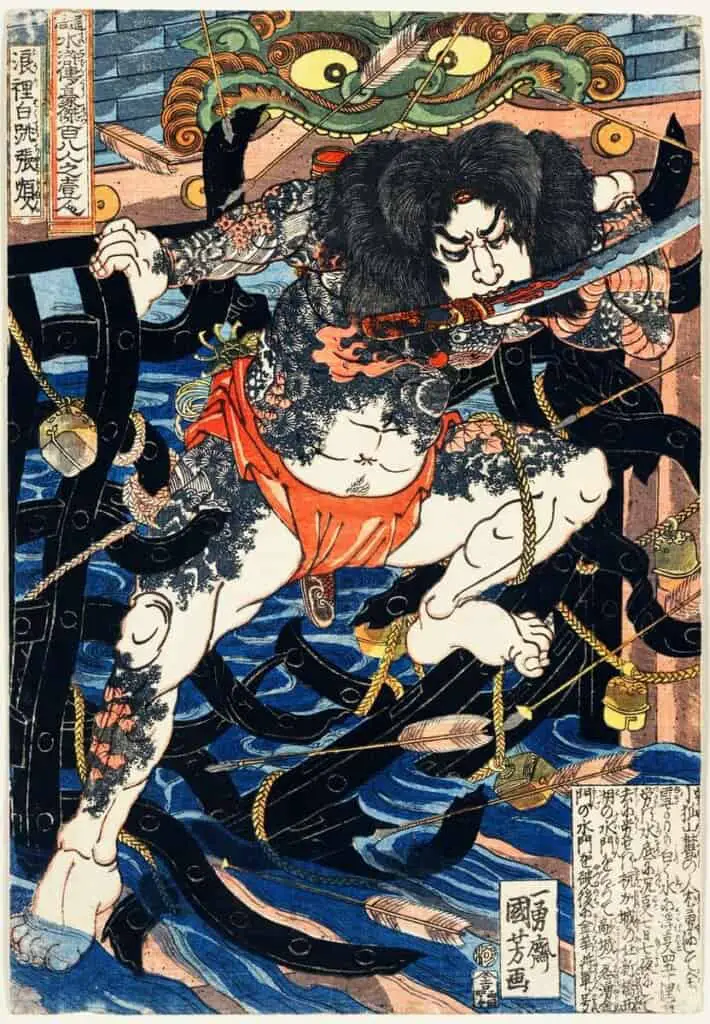 Warriors with Tattoos Popularity
In the 1820s, Kuniyoshi started to produce some art panels. These panels began to show his own individual artistic style. In 1827 he received his first big artistic break with a major commission for the series "One hundred and eight heroes of the popular Sukioden all told (Tsuzoku Suikoden goats hyakuhachinin no hitori).
Kuniyoshi drew individual heroes on single sheets of paper. Many of them had tattoos all over their bodies. This art and body tattoos influenced the Edo fashion of Japanese body tattoos.
His work became extremely popular in Edo, Japan. (Edo is the former name of present-day Tokyo, Japan). The demand for his warrior prints increased, which helped him gain entrance into the major ukiyo-e and literary circles of this time. This newfound popularity and influence lead to him being able to support himself as an artist.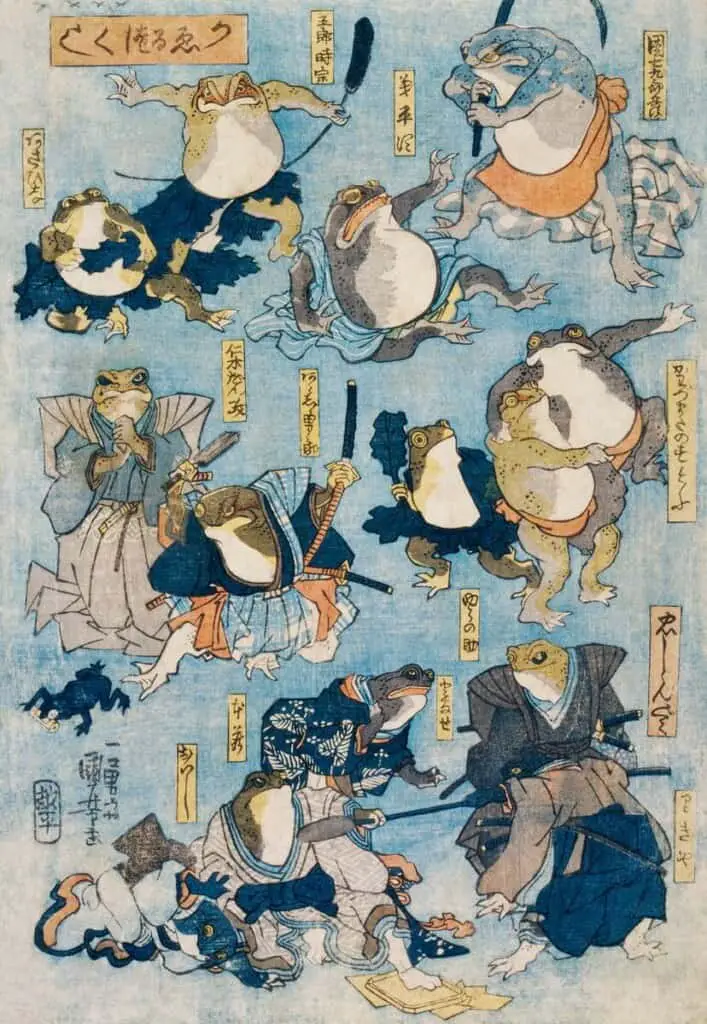 The Tempo Reforms, Art and Politics
In 1842 the Tempo Reforms were introduced by the then leader of Japan, Tokugawa Shogunate. These reforms affected many people in Japan, from the military, economics, agriculture, financial, and religious groups. These reforms also affected the arts and artists in Japan.
The reform was instituted to help control the public display of luxury and wealth. Illustrations of courtesans and actors in the ukiyo-e art style were officially banned.
In speaking of this period of time Ken Johnson, a New York Times writer, spoke about an essay by Timothy Clark, head of the Japanese Section of the British Museum for the Royal Academy of Arts in London, he wrote:
This time also influenced Kuniyoshi's artwork as he started to use caricature or other comic pictures to disguise some of the actual actors and courtesans, and people of the day. Kind of a bit of his own hidden message and rebellion to the time period through his artwork and prints.
In speaking of Kuniyoshi and the power of his art even today, Ken Johnson went on to say:
Interestingly, despite some of the controversy, his prints caused Kuniyoshi to continue producing an amazing amount of artwork. Many of these prints would humorously criticize the Tokugawa Shogunate, Japan's ruler of the day.
In speaking of Kuniyoshi and his contribution to the Japanese artwork of his day, Ken Johnson of the New York Times beautifully summed it up this way: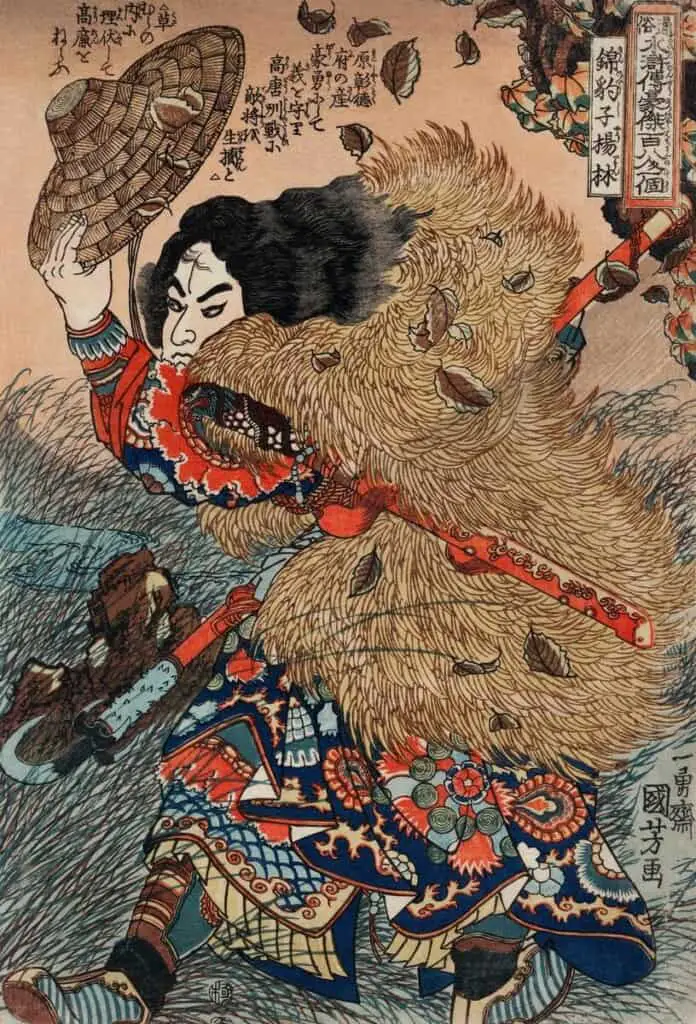 Kuniyoshi was a master artist for the ukiyo-e style woodblock prints. He is an amazing artist whose art we should continue to study and celebrated today. His art prints can be found in many major museums around the world.
Related Questions
How Do You Identify A Japanese Artist's Signature on Woodblock Prints?
The signature on a Japanese woodblock print is the Japanese characters above or near the red artistic seal or chop. Sometimes the artist would add words behind their own name such as "designed by." Other times the artist would use different chops or seals during different periods of their life. Many times the actual artist's signatures are very difficult to read.
You can find out more by reading our blog How Do You Identify A Japanese Artist's Signature on Woodblock Prints? by clicking here.
What Is The Great Wave Off Kanagawa by Japanese Artist Hokusai (1790-1849)?
The Japanese artist Hokusai produced The Great Wave Off Kanagawa woodblock print as part of his series called Thirty-six Views. The Great Wave off Kanagawa features a huge wave, a small Mount Fuji in the background, and three boats getting caught in the large wave. This print has remained so popular that it inspired music, poetry, and even a present-day emoji.
You can discover more by reading our blog The Great Wave Off Kanagawa by Japanese Artist Hokusai (1790-1849) by clicking here.