Anders Leonard Zorn is one of Sweden's more famous artists. He was a very prolific artist who left us with a great legacy of his art.
Anders Zorn, born in Mora, Sweden, is one of Sweden's most celebrated and essential artists. He gained international acclaim and success as a painter, sculptor, and etcher. He is known for his paintings of portraits, including three American Presidents. He was also a celebrated en Plein-air painter who painted many nude full-figured women in outdoor settings.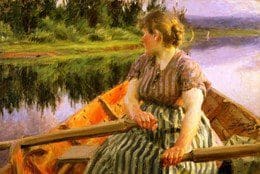 Early Life of Anders Zorn
Anders Zorn was born in Mora, Sweden, on his grandparent's farm. He lived with his mother and grandparents, but he never met his father. His father was a German master brewer named Leonard Zorn. By all accounts, his upbringing was extremely humble.
His journey into the art world began at 15 when he was admitted to the Royal Academy of Fine Arts in Stockholm, Sweden. He would study at the academy for five years.
During his time at the academy, he amazed his teachers with his talents. Many of Stockholm's elite would approach him to do commissions. On one of these commissions in 1881, he met his future wealthy wife, Emma Lamm. Anders Zorn was commissioned to paint a portrait of Emma's nephew.
After leaving the academy, Zorn went on a six-month trip to Spain and started his profession as a watercolor painter in London. He spent the first part of his career working in watercolors. From 1887 to 1889, he switched to paint with oil paints. We are not sure why he made the switch, but he may have changed because oils were better suited as a medium for portrait painting.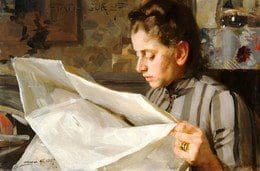 Anders Zorn and His Marriage to Emma Lamm (1860-1942)
Emma Lamm's background was very different than Anders Zorn's family circumstances. She was from a wealthy Jewish merchant family and she had an interest in art and culture.
Even though they met in 1881 and became secretly engaged during that time, whether they would be allowed by Emma's family to actually marry depended on if Zorn could make a success of his chosen profession of being an artist.
In 1885 Emma's family finally consented for her to marry Anders Zorn. They felt Zorn was now financially stable enough to marry Emma. They were wed in a ceremony at Stockholm City Hall In 1885.
Emma made it very clear from the very beginning that their relationship would be one of the intellectual equals. She was, after all educated, intelligent, and interested in art and culture. She would be his partner in every sense.
Emma also became very fond of Zorn's family, despite their economic and educational differences. Later, when they lived in Mora, through the encouragement of her husband, she became very involved in the civic life of Mora, Sweden.
Through Emma's family's connections, Zorn developed some significant relationships in the art world. This led to doors being open to him in Stockholm and beyond.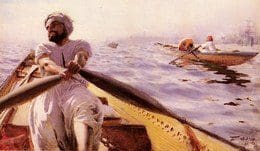 Anders Zorn the World Traveler
One thing that makes Anders Zorn very unique for this time period is that they lived and traveled abroad for many years. They traveled to London, Paris, the Balkans, Spain, Italy, and the United States and throughout his life would make frequent trips overseas.
In each of these places, Anders Zorn became a success and gained much international recognition. One of his greatest assets as an artist was that he could clearly depict the individual character and personality of each of his models.
Anders Zorn Potrait Painter
Some of his most outstanding achievements came as a portrait painter. Anders visited the United States at least 7 times. Each time he was there, the elite sought after him as a portrait painter.
He painted over 100 portraits in the United States, including three US Presidents. Some of his more famous paintings were for:
US President Grover Cleveland (1899)
US First Lady, Mrs. Francis Cleveland (1899)
US President William H. Taft (1991)
US President Theodore Roosevelt
The King of Sweden Oscar II, (1898)
The Queen Consort of Sweden and Norway, Queen Sophia (1909)
Isabella Stewart Gardner, Art Collector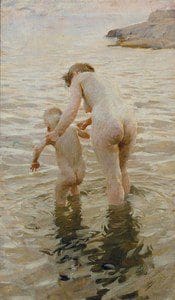 Anders Zorn An en Plein-Air Painter
Zorn also became well-known as a Plein-air painter. In 1889, at the age of 29, he was given the honor of the Chevalier de la Legion d'honneur at the Exposition Universelle at the 1889 Paris World's Fair.
He received this honor for his themes of nudes in the outdoors. The themes of nude women and children in the outdoor were not new themes, but Zorn brought with his art a new sensuality to the art in the way he placed and showed the models in the outdoor settings.
In his lifetime Zorn was noted for painting full-figured women. Because of this the term Zorn Kulla or dalkulla emerged which is a Swedish term for unmarried women or girls from Dalarna, Sweden.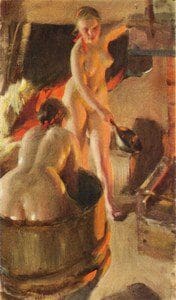 Anders Zorn Move Back to Mora
In 1896 after eight years of living in Paris, Anders and Emma decided to move back to Sweden to his hometown of Mora. Even though they had moved back to Mora, until the start of World War 1, they were traveling every year to paint portraits and art shows overseas. In many parts of the world, Anders was hailed as one of the greatest painters of his time.
While in Mora, he started to dedicate himself to his third painting subject matter (first being portraits and second nudes) to depict the rural and folklife of living in Dalarna, Sweden. He would paint everyday subjects. These paintings left us a remarkable legacy to represent everyday life in Sweden during this time frame.
During this time, he started on his fourth artistic technique of etching (his first three were watercolors, oils, and sculptures). He began to experiment and to push the possibilities of etching with his unique use of light and shade. Within a very short period of time, he also won acclaim for his artwork using the etching technique.
In his last years of life, his health started to deteriorate. This was in part due to the very intense life he had lived. He died in 1920 at the age of 60 years old. Emma would go on to live another two decades (she died in 1942).
Anders Zorn – The Collector & Philanthropist
Like many other artists, Zorn collected art of other artists and antiquities from his travels. Initially, he started to collect the art so that he could decorate his art studio with class. Other artwork he may have collected to learn from. He had collected over 180 etchings by the famous artist Rembrandt.
Anders and Emmas amassed a considerable fortune during their lifetime and were very wealthy. They would become great philanthropists.
Here is some of the legacy they left behind:
Their collections and fortune were given to the Swedish State. Many of his more important works and collections can be seen at the National Museum of Fine Arts (Sweden) Other Museums that have his works are Musee d'Orsay (Paris), Metropolitan Museum of Art (New York), and Museum of Fine Arts (Boston).
The Bellman Prize – Anders Zorn and his wife Emma set up the Bellman Prize (Bellmanpriset) which is a literature prize for the outstanding Swedish poet. Every year this prize is awarded by the Swedish Academy will issue a prize to the most outstanding Swedish poet.
During his lifetime Zorn was a prolific artist. Because of this, there are hundreds of his paintings around the world.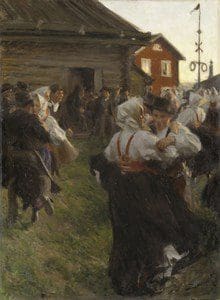 Anders Zorn – The Zorn Museum and Legacy
Anders and Emma Zorn set up a foundation to ensure the legacy of Anders Zorn and as a place to showcase many of his works of art to future generations. You can visit the museum, house, farm, and fishing cottage. You can find out more about this by clicking here.
The Zorn Museum
The Zorn Museum in Mora has perhaps one of the largest collections of Zorn's artwork. The museum has watercolors, oils, paintings, sculptures, drawings, and etchings by Zorn. Along with his artwork, on display is part of his vast art collection. The museum also has other temporary exhibitions.
The museum was open in 1939 and was designed by the Swedish architect Ragnar Ostberg. Ostberg is best known as the architect of Stockholm's City Hall.
The Zorn Home
The Zorn home is one of the most well-known artist homes in Sweden. It was built and decorated around the turn of the century by Anders and Emma Zorn. It remains today almost as Emma left it when she died in 1942.
Anders designed the home and the design combines the rustic and refined in one home design. Over the years, when they lived there, they would constantly have additions made to the house, but by about 1910, it was finished to the state that we now know and see it.
The garden has an artist studio. The studio is a medieval house with timber walls and wooden ceilings that date back to 1290.
There is also a gift shop and a cafe. Cafe Zorn is located in the old carriage house and has a wide array of Swedish pastries and an extensive lunch menu. You can find out more about Zorn Cafe by clicking here.
Zorn Gammelgard (Zorn Old Farm)
About 1 kilometer away from Zorn's house is the old Zorn farm. It is located on the shores of Lake Siljan in Dalarna, Sweden.
The Zorn Old Farm has 40 timbered houses that Zorn bought to ensure that the old way the timbered houses were produced would not be forgotten. This outdoor museum has some of Sweden's finest collection of historical timber houses, including some dating back as far as 1237 or in the era of the Vikings. There is also a folk textile collection and traditional Swedish costumes on display.
Zorn's Cabin at Gopsmor
The Zorn's cabin at Gopsmor is an old humble fishing cabin that also acted as Zorn's wilderness studio. The cabin is located on the Osterdal River. It was here the artist would withdraw to a more humble lifestyle. It was also here that he painted some of his more famous works of art.
The Zorn's Cabin is usually only open in July.
To visit any of these sites or to find out more about how you can visit them, you can visit the website by clicking here.
Sondagsmorgon – Sunday Morning By Anders Zorn
Anders Zorn is one of the essential Swedish artists. Many of his paintings have been selling for records amounts of money.
The Anders Zorn painting Sondagmorgon sold for a record in 2021 for SEK 35,250, 000 which is over 3,800,000 USD. This makes this painting the most expensive piece of artwork by a Swedish artist ever sold. The Anders Zorn Sommarnoje "Summer Fun" sold for SEK 26,000,000, which is over 2,800,000 USD.
The price that Anders Zorn paintings are now selling shows us that he is and continues to be a very important Swedish artist.
Anders Zorn rightfully takes his place as one of the great Swedish artists of all time and one of the most important artists of his era. He has left us with a tremendous legacy of his artwork and life during this time and period in Sweden.
Related Questions
What Is En Plein Air Painting?
En Plein air means "in the open air. It refers to a style of painting outside in the natural light. This was a term that was made famous by the French Impressionist art movement. Many of the French Impressionists painted most of their paintings outdoors. There was a lot of equipment and other challenges associated with having to paint everything outdoors.
You can find out more by reading our blog All About En Plein Air Painting, What You Need to Know by clicking here.
Who is the Swedish Artist Hilma af Klint (1862-1944)?
Hilma af Klint was a Swedish woman artist who was painting revolutionary modern artwork for her time. A trailblazing, creative figure who kept her art and paintings secret for many years. Despite her amazing works of art and legacy she left us, it has only been during the last 40 years that she has started to gain international acclaim.
You can find out more by reading our blog Who is the Swedish Artist Hilma af Klint (1862-1944)? by clicking here.