Every once in a while you come across a woman artist who was a true courageous trailblazer and visionary. That artist is the Swedish artist Hilma af Klint.
Hilma af Klint was a Swedish woman artist who was painting revolutionary modern artwork for her time. A trailblazing, creative figure who kept her art and paintings secret for many years. Despite her amazing works of art and the legacy she left us, it has only been during the last 40 years that she has started to gain international acclaim.
The Guggenheim Museum in New York City has produced a very short video that summarizes the life and shows some of the work of Hilma af Klint. You can see the video by clicking on the link below.
Early Life – Hilma af Klint
Hilma Af Klint was born the fourth child of Captain Victor af Klint, a Swedish naval commander and his wife Mathilda. The family spent their summers at their manor house on the island of Adelso in Lake Malaren, Sweden. Her family had a royal title given to them by the King of Sweden.
At a very young age, Hilma became interested in nature and gained a love and appreciation of nature. Nature and forms of nature were to be an inspiration for her future work.
It was from her family that she also gained an appreciation of mathematics and botany. At a very early age, she also showed an aptitude for the visual arts.
After her family moved to Stockholm, she studied at Tekniska Skolan (Konstfack School) in Stockholm. At the school, she started to learn portraiture and landscape painting
At the age of 20, she was one of the first women to be admitted to the Royal Academy of Fine Arts in Stockholm (she attended from 1882-1887). At the Academy, she studied drawing, portrait, and landscape painting.
Atelier Building Art Studio
While at the Academy of Fine Arts, Hilma graduated with honors. She was allocated a scholarship which was a studio in what they called the Atelier Building.
The Atelier Building was owned by the Academy of Fine Arts. It was located at the street crossing of Hamngatan and Kungstradgatan streets in central Stockholm. At this time Hilma at Klint worked in her studio as an artist. She was gaining recognition for her landscapes, botanical drawings, and portraits.
The Atelier Building was in the main cultural hub of the Swedish capital of Stockholm. This same building also housed the Blanch's cafe and Blanch's Art Gallery. The interior of the Blanch Cafe was airy with crystal chandeliers, plush carpets, and comfortable chairs. Live music was played every afternoon with foreign newspapers laid out in the dining room. This building is no longer standing as it was replaced in the 1960s by the Sverigehuset (Swedish House).
The Blanch Art Gallery was in artistic conflict with the Academy of Fine Arts as they were inspired by the En Plein Air movement of the French painters as Vincent Van Gogh. This gallery showed work from many famous European artists.
By all accounts HIlma was a very successful Swedish artist of her time. To earn money and support herself she painted a lot of traditional paintings that would have been acceptable art for her time. She painted landscapes, portraits and other paintings.
Hilma af Klint's Spiritual and Philosophical Ideas
In 1880 Hilma's younger sister Hermina died. It was also at this time that the spiritual dimension of her life started to develop.
Hilma started to gain an interest in abstraction, symbolism, and spiritism. Spiritism started to come in vogue in the late 19th and early 20th centuries. Spiritism is a belief that relations can be established with the spirits in another world. Spiritism also believes in reincarnation.
In 1908 she met Rudolf Steiner, the founder of the Anthroposophical Society. Those that follow Anthroposophy believe in the existence of an objective yet intellectual spiritual work accessible to the human experience.
This interest in spiritism started Hilma on a path of combining art, nature, and spiritual nature in her work. When you are viewing her work it is really the story of her spiritual side and spiritual nature.
The Group of Five Artists
At the Academy of Fine Arts, Hilma met Anna Cassel. a Swedish landscape painter. They shared a lot of similar ideas.
Later they met three other women Cornelia Cederberg, Sigrid Hedman, and Mathilda Nilsson. This group of five women started to hold regular meetings and were known as The Group of Five. The Group of Five started to hold regular spiritual spiritistic seances.
They would open each of their meetings with a prayer, then mediation, a Christian sermon and study of the New Testament. All of this would then be followed up by a seance.
They recorded in a book a kind of new mystical thought of the messages they received from the higher spirits in the seance. They called these messengers The High Masters.
It was through her work with the Group of Five that Hilam started to experiment with her drawing as early as 1896. She developed a kind of inventive, geometric, visual language in her artwork that comprised of forces in both the inner and outer world. She also explored world religions, atoms, nature, and plant world. Today we may call her a mystic.
The Temple Series
In 1906 received what can best be described as a commission from one of High Master Spirits to paint a series of paintings called the Temple. In speaking of this Temple series she said this about painting of the series:
She painted these Temple series paintings between 1906 and 1915. When we say Temple, we are really not sure what she meant by a Temple. The paintings in the Temple series were an abstract kind of language that she said were more autonomous or spiritual in nature.
The collection for the Temple series consists of 193 paintings grouped into several different groups or series. Some of the paintings are very large measuring about almost 8 feet (240 cm) x 10.5 feet (320 cm). In this series called "The Ten Largest" are paintings about different phase of life from early childhood to old age. Most of these paintings were oil paintings.
Her paintings are filled with symbols. Even the colors used had symbols in them. Such as a blue color was for female, yellow for male and green was for unity of male and female.
The large scale of these paintings and the choice of colors, shapes, and use of letters, swirls and other shapes were very Avant-garde for the day. For her day, Hilma's work was original, fresh, and very modern.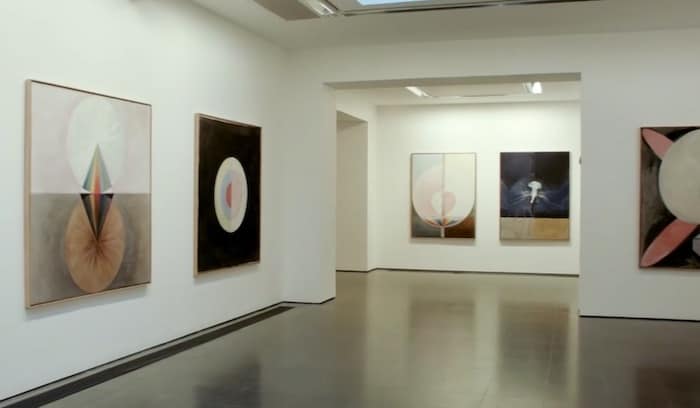 Hilma's Abstract Art
When Hilma completed her Temple series she continued to pursue abstract painting. At this time she also started to paint in other mediums as watercolors. She documented her thoughts and studies in over 150 notebooks.
Her notebooks are very detailed and thoughtout. It was like she knew that she was a pioneer ahead of her time in art so that others who came after her would study her work and notebooks.
Her paintings at this time still had a spiritual influence on them. She painted things as different religions of the world or the duality of physical beings and or subjects of a spiritual nature.
This work was pretty much kept private. The few times she did show it, it was really not understood. Some people even thought it was a kind of joke. Others completely rejected it.
Hilma decided it was not yet her time for the time for her work to be understood. So she packed them up to be revealed at a later date.
In 1944, at the age of 82 years old, Hilma af Klint died in Djursholm, Sweden from injuries and complications due to an accident.
Hilma's Legacy
Throughout her life, Hilma continued to secretly paint her paintings while painting her regular artwork for her financial survival. Not many people saw or understood these hidden works of art. She had more than 1,200 paintings, drawings, and notebooks that she carefully stored away.
In her will, she left these paintings and notebooks to her nephew Erik af Klint, a highly decorated vice-admiral in the Royal Swedish Navy. She specified in her will that her work should be kept secret until at least 20 years after her death.
When the boxes of her work were finally open in the late 1960s no one really had any idea what they would find. They had no idea they would find such a treasure of over 1,200 pieces of modern art, whose style, colors and technique would be so revolutionary and well ahead of its time.
In the 1970s her paintings were offered as a gift to the Moderna Museet (The Museum of Modern Art) in Stockholm. The museum declined the donation.
Her nephew Erik af Klint set up a foundation called the Hilma af Klint Foundation. All of her paintings are owned and managed by this foundation. In 2018, the Foundation signed a long term agreement of cooperation with the Moderna Museet in Stockholm where they now have a Hilma af Klint Room in the museum. Here a dozen or so works of her art are shown in a dedicated space as a permanent exhibit.
International Recognition
It was in 1986, that the Hilma af Klint works were brought to Los Angeles. This started her off to have a broader recognition as an artist internationally.
Since that time a lot of museums have shown or are showing her works of art in an exhibition. In 2018 -2019 her work in an exhibition called Hilma at Klint – Painting for the Future was shown at the Solomon R. Guggenheim Museum in New York City.
In early 2020 a documentary film called Beyond the Visible – Hilma af Klint. You can find out more about it by clicking here or watching their trailer below.
Hilma af Klint was such a revolutionary artist that she is a woman artist that everyone should know about. Despite the great artwork she has done, she has been a relatively unknown artist for many years.
Anita Louise Art – #ArtThatMakesYouSmile -we love all kinds of art.
If you are interested to see any of my art, you can find out more by clicking here. If you are interested in what inspires me and my paintings, you can discover more by clicking here.
We have a free newsletter and would love you to be part of our community; you can subscribe to the newsletter by clicking here. If you have any questions, I would be happy to talk to you any time. You can reach me, Anita, by clicking here.
Related Questions
Who Was the Swedish Artist Carl Larsson?
Carl Larsson was born into dire poverty but he was able to raise himself up out of poverty through his artwork. He married Karin Bergöö, a fellow artist. Together they had eight children. Many of his most famous paintings come from the many family scenes he painted of his wife and children in their home and yard in Sundborn, Sweden. Through his paintings and the design of their home, Carl and his wife Karin influenced Swedish art and design. Today you can visit their house and garden in Sundborn. Sweden.
To find out more about Carl Larsson, you can read our blog 22 Facts About Carl Larsson, The Swedish Artist, and Illustrator by clicking here.
What was the Cubism Art Movement?
Cubism is an early 20th Century avant-garde art movement that also helped to revolutionize European painting and sculpture. It helped to inspire related movements in music, literature, and architecture. There are two periods of Cubism called Analytical and Synthetic. Also, there is the Orphism Cubism which is an offshoot of Cubism.
To discover more about the Cubism Art Movement you can read our blog The Cubism Art Movement, What You Need to Know by clicking here.