One of the most interesting stories of the Impressionist artists is the relationship of Berthe Morisot and Edouard Manet and his brother Eugene Manet. All three of them were artists, but Berthe Morisot and Edouard Manet are now considered some of the most important impressionist artists.
Edouard Manet, Berthe Morisot, and Eugene Manet all lived in France in the mid-1800s. Both Edouard and Berthe are considered to be significant impressionist artists. Edouard met Berthe when he was married to Suzanne, his former piano tutor. Berthe and Edouard were lifelong friends, and she was considered his muse. Eventually, Berthe married Edouard's younger brother Eugene, and they had one daughter named Julie.
The story between Edouard, Eugene Manet, and Berthe is such an intriguing story that, surprisingly, no one has yet put this story of love, reputation, and a potential scandal to film or a movie.
The Charming and Gregarious – Edouard Manet
Edouard Manet was born in 1832 into a bourgeoisie household in Paris, France. He was fascinated by painting from a very young age. His parents were not happy with his artistic interests. But he was eventually allowed to attend art school, where he studied many of the old masters in Europe.
He fell very short of his parent's expectations for him and his life's choices. His father was Auguste Manet, a high-ranking judge, and his mother was named Eugenie-Desiree Fournier, a daughter of a diplomat and goddaughter of the Swedish Crown Prince. They were, by all accounts, an influential and well-connected family in Europe.
Edouard's father wanted Edouard to follow him in his legal profession, but he refused and decided to pursue an art career. His father was worried that his son's interests in the art would forever tarnish the family's good name and reputation. So his father continued to present to Edouard different options to guide him away from his pursuit of art.
In all those professions, Edouard's father presented to him. Edouard either failed at or refused to do. Eventually, his father accepted his chosen profession to become an artist.
It was after Edouard opened his art studio and started to paint professionally that he married Suzanne Leenhoff; Suzanne was an excellent pianist and has been hired by their father in 1851 to teach his sons to play the piano. Suzanne was about three years older than Edouard.
Here are somethings we know about Suzanne and Edouard's relationship:
Suzanne was older than Edouard and had been his piano tutor.
When Edouard and Suzanne married, she had a 10-year-old son named Leon- Edouard Koella.
Some say that Suzanne had an affair with Edouard's father, Auguste.
Because of this rumor, some historians believe the son was actually Edouard's stepbrother and was the child of Edouard's father and Suzanne and that Edouard married Suzanne to ensure the family name and reputation did not suffer.
Others say that the son was Edouard's. Before they were married, he had been romantically involved with Suzanne for over 10 years and kept this romantic relationship secret from his father.
The birth certificate of Leon-Edouard gives Suzanne as the mother and Koella as the father. No one has been able to identify who Koella is.
We know that Suzanne was not married when she gave birth to her son Leon- Edouard.
Edouard could have cleared up this myth that Leon-Edouard was his son and not his step-brother or the son of another man, but Edouard never publically confirmed who Leon-Edouard's father was.
We know that Edouard died in 1883 from locomotor ataxia, which was a side effect of syphilis. Syphilis is usually transmitted through sexual activity.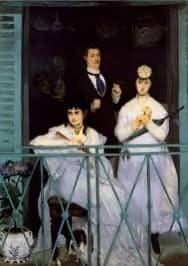 In speaking of Edouard's death Berthe Morisot wrote to her sister Edma about some of her feelings:
Edouard Manet and Berthe Morisot Form a Lifelong Relationship.
Berthe Morisot was born in 1841 into a bourgeois French family. Her father was Edmé Tiburce Morisot, an eminent government official. Her father had also studied architecture at École des Beaux-Arts in France. Marie-Joséphine-Cornélie Thomas was Jean-Honoré Fragonard's great-niece, one of the most important Rococo painters of his time.
Berthe Morisot was born into social and economic privilege. As was common for her social class, Berthe and her sister Edma were tutored at home in art education.
It was one of these tutors. Joseph Guichard introduced Berthe and her sister Edma to the Louve Gallery. During this period of time, the Louve gallery had certain days when painters could come into the museum with their paints and easels to copy the artwork of the masters.
In 1868, Edouard Manet went to the Louve, and it was there that he met Berthe Morisot. As Berthe was single at this time, she would have been heavily chaperoned at all times. But despite this, they were able to form a lasting friendship.
We know that Edouard Manet was quite intrigued by Berthe. She sat for him, and he painted her many times. Berthe's mother usually came with her as the chaperon when she modeled for Edouard Manet. She never modeled nude for him, but I am sure her mother must have watched what was going on and was extremely concerned. Her daughter was un-married, having spurned marriage so that she could work full-time on her art.
Edouard Manet had a reputation in Paris for being a rebel. Though he would have been considered a gentleman, Luncheon's painting on the Grass (1862) and Olympia (1863) caused quite a stir in Paris society. Berthe's parents would have known about his reputation and were probably very concerned about their daughter's reputation with Edouard Manet.
We do not know if Edouard and Berthe ever had an intimate physical relationship. Still, from the paintings he painted of her, you can see the flirting taking place, especially in how he painted her eyes.
We can only suppose that Berthe's mother did not really approve or was worried about the effect this relationship between Berthe and Edouard would have on her daughter's social reputation. When Edouard Manet finally painted a portrait of his wife Suzanne, Berthe's mother in speaking of Berthe's relationship with Edouard Manet said: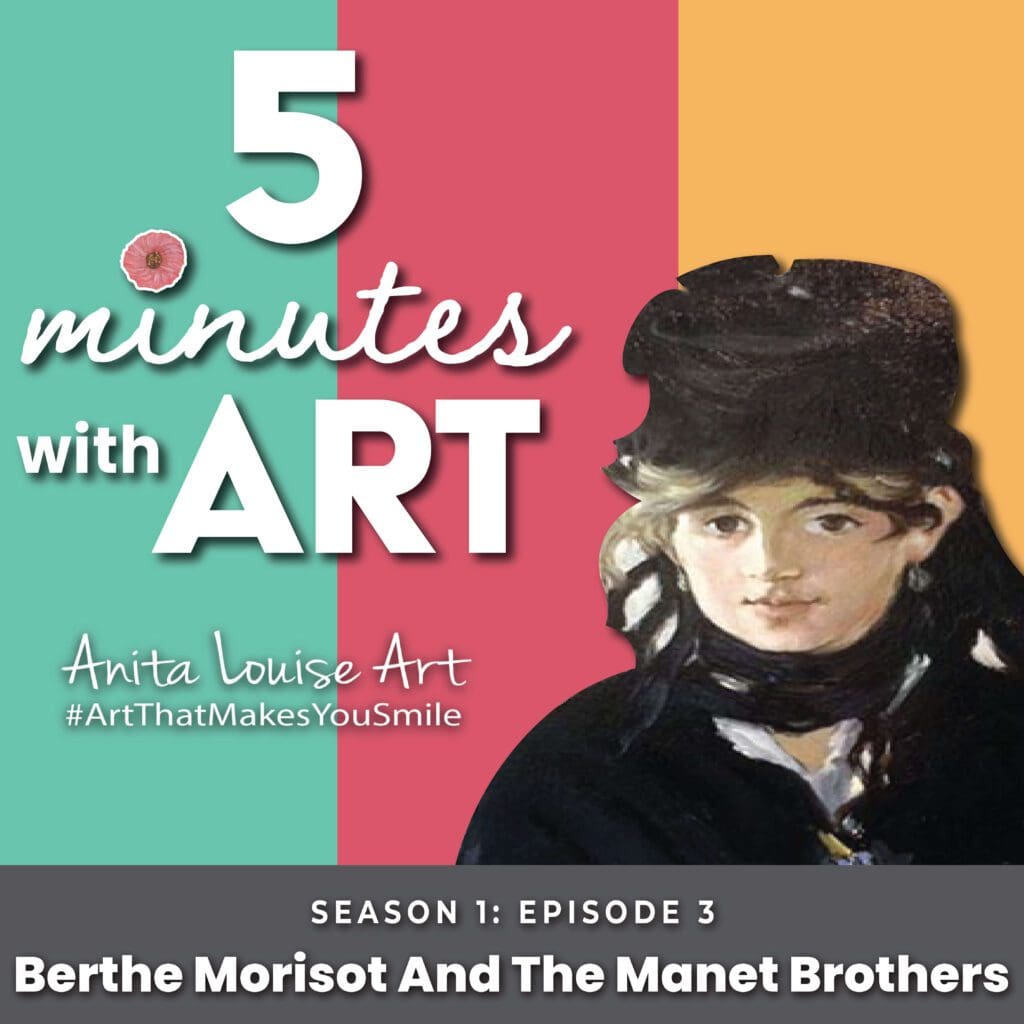 Here are some things we know about the relationship between Edouard Manet and Berthe Morisot:
He painted her 12 times, which is more than any other person or subject that he painted. More times than he ever painted his wife, Suzanne. Berthe was considered his muse.
Many of the paintings she sat for would have been very controversial for their day, so Berthe's reputation and standing in society could have been hurt. But this did not seem to bother her as she continued to sit for him and be painted by him.
After Berthe married Edouard's brother Eugene, Edouard painted Berthe one last time. In this painting, her gold wedding ring was prominent, and her eyes had lost their flirtiness and mystery as in some of the previous paintings.
The correspondence between Berthe Morisot and Édouard Manet shows warm affection.
We know that Edouard Manet gave Berthe an easel as a Christmas present.
Edouard Manet was handsome and gregarious. A man with a lot of charm, but yet at the same time, he had this dangerous rebel streak. Exactly the kind of man that many women find attractive.
Edouard and Berthe were not only in-laws, but they were also lifelong friends who had a tremendous influence on each other's art. Almost as soon as Berthe met Edouard Manet, she started to adopt more of his art impressionist style. It was Berthe who influenced Edouard to use the style en Plein air, which is French for in the open air and was a departure from Edouard's previous painting style.
Berthe Morisot and Eugene Manet Marry
Eugene Manet was born in 1833 and was the younger brother of Edouard Manet. The two were very close in age. Like his older brother Eugene was also a painter, he never reached the fame or prestige that Edouard did.
Eugene did serve in the French Army and was also trained as a lawyer. Instead of pursuing any of these careers, he decided instead to follow his older brother's footsteps and become an artist.
It must have been Edouard that introduced Berthe Morisot and Eugene. We know that Berthe knew both of Edouard's brothers.
Some have speculated that Berthe and Eugene's marriage was convenient, but there is also evidence that they loved each other. It was Eugene who spent a lot of his time helping his wife with her artistic career. So by all accounts, it seems that he was pleased to support her with her art.
Berthe and Eugene also had one daughter named Julie, who later became a painter herself. Julie is best known for her diary that was published called Growing up with the Impressionists. This book speaks about her memories of growing up in a home where Edouard Manet, Pierre-Auguste Renoir, Edgar Degas, Claude Monet, and Alfred Sisley frequently visited.
Here some things that we do know about Eugene and Berthe's relationship:
When Berthe married Eugene in 1874, Eugene was 41 years old, and Berthe was 33 years old. For both of them, especially by the day's standard, they were quite a bit older. This was the first marriage for both of them.
Berthe was adamant that the marriage would not change her art in any way. So despite being married and having one daughter, she was a prolific painter.
Berthe was fortunate in that her marriage allowed her not to have to worry about money. This also allowed her to be able to concentrate on her art.
Eugene really supported Berthe and the pursuit of her art.
When Berthe went on art trips, Eugene would often accompany her and dabble a bit in art.
Once Eugene got married, his focus was on Berthe her art and not on his own art career.
They had one child Julie Manet, who would become an art collector, writer, and painter during her lifetime.
Despite today being considered one of the most important impressionist artists, Berthe Morisot did not see much success during her lifetime.
One of Berthe and Eugene's places traveled to was the Cowes on the Isle of Wight in England. It was there they spent their honeymoon. Eugene and Berthe could be seen during the day, taking out their easels and paints and going out to paint the local scenery. Sometimes she would also paint the view from the place they were staying in.
During their time in Cowes, she persuaded Eugene to be her model for a painting. She lovingly wrote to her sister Edma about how difficult it was to get Eugene to model for her. Berthe said: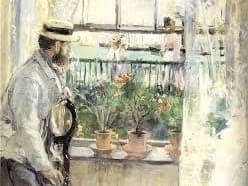 Conclusion
A three-way relationship between Berthe, Edouard, and Eugene Manet is a love story that is not often told. The one thing in all this that we do know is that Eugene died before Berthe, and she was despondent and distressed about his death. She died a few years later, leaving their daughter an orphan at age 16.
Berthe and Eugene seem to have had an excellent relationship, and she loved him deeply, especially later in their lives. Berthe, in writing to her brother, said this about her marriage to Eugene:
In Berthe's own words, we learn that she finally found love in her relationship with Eugene Manet. Any love between Berthe and Edouard would have been an illusion or impossible. A marriage relationship between them would have been improbable as Edouard was already married to Suzanne.
Related Questions:
How did Berthe Morisot die?
Berthe Morisot died on March 2, 1895, in Paris, France. Her daughter Julie was ill with an illness similar to pneumonia, and Berthe was by her bedside. It was then that Berthe also contracted pneumonia that led to her death. Julie was only 16 years old at the time and was left an orphan as both of her parents were now deceased.
What techniques did impressionists use?
There are quite a few techniques that impressionists use. Here are some of them:
Use of light – Impressionist art has a strong use of light in their art.
Short thick strokes – The impressionist used short, thick strokes to capture the essence of what they were painting
The illusion of movement on canvas – Brush strokes that are quickly applied can give the illusion of movement on the canvas surface.
Thick paint application – The paint is thickly applied on the canvas.
Complementary colors – The impressionists used complimentary colors and vibrant color contrasts.
Color mixing on canvas – Instead of mixing the colors on the palette, many impressionists would mix the colors on the canvas itself. This then added to the paint strokes, looking almost like a broken color on the canvas.
What is the en plein air painting technique?
The en Plein air painting technique is French for "in the open air." Impressionist artists used the en Plein air technique to describe how they would paint outdoors. They would capture the landscape through natural light or the light and colors as they saw them. The en Plein air technique was also applied to both oil painting and watercolor.
Edouard Manet said of nature and colors:
To find out more you can read our blog called All About En Plein Air Painting, What You Need to Know by clicking here.