When we think of Impressionist artists often, we tend to forget that besides all the men artists like Vincent Van Gogh and Claude Monte, there are also some very influential women impressionist artists, many of these impressionists women artists were leading figures in the impressionist movement. Still, as a lot of their painting was more feminine in nature, they did not always receive the same fame as the male impressionist painters.
The seven significant women impressionist painters are Berthe Morisot, Mary Stevenson Cassatt, Marie Bracquemond, Louise Catherine Breslau, Eva Gonzales, and Lilla Cabot Perry. Each of these women, in their own unique ways, contributed to impressionism art.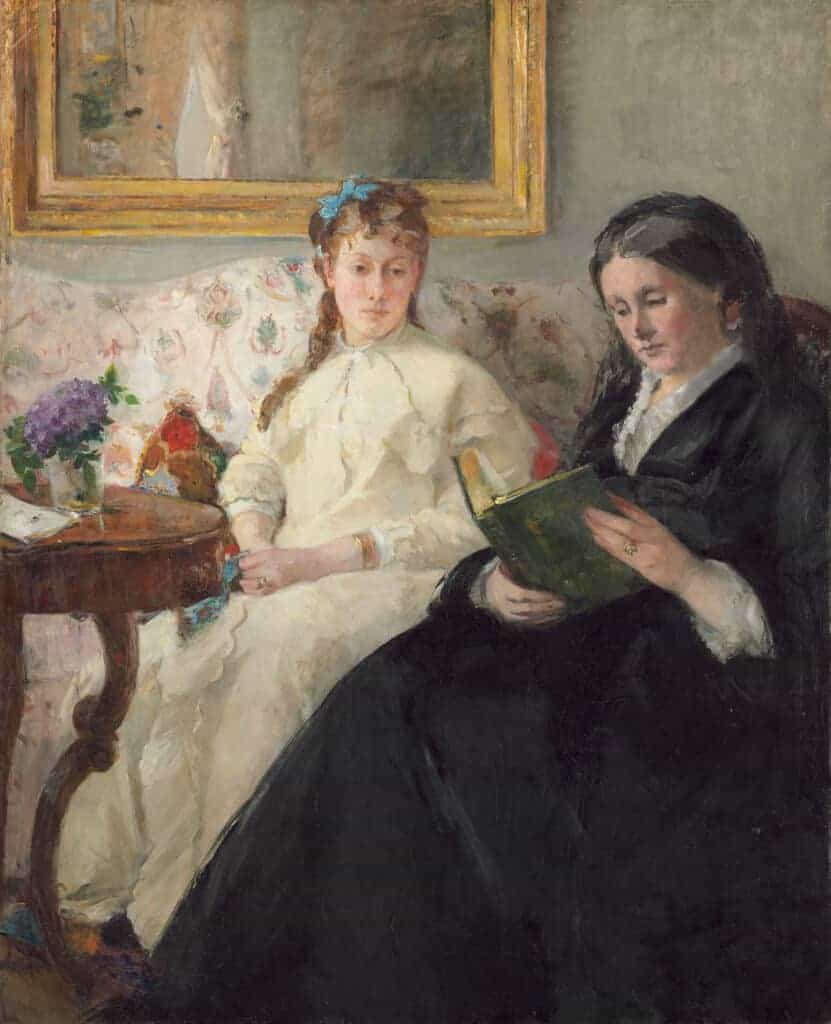 Berthe Morisot
Berthe Morisot was born in Bourges, France, in 1841 into an influential bourgeois family. Her father, the Edme' Tiburce Morisot, was the prefect of the Department of Cher, which was essentially a Senior Government Official. Her mother was the niece of Jean- Honore' Fragonard, a well known and prolific Rococo painter.
Berthe Morisot was born into social and economic privilege. As was common for her social class, Berthe and her sister Edma were tutored at home in art education.
She had a lifelong relationship with Edouard Manet. In fact, she married his brother Eugene Manet, a painter, but not as famous or well known as his brother Edouard. You can read more about their relationship by reading our blog Berthe Morisot and the Manet Brothers – Love And Impressionist Art by clicking here.
Here is some interesting information about Berthe Morisot and her paintings:
Feminine charm – Many of her paintings were criticized by male critics as having many "feminine charm.
Space and depth through color – She created a great sense of space and depth through color. She used a lot of white in her paintings to create a sense of transparency.
Limited palette – She usually worked with a limited color palette.
Mix media – She would mix her media in one painting with water, pastel, and oil paints.
Balance – She used a lot of balance in her work between the figures and the light traits that can be seen.
Subject matter – She took her subject matter from her daily life as most of her paintings included scenes from daily life as a family, children, ladies, and flowers in intimate scenes. She gives us a glimpse of what a woman's life was like in the late nineteenth century.
Berthe Morisot said: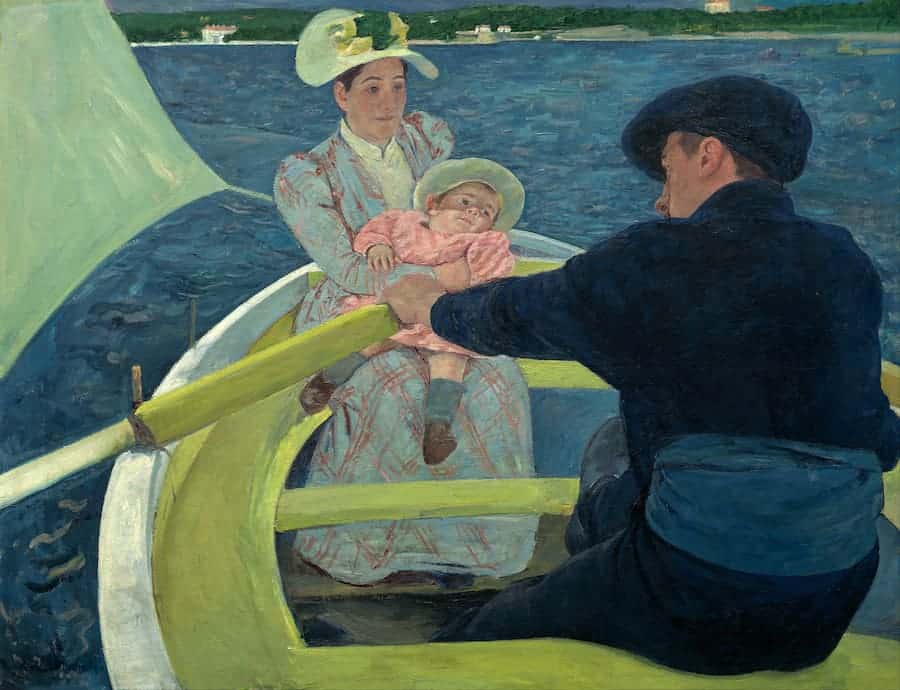 Mary Stevenson Cassatt
Mary Stevenson Cassatt is an American painter and printmaker. She was born in 1844 in Pennsylvania near present-day Pittsburgh, though she lived most of her adult life in France.
Mary Cassatt grew up in an upper-middle-class family that believed in the learning environment of travel being considered an important part of her education. So Mary visited many capitals of the world, including London, Paris, and Berlin. She learned to speak both German and French.
Like many impressionist women artists of her day, Mary's family did not approve of becoming a professional artist. One of the reasons her parents did not want to have her be a professional artist is that they were concerned about her exposure to feminist ideals and thinking.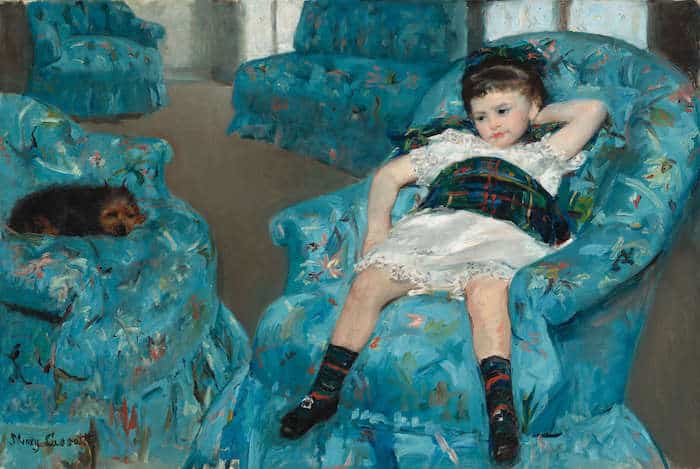 Here is some interesting information about Mary Cassatt and her paintings:
Pastels – Mary Cassatt admired Degas and his use of pastels. So she used a lot of pastels in her work. She created many of her most important works in pastels.
Copper engraving – Degas also introduced Mary to copper engravings and etching, strengthening her control over line and draftsmanship. She became a master in etching.
Friendship with Degas – She worked side by side with Degas and was said to have strong feelings for him but learned not to expect much with his temperamental and fickle nature. Both of them never married, but they had studios in Paris quite close to each other and were known to be excellent friends.
Intimate scenes – She painted a lot of intimate scenes of women, children, and families. She is known for her work on mothers and children.
Feminist and the New Woman – During her life, there were starting to be some feminist movements. So Mary Cassant depicted many of the new women of the nineteenth century in her paintings. She was known to support women's suffrage.
Blindness – Later in her life, she suffered from diabetes, rheumatism, neuralgia, and cataracts, and eventually, she became almost blind. Later in her life, she was forced to stop painting due to her poor eyesight and blindness.
Mary Cassatt in speaking about women during her lifetime said: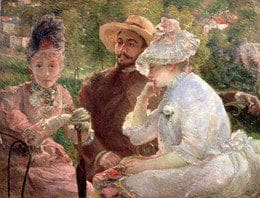 Marie Bracquemond
Marie Bracquemond was born Marie Anne Caroline Quivovon near Brittany, France. Like many of the other women impressionist painters, she did not have a privileged upbringing as she was a product of a miserable arranged marriage.
She met Felix Bracquemond when she was at the Louvre, copying the old master's work. They fell in love and, despite her mother's disapproval, was married.
Felix and Marie worked together at the Haviland studio, where her husband became the artistic director. Because of her husband's position, he introduced her to many artists who helped her develop her style. One artist who had a profound effect on work was Gauguin, who taught her how to prepare her canvas to achieve the intense tones she wanted in her paintings.
Here is some interesting information about Marie Bracquemond and her paintings:
Husband's resent – Marie's husband was well known in the art circles in Paris. According to their son, Felix often resented his wife's artwork and refused to show it to visitors. By 1890 as she was worn out by the household friction and the lack of interest in her work, she stopped painting except for a few private works that she did.
Etching – She did some etching work, but she considered the work to be constraining.
Change of Style – Later in her life, as her painting started to evolve, much to her husband's disapproval, she started to be influenced by Monet and Degas. She painted a lot of outdoor works in the Plein Air or the painting of outdoors.
Impressionism Ideals – Though Marie Bracquemond was considered reclusive by many, her paintings have impressionism ideals. She was a staunch defender of impressionism throughout her life, even with her husband's disapproval.
In defending her artwork against one of her husband's many attacks of not only her work but also the folly of painting outdoors Marie Bracquemond said: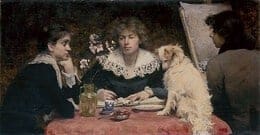 Louise Catherine Breslau
Marie Luise Katherina Breslau was born into a Munich based German-Jewish Family of Polish-German heritage. Her family moved to Switzerland when she was two years old. Her father, who was a doctor, contracted a Staph infection and suddenly died.
Louise was not a healthy child as she had chronic asthma. After her father's death, she was sent to a convent near Lake Constance with the hopes that would help her asthma. It is believed that during this long stay at the convent that her artistic talents were awoken. She took some drawing lessons and realized that she would have to leave Switzerland and go to Paris to study art if she wanted to become a serious artist.
In Paris, she met a fellow artist Madeleine Zillhardt, whom she spent 40 years living with. in their home in Paris. When Louise died, Madeleine Zillhardt inherited her estate.
Here is some interesting information about Louise Catherine Breslau and her paintings:
Mixed media – Louise Catherine Breslau was a painter, printmaker, and pastel artist.
Impressionist friendships – She was Edgar Degas and also Anatole France.
Madeline Zillhart – Madeleine Zillhart was Louise Breslau's muse, model, confidant, and supporter. After Louise's death, she published a book about Louise Breslau.
World War 1 – Though Breslau was Swiss, she remained in her home in Paris during World War 1 and showed her patriotism to France by painting portraits of French soldiers and nurses on the way to the front lines.
Street named after her – There is a street in Paris named Place Louise Catherine Breslau et Madeleine Zillhardt in Paris, France.
France Legion of Honor Award – Breslau received the greatest award a woman artist could get – France's Legion of Honor. She was only the third female artist and the first foreign woman to receive this honor during her time period.
Perhaps the artist that is least known in this list of impressionist women artists is Louise Catherine Breslau. In fact, finding a quote or article about her is quite difficult to find. This is even though she was a very prolific artist during her lifetime and was quite well known. She even received the very prestigious Legion of Honor Award.
In speaking about this William Hauptman, an independent Swiss scholar said: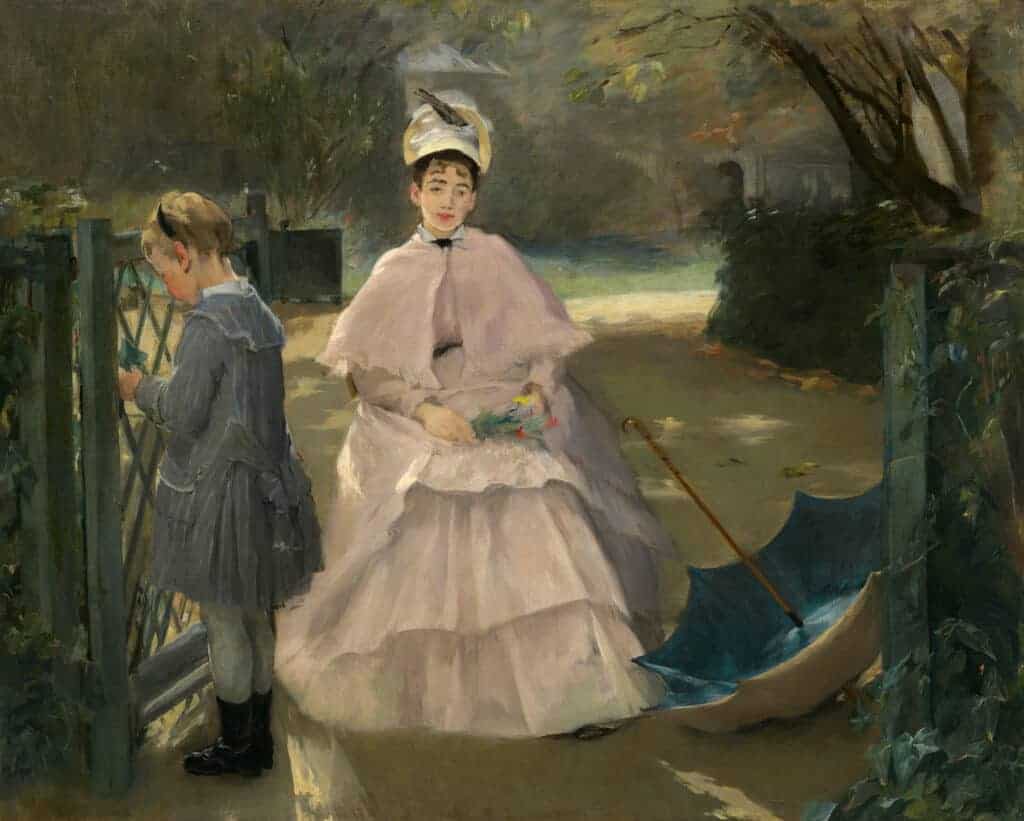 Eva Gonzales
Eva Gonzales was born in Paris and was introduced to many sophisticated and literary art circles by her father, Emmanuel Gonzales. At age 16, she began her art training under Charles Chaplin, a well-known society portraitist. Due to her father's position, she was exposed to many important people and new ideas for the time period.
Eva later became a pupil of Edouard Manet in 1869. Edouard Manet painted Eva Gonzales in his work Portrait of Eva Gonzales.
Eva married Henri Guerard, a graphic artist, and Manet's engraver, in 1879. They had one son together. In 1883 at the age of 34, she died in childbirth just five days after the death of her teacher Edouard Manet.
Here is some interesting information about Eva Gonzales and her paintings:
Intuition and technical skills – Eva Gonzales was known for her art approach with her inherent intuition to her art plus her technical skills.
Feminine technique – her art was said to have a feminine technique and what they called her seductive harmony.
Masculine vigor – Eva painted a large-scale painting called Box at the Theatre des Italians, and it was rejected as the Salon jury felt it had too much "masculine vigor." Hence, they doubted that it was her authentic work. Others praised her work and praised her for producing paintings that challenged the way female painters were viewed.
Alan Riding in a New York Times article said this about Eva Gonzales and her life and work: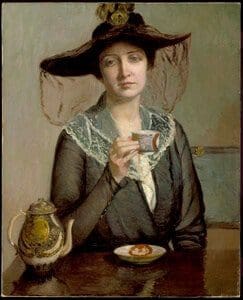 Lilla Cabot Perry
Lilla Cabot Perry was born in 1848 in Boston, Massachusetts. Her father was a distinguished surgeon. She came from a privileged and prominent Boston family and was the oldest of eight children.
In 1874 she married Thomas Sergeant Perry, a Harvard alumnus scholar and linguist. He was a prominent American editor, academic, literary critic, literary translator, and historian. He was also a member of the faculty at Harvard University.
In 1884 Lilla Perry started her formal artistic training with the portrait painter Alfred Quinton College. In 1885 her father died and left her an inheritance that allowed her to study art more seriously. In 1887 the Perry's moved to Paris, which allowed Lilla to continue her art study. During her time in Paris, her styled became influenced by the impressionist movement, including the En Plein Air style of painting outdoors.
In 1897 her husband accepted a teaching position as an English professor at a University in Japan. During her time in Japan, she met Okakura Kakuzo, one of the Imperial Art School co-founders. Lilla took every advantage she had in Japan to take advantage of the unique artistic community there. She even exhibited her work in Toyko.
In 1901 they returned to the United States but found poor investments and spent most of her father's inheritance that Perry needed to commission portraits to support her family constantly. This began to take a toll on her health.
Here is some interesting information about Lilla Cabot Perry and her paintings:
Mixing of east and west – Lilla Cabot Perry had the unique experience of studying art in America, Europe, and Asia. This gave her a unique perspective to be able to blend the styles of east and western art.
American Impressionist – She is considered a leader in the American Impressionist movement and helped pave the way for women like Mary Cassatt to gain exposure and acceptance in the states.
Feminine Vision – Like many impressionist women, the feminine vision had a decidedly feminine touch to her painting and the subject matter.
Close friends with European Impressionists – She was close friends with Claude Monet and helped to further his and John Breck's career in the states. She also helped Camille Pissarro help him out of a dire financial situation and sell his work in the United States.
Impressionism Advocate – Lilla Cabot Perry was not only an impressionist painter, but she was also an advocate of impressionist art and actively promoting it in any community she lived in
It was said of Lilla Cabot Perry: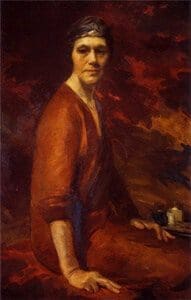 Cecilia Beaux
Eliza Cecilia Beaux was born in Philadelphia to a French silk manufacturer and the daughter of prominent New York businessman John Wheeler Leavitt. Three days after giving birth to Cecilia, her mother died, so she and her older sister were raised mainly by their maternal grandmother and aunts. Her father feeling at a loss without his wife, returned to live in France and only returned one time in 16 years to see his daughters. They hardly knew their father.
At age 16, she started to take some drawing lessons and, in 1876, started to attend the Pennsylvania Academy of the Fine Arts. She was quite successful in the Pennsyvalian area with painting portraits. During a three years period of time, she painted over 50 commissioned portraits.
At age 32, despite her success in Philadelphia, Cecilia Beaux decided that she still needed to advance her art skills. She left for Paris with her cousin Mary Whitlock. Cecilia left for Paris despite the objections of her family and her forsaking several potential suitors.
Though Cecilia admired many of the older masters more than many of the impressionist's styles, she adopted loose brushwork and an interest in light and color. So the impressionist influence can be seen in her work and style.
Here is some interesting information about Cecilia Beaux and her paintings:
Renowned portrait painter – During her lifetime Cecilla Beaux saw a lot of success. She was considered one of the best portrait painters of the 19th and early 20th centuries.
Disciplined perfectionist – She was known and thought by many to be extremely disciplined and a perfectionist in her work.
14 one women art shows – During her lifetime, she had fourteen one-woman art shows and won numerous awards.
Educator – She was one of the first women artists to teach at the Pennsylvania Academy of Fine Arts. She worked there for over 20 years.
A New Woman – Cecila considered and prided herself in being a new woman. She was a trailblazer who explored educational and career opportunities that would have generally been denied women during her lifetime. Like many of these new women during her era, she never married.
Life was filled with honors – Unlike many of the other impressionism women artists who did not see success in their lifetime, Cecilia Beaux did see a lot of success and recognition. She was elected to the National Institute of Art and Letters, where she also received a gold lifetime achievement award. Cecilia was also a member of the prestigious American Academy of Arts and Letters and was honored by Eleanor Roosevelt, President Roosevelt's wife.
Cecilia Beaux in speaking about women breaking the gender barrier in art spoke of how she looks forward to our day when she said:
As I look at these impressionist women artists' lives, several things stand out in my mind as to what these women have given not only to the art world but also to any woman who is now an artist. These great impressionist women artists have shown each of us the following:
Women can be an artist – Many of these women lived in a time period when men were mainly artists and a women's role was to stay at home and take care of the home and family. These women trailblazed through the gender mold and showed the world that women artists had something to offer.
Women can study as hard as a man – Some of these women never married, and In many cases, they purposely have forgone marriage as they wanted to be able to study and work as hard at their art as any men could at that time. These women paved the way for all women artists to be on an equal footing with a man.
A woman can be a wife, mother, and an artist – They showed us that a woman could be a wife, mother, and an artist at the same time. That each of those roles is not exclusive, but they can work together and complement each other.
Power of mentoring each other – I love how in so many cases, you find that these women had a male mentor who spent the time to work with them and to show them some of the "tricks" or the ways of the impressionism art. The women also influenced the art of the male impressionists. To me, this story is one of the powers of each of us working together, and supporting each other, and helping to reach out and mentor others. There is a power in that.
Related Questions
What Are The Characteristics of Impressionism?
Impressionism is an art movement from the 19th Century. It was a break from the art of its day, so it was heavily criticized. Impressionism art was characterized by relatively small yet thin and visual brush strokes. There was also an emphasis on light, often with the light accentuating the effects of the passage of time. The impressionists used a lot of ordinary subject matter and also believed in painting outdoors. The movement was brought into prominence during the 1870s and 1880s in Paris, France.
Who Were the First Impressionist Artists?
The first exhibition of Impressionist art took place from April 15 to May 15, 1874, in France. It was led by the Artists Claude Monet, Edgar Degas, Pierre- Auguste Renoir, Camilla Pissarro, and Berthe Morisot.