Procreate is an excellent tool for all artists to know about and help them with their art. They also make it very easy for you to erase things by using the Eraser tool.
Procreate has a very advanced and easy eraser tool that you can use to erase when using the Procreate app. Even though using the tool is relatively straightforward, some tips and tricks can help you be more efficient and effective in using the Procreate eraser tool.
Using the Eraser Tool
The eraser tool in Procreate is located at the top left-hand side of the app. The eraser tool is the eraser icon between the brush size opacity tool and the layering.
When you click on the eraser tool, it will turn to be a blue color then you will know that the eraser function is now turned on. If it is not blue, then the eraser function is not yet turned on. You can use either your finger or an Ipad pencil to touch the eraser to turn it on.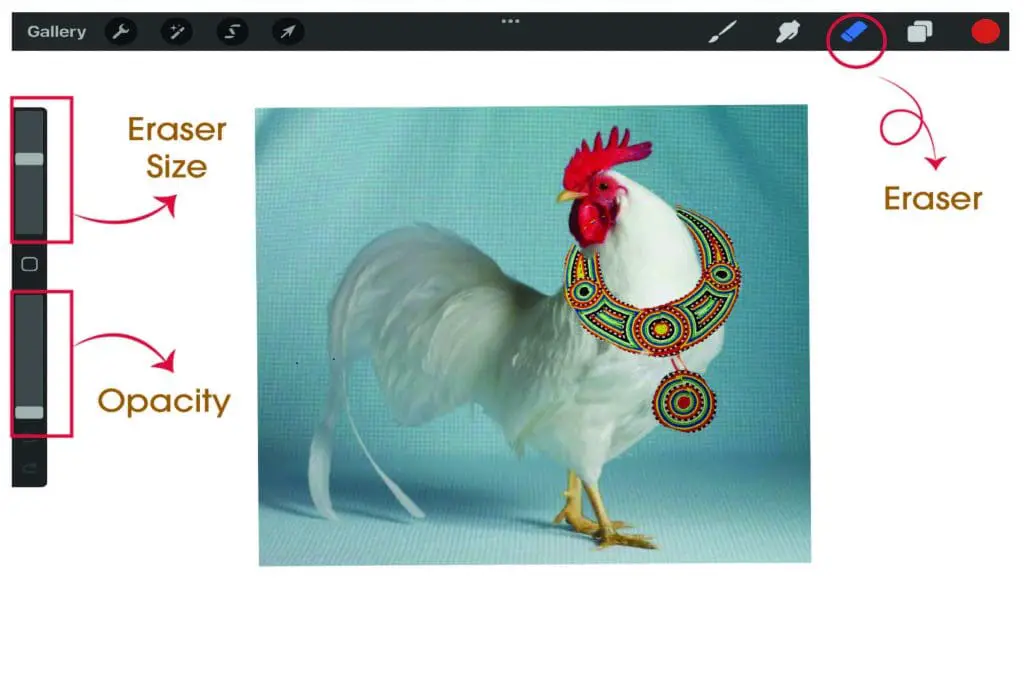 Tips and Tricks To Using The Procreate Eraser Tool
We love the eraser tool, and we use it quite a bit.
Here are some tips and tricks to be able to help you to use the eraser tool better.
Brush Sizes Vs Eraser Sizes
Whatever size your brushes you were using will usually be the same size as the eraser. Sometimes, it can become confusing for some people; you need to be careful what your eraser is when working with the eraser tool.
You can quickly check this by moving the brush size to the size you want your eraser to be. The sizes will go from 1% to 100%. The 100% usually means that you want or need to erase a large area.
Opacity and Eraser Tool
You must also check your opacity settings when you use the eraser tool. The opacity works like the brush tool and will go from 1% to 100%. If you have your opacity on 1%, the eraser does not use the eraser.
Usually, when I am erasing, I want to have the eraser bring the opacity up to 100%. I find this easier so that I do not have to go over what I am erasing so many times.
Change Background Color
I will change the background color to a bright background to see what I am erasing much time. This helps me know what I am erasing and allows me to get a clean erase.
If you change to a brighter color background, you can always change it again once you have finished erasing. One of the great things about Procreate is they make tasks as changing the background color very easy.
Double Tap To Undo Mistakes
One of the things I love about Procreate is that you do not need to worry if you make a mistake. You can double-tap with two fingers on your iPad screen, and it will undo what you have done.
This is similar to a Command Z on a Mac computer that allows you to undo what you have done and return to your original copy.
I love this as it gives me confidence that I will not ruin my work and can go back to where I was before if I make a mistake.
Erase Larger Areas First
I find it is best to turn my eraser tool up on high, and I start to eraser the larger sections I want to erase first. This way, it allows me to have a clean erase.
Also, the larger erase will help you to be sure to eraser all you need to in the area you are erasing. This can be important if you are working on a background where it is hard to see what you are erasing.
Erase Medium Areas
After I have erased the larger areas, I will erase the areas using a medium-size eraser. Depending on what I am erasing, I will bring my eraser setting between 30 to 60%. This allows me to get close to the edge but not right at the edge of what I am erasing.
Erase Close to the Edges
After I have erased closer to the edge, I will bring my eraser down to about 10% to 30% and start eroding very near the edge. If I want to have a very clean edge, I will not erase right at the border but get as close to the edge as possible.
Enlarge Work To Get Very Close
If you need a more precise edge, I will make my Procreate canvas very large until I see the pixels or boxes. Then I will erase pixel by pixel. This allows me to get close to what I need to erase and make clean lines.
The Procreate eraser tool is a great tool to use. The more you can understand it, the better you will get with using this tool, and this will allow you to erase any background or anything you need to use the Procreate App.
We love the Procreate App and feel it is an excellent app for any artist to know and use. Check out some of our other great content about how to use Procreate to be a better artist.
If you are interested to see any of my art, you can find out more by clicking here. If you are interested in what inspires me and my paintings, you can discover more by clicking here.
We have a free newsletter and would love you to be part of our community; you can subscribe to the newsletter by clicking here. If you have any questions, I would be happy to talk to you any time. You can reach me, Anita, by clicking here.

Subscribe to our Anita Louise Art YouTube Channel filled with great videos and information by clicking here.
Related Questions
Erasing and Changing a Color On A Background in Procreate
With Procreate, it is straightforward to erase the background with their erase tool; this tool works similar to how you would erase on paper using a pencil and eraser. Once the background is erased, you can use the color palettes to change the background color quickly.
You can discover more by reading Erasing and Changing a Color On A Background in Procreate by clicking here.
Is Procreate Easier Than Photoshop? What One Should An Artist Learn?
Procreate is a much easier computer program to learn than Photoshop, especially if you are new to the Adobe program. The Procreate program is a fabulous computer program to lay out your artwork before painting on the canvas. Photoshop can also design your artwork, but as it is a more robust program than Procreate, it will take much longer to master.
You can discover more by reading Is Procreate Easier Than Photoshop? What One Should An Artist Learn? by clicking here.