There is perhaps no other artist that says "America" than Norman Rockwell. For years his paintings were on the cover of magazines as the Saturday Evening Post magazine.
Norman Rockwell is one of the most iconic American artists. His popular illustrations about daily life in America were on the front cover the Saturday Evening Post magazine for over 47 years. Rockwell received success early and life. His artwork was in all the popular publications of his day. Today you can see many of his works of art at the Norman Rockwell Museum in Stockbridge, Massachusetts.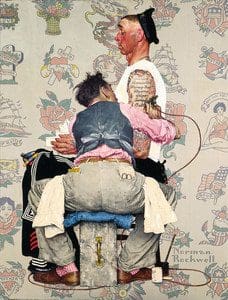 Early Life
Norman Rockwell was born in New York City in 1894. He knew from a very young age that he wanted to be an artist. At age 14 , he enrolled at The New York School of Art (formerly known as The Chase School of Art).
Two years later, in 1910, he left high school so that he could study art full-time. He studied at The National Academy of Design, an honorary art association of American artists founded by artists in New York City in 1825.
He also studied at the Arts Students League of New York. Many famous artists have studied at the Arts Students League. It is an art school that is located in Manhattan and is known for its broad appeal to both professional and amateur artists.
At the Arts Students League, he studied under Thomas Fogarty, George Bridgman, and Frank Vincent DuMond. It was Fogarty's instruction in art illustration that helped prepare Rockwell for his first commission, whereas Bridgman helped give him technical skills in drawing.
In speaking of his times as a student he said: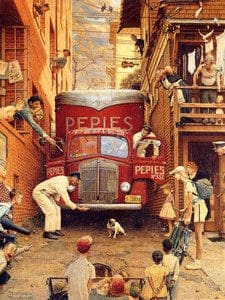 Success Came Early For Norman Rockwell
For Norman Rockwell, professional artistic success came early. Before his sixteenth birthday, he had already received his first commission for a Christmas card collection. While still in his teens he was also hired as the art director of the Boys Life Magazine.
The Boys Life Magazine with the official publication of the Boys Scouts of America. The Boy Scouts of America is a group he would be associated with and illustrating for or about almost his entire life.
He was also able to pick up some other freelance work from other publications geared towards young people. From a very young age, Norman Rockwell showed that he could handle being a full-time artist.
At age 21, his family moved to New Rochelle, New York. The community of New Rochelle included quite a few famous illustrators of the day as J.C and Frank Leyendecker and Howard Chandler Christy. In New Rochelle, Rockwell set up a studio with the cartoonist Clyde Forsythe.
Clyde Forsythe illustrated cartoons, but also did a lot of paintings. He eventually moved out to California and is considered to be one of the original "desert painters."
it was during this period that Norman Rockwell produce illustrated artwork for magazines as Life, Literary Digest and Country Gentelman.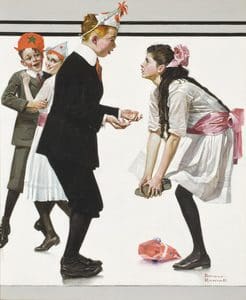 Norman Rockwell, the Illustrator
Today we call Norman Rockwell one of the great American artists. But is interesting that is his day and even from early on in his life, he considered himself to be an illustrator.
In speaking of this he was known to say: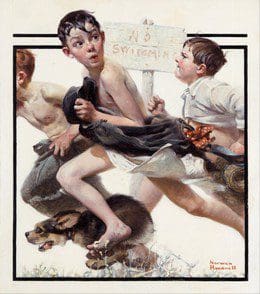 The Saturday Evening Post Magazine
Clyde Forsythe, whom Rockwell shared an art studio with, worked with the Saturday Evening Post magazine as a cartoonist. With Forsythe's help, Rockwell submitted his first successful cover to the Saturday Evening Post magazine. The illustration he submitted was called "Mother's Day Off" that was on the cover on May 20, 1916.
This cover was so successful that he quickly followed them up with other illustrations that also got on the cover as Circus Barker and the Strongman (published June 3rd, 1916), Gramps at the Plate (August 5th, 1916), Redhead Loves Hatty Perkins (Published September 6th, 1916), People in a Theatre Balcony (Published Oct 14th, 1916) and Man Playing Santa (December 9, 1916) In his first year of working with the Saturday Evening Post, his illustrations were on the cover eight times.
This started a long career with the Saturday Evening Post magazine. Rockwell's art would be on the cover of the Saturday Evening Post magazine 321 times over a 47 years period. This is an astonishing rate of success for any artist.
In 1916, Norman Rockwell married his first wife, Irene O'Connor. Irene was the model for his work "Mother Tucking Children Into Bed." (1921). The couple had no children and divorced In 1930.
Norman Rockwell became depressed after his divorce, so he went out to California to visit his old friend, the former cartoonist, Clyde Forsythe. During this time he painted one of his best-known paintings called Doctor and the Doll.
Also in 1930, while in California he met and married his second wife, school teacher, Mary Barstow. They would eventually have three sons together, Jarvis Waring Rockwell, Thomas Rhodes Rockwell, and Peter Barstow Rockwell.
The Boy Scouts of America
In 1916, when Rockwell started to paint for the Saturday Evening Post magazine, he gave up his salaried position at the Boys Life Magazine at the Boy Scouts of America. He did continue to include the Boy Scouts of America in many of his publications for some Saturday Evening Post cover images.
In 1926 he resumed working with the Boy Scouts of American with his fifty-once original illustrations for the official Boy Scouts of American calendar. Many of these illustrations can be seen today at the National Scouting Museum in Cimarron, New Mexico.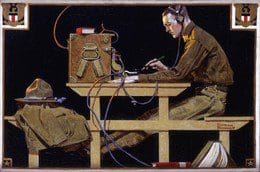 The World Wars and Norman Rockwell
During World War I, Norman Rockwell tried to enlist in the U.S. Navy. The U.S. Navy at first refused him as he was only 140 pounds (64 kilos) and was 8 pounds underweight for someone who was 6 feet tall.
He went home and for an entire evening started consuming bananas, all kinds of liquids, and donuts. He went back and was just over the weight limit so he was able to enlist in the U. S. Navy. He did see any action during his tour of duty but instead was a military artist.
World War II
In 1939, near the start of World War II, Norman Rockwell and his family moved to Arlington, Vermont. It was here that a lot of his work began to really reflect the small-town American life. It was also the 1930's and 1940s that were thought to be some of the most productive times of his artistic life.
In speaking of this time he said:
The Four Freedoms
In 1941, during World War II, Rockwell was so inspired by President Franklin Roosevelt's address to Congress that decided to paint the series called the Four Freedoms based on Roosevelt's speech. The Four Freedoms are 1) Freedom of Speech, 2) Freedom of Worship, 3) Freedom from Want, and 4) Freedom From Fear.
These Four Freedoms illustrations and his interruption of Pres. Roosevelt's speech proved to be extremely successful. The Saturday Evening Post put them on the cover in four consecutive issues, along with essays by some contemporary writers.
The works of the Four Freedoms toured the United States in an exhibition that was jointly sponsored by the Saturday Evening Post and the U.S. Treasury Department. Through this exhibition and the sales of war bonds, they were able to raise more than 130 million for the war effort. In today's money, this would be close to 2 billion dollars.
In speaking of how he worked with his subjects who sat for him while he painted them, Norman Rockwell said:
The Studio Fire – 1943
Even though the Four Freedoms brought Norman Rockwell a lot of success and fame, he also suffered a loss. In 1943, a fire destroyed his Arlington studio, so many of his paintings and his entire collection of historical costumes and props that he used to paint with were destroyed. This was a huge loss for Norman Rockwell and his art.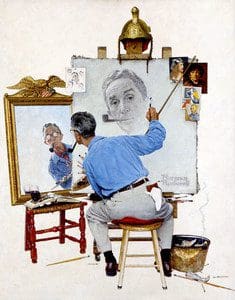 My Life As An Illustrator Book (1960)
In 1953, Norman Rockwell and his family moved to Stockbridge, Massachusetts. One of the reasons they made the move was so that his wife, Mary, could be treated at the Austen Riggs Center, a psychiatric treatment facility.
While at the psychiatric facility, Mary saw the analysis of Eric Erikson who is said to have told Norman that "he painted his happiness but did not live it." In 1959, his wife Mary suddenly died from a heart attack.
Norman Rockwell took time off from his art to work to grieve for the loss of his wife. His son Thomas and him started on a biography about his life called "My Life As An Illustrator."
The Saturday Evening Post magazine printed some excerpts from the book in eight consecutive issues and put Norman Rockwell's art on the cover. In 1963, Norman Rockwell painted his last painting for the Saturday Evening Post.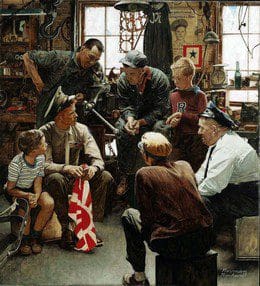 Later Life
In 1961 Norman Rockwell married his third wife, Mary Leete 'Mollie" Punderson. She was a retired English teacher from the Milton Academy, a boarding and day school in Milton, Massachusetts.
Rockwell stopped painting for the Saturday Evening Post and started to paint for other magazines as the Look Magazine. During this time many of the things he illustrated were about civil rights, poverty and space exploration.
In speaking about a change in life, Norman Rockwell said:
One of his most famous civil rights paintings is called The Problems We All Live With (1964). It shows an African American girl, Ruby Bridges, being walked to school during segregation with some police guarding her on all sides. When Ruby Bridges visited the White House and Pres. Obama in 2011, this painting was on display at the White House.
In 1973 Norman Rockwell set up a trust to preserve his artistic legacy by placing his works in the hands of the Old Corner House Historical Society that later became the Norman Rockwell Museum of Stockbridge.
In 1976, while in failing health, he was concerned about the future of his studio, so he placed the studio and all the contents also in the hands of the trust.
In 1977 Norman Rockwell was given the Presidential Medal of Freedom, by President Gerald Ford.
In 1978, at the age of 84, Norman Rockwell died of emphysema.
Norman Rockwell left us all with a great glimpse of this time in American history. Perhaps no other American illustrator is so well-known and loved as Norman Rockwell and his many paintings.
This is because even today his paintings will put a smile one everyone's face. As Norman Rockwell once said: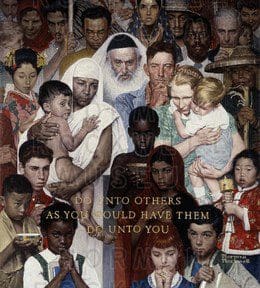 The Norman Rockwell Museum
If you are traveling to Stockbridge, Massachusetts you can visit the Norman Rockwell Museum. The museum has many exhibitions and collections. At the museum, you can see many of the Rockwell paintings and learn more about this iconic artist.
The museum is located at 9 Glendale Road/ Route 183, Stockbridge, Massachusetts. You can buy tickets and find out more about the museum by clicking here.
Norman Rockwell's Bike Route
If you enjoy biking then you can also take the bike route that Norman Rockwell biked frequently. You will go past Lake Averic, which is a very nice lake.
To find out more about the bike route you can discover it by clicking here.
Few artists have touched the heart of America as Norman Rockwell has. This is because he was able to capture American daily life like few artists have been able to. This is why his many illustrations remain popular even today.
Related Questions
What Was The American Gothic Painting by Grant Wood (1930)?
Grant Wood, the artist, was from Iowa. His painting American Gothic has a Carpenter Gothic Style house with a stoic man with a pitchfork and women staring off to the side outside the house. The painting received a 3rd place finish for an art competition at the Art Institute Chicago. The painting has a lot of ambiguity associated with it, which leads to speculation as to its true meaning. But all this ambiguity has raised its profile over the years.
You can read more by reading our blog 17 Facts About the American Gothic Painting by Grant Wood (1930) by clicking here.
Who Was Georgia O'Keeffe, The Mother of American Modernism Painting?
Georgia O'Keeffe was a dairy farm girl from Wisconsin, who became one of America's great iconic painters. She received some college education but had to leave college due to her father's untimely bankruptcy. It was when she was in school in New York that she met her future husband, the photographer and gallery owner Alfred Stieglitz. She is most well known for her many American western subject matters and oversized flowers that she painted. She had a home and studio in the US state of New Mexico. You can visit her home in New Mexico and also the Georgia O'Keeffe Museum in Santa Fe, New Mexico.
You can find out more by reading our blog Georgia O'Keeffe, The Mother of American Modernism Painting by clicking here.