Every once in a while you come across the name of an amazing woman artist. I saw Minerva Teichert's art many times when I attended Brigham Young University but I knew very little about her work or her life. As I have studied and gotten to know more about her, I have great adoration for her and her work. Like so many women of her day, she helped to pave the way for all women artists today.
Minerva Teichert was by all accounts a cowgirl from Idaho who loved art. She studied art in both Chicago and New York. Minerva is known for her artwork of daily life in the western United States, historical events, and scenes from the scriptures.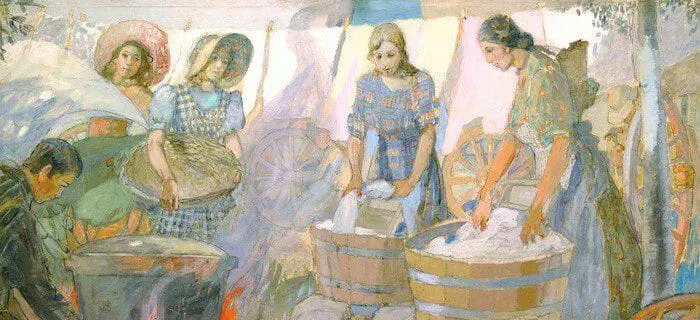 Early Life – Minerva Teichert (1888-1976)
Minerva Bernetta Kohlhepp Teichert was born in Odgen, Utah in 1888. She was the second of 10 children that were born to Frederick Kohlhepp and Mary Ella Hickman. Her father was a rancher and railroad worker who was originally from Boston. Her mother was educated at the Sacred Heart Academy in Odgen Utah where she studied language, arts, and music.
Her parents and family were devoted members of The Church of Jesus Christ of Latter-day Saints. Minerva grew up in Idaho.
Due to her father's work on the railroad, her family moved frequently, so Minerva did not receive much formal education and was mainly homeschooled. Her parents stressed the education of music, art, and literature. Perhaps this was because it was the subjects her mother studied at the Sacred Hearts Academy years before
From a very young age, Minerva could be found with a sketchbook and charcoal in hand ready to sketch what she saw and experienced. Her parents were very supportive of her interest in art.
When she was 14 years old she traveled to San Francisco with a wealthy cattleman to be a nursemaid for his family. It was during her visit to California, that she saw her first art museum and was able to visit the Mark Hopkin Art School which is the present-day San Francisco Art Institute.
There is no doubt that this trip of a young 14-year-old girl from Idaho visiting the big city of San Francisco and seeing the art that was present there had an influence on Minerva's life. It was after this trip to San Francisco that she returned to Idaho, graduated from high school, and started teaching at some rural schools while also working in the fields so she could earn enough money to attend the Art Institute of Chicago.
Art Institute of Chicago
In many ways, it must have felt like the other side of the world for a young girl to leave the comfort of her home in Idaho to go to Chicago by herself to study art. It would have been a very brave and courageous thing to do.
While at the Art Institute in Chicago she studied under John Vanderpoel. John Vanderpoel was a Dutch- American art teacher who is best known for his instruction of figure drawing. He wrote the book "The Human Figure" which has long been a standard art school book.
There is no doubt the Vanderpoel's influence helped Minerva and her art. John Vanderpoel had a reputation as one of America's foremost authorities on figure drawing. Minerva would paint a lot of people in her paintings so Vanderpoel's instruction was extremely valuable in the development of her technical artistic style.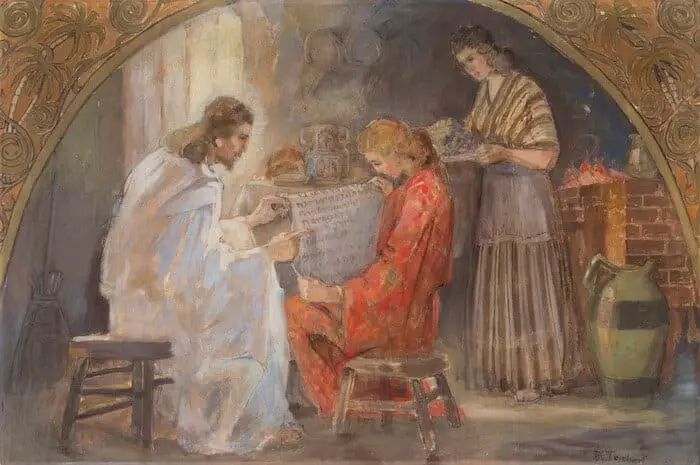 Art Students League Of New York
In 1912, Minerva left Chicago and returned to Idaho to earn money to further her education. At this time she was courted by two young men, one was to be her future husband Herman Teichert.
What must have seemed like quite a radical move for her time, she again left Idaho in 1914 to travel to New York City to study at the Arts Students League of New York.
The Art Students League of New York is an art school located in Manhattan in New York City. Though the school offers no degree programs or grades it has historically had a lot of influential and important artists coming through its doors, including the iconic American artist Norman Rockwell.
While at the Art Students League of New York City, Minerva studied under Robert Henri , George Bridgmann and Dimitri Romanoffski. Robert Henri was a leading figure of the Ashcan School of American Realism. He was so impressed with Minerva, as he considered her to be one of his top three students, so he was also instrumental in helping her get a scholarship.
So determined was Minerva to stay in New York City and continue the art studies that she was said to take any job she could to earn a living. She sketched cadavers for medical schools and was even a trick horseback rider in some Wild West Shows.
During her time in New York City, she developed a very good repore with her teacher Robert Henri. In speaking of this time period it was said:
Life in Coleville,Wyoming
So shortly after this, Minerva returned to the western United States. She married her cowboy boyfriend Herman Teichert. After their marriage, Herman left to fight in World War I.
The couple eventually settled in Coleville. Wyoming where they raised their five children. Her second son was named Robert Henri Teichert, after her mentor and art teacher Robert Henri.
Minerva spent her days taking care of her family, working in the fields, doing the ranch accounting books and cooking for their ranch hands. She found time to write two books, one was a book of short stories and the other a novel.
But painting was such a passion of hers that every night after her children went to sleep, she would go downstairs, and for a few hours, each evening turn her living room into her art studio.
In speaking of her obsession to paint daily, Minerva said:
She was known to paint not only on canvas but when she ran out of canvases to paint on anything she could find as old discarded doors, paper bags, or even the margins of books.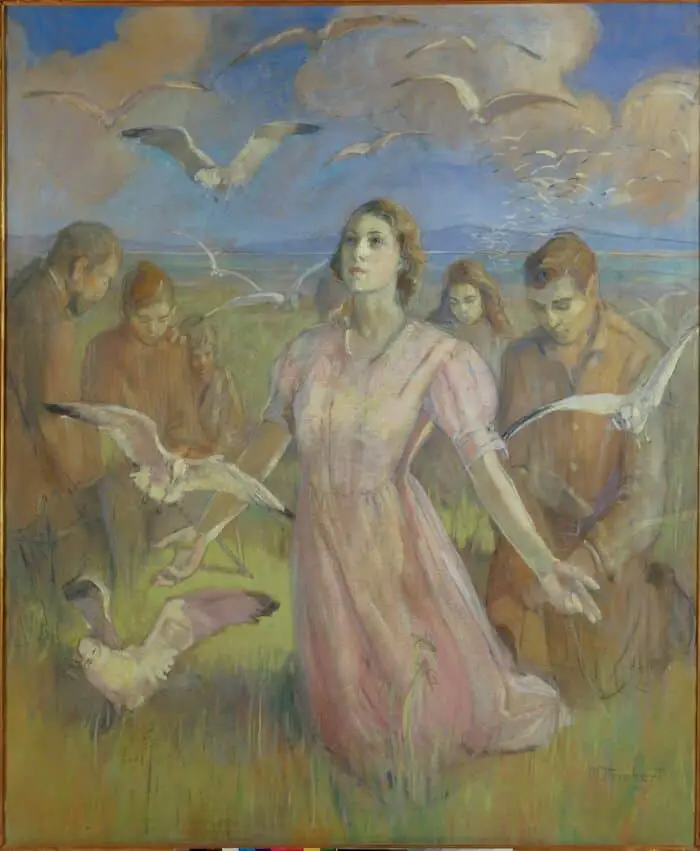 Artwork of Minerva Teichert
It can be said that in many ways, Minerva was a woman ahead of her time. In her art, she emphasized the role of female pioneers as being strong and capable women. Many of her paintings gave women a central role and focus as her painting "The Miracle of the Gulls."
Some of her most famous works are her paintings which are the interpretation of the scriptures, including scenes from the Book of Mormon. In speaking about her passion to paint this subject matter she said:
During her lifetime Minerva created more than 500 works, many of them very large murals. She continued to paint her entire life until her death in 1976.
The Artistic Style of Minerva Teichert Art
When you look at Minerva's art there is a lot of great things about her artistic style and subject matter. To me, she truly was a modern woman and an artistic inspiration.
Here are some of the things I love about her paintings:
Red – I have always loved the color red and she uses a lot of the color red as a contrast color. A great example of this is in her painting the "Laminite Maidens" which uses a lot of red as a great accent color.
Details in the clothing – when you look very closely at the clothing many of her subjects are wearing, you will see that she added detail or a pattern to their clothing.
Women – Her entire life, Minerva was known to be for women's rights, so it is not surprising that the women in her paintings were shown as strong and capable.
Softness – Many of her paintings have a softness about them in the choice of whites, blues, and other soft colors but then suddenly the red color will pop out somewhere. I find it really draws your eyes to the subject matter.
Unfinished edges – Many of her paintings she left the edges unfinished.
Western influences – You can see the love of the west in her paintings as many have mountains in the distance or some of the color of the desert.
Where Can You See Minerva Teichert's Work?
Minerva Tiechert's work can be found mainly in the state of Utah. Here are the places you can see her work:
In many ways, Minerva Teichert was not just a pioneer woman on the frontier of the western United States, but she was also a pioneer in her work of art. Women artists like her who were not afraid to lead the way and set the trail for all women artists today.
I am thankful for Minerva Teichert. I am thankful for her not only leaving us with an amazing artistic legacy, but for also her courage to pave the way for women artists everywhere.
Related Questions
Who Was Georgia O'Keeffe, The Mother of American Modernism Painting?
Georgia O'Keeffe was a dairy farm girl from Wisconsin. She would go on to become one of America's great iconic painters. Georgia received some college education but had to leave college early due to her father's untimely bankruptcy. It was when she was in school in New York City that she met her future husband, the photographer and gallery owner Alfred Stieglitz. Georgia O'Keeffe is most well known for her many American western subject matters and oversized flowers. She had a home and studio in the US state of New Mexico. You can visit Georgia's home in New Mexico and the Georgia O'Keeffe Museum in Santa Fe, New Mexico.
To discover more about Georgia O'Keeffe you can read the blog Georgia O'Keeffe, The Mother of American Modernism Painting by clicking here.
Who was Henriette Ronner-Knip (1821-1909), Painter of Cats & Dogs?
Henriette Ronner-Knip came from a family of artists. At a very early age, she became in charge of the family's finances and other legal obligations so she started to paint to earn some income. She sold her first painting at age 15 years old. Later when she was married, her husband became her manager and Henriette continued to paint. Henriette is famous for her many wonderful paintings of cats and dogs. One reason Henriette choose to paint dogs and cats as a subject matter is that during the Victorian era having a pet in your household was popular.
To find out out more about Henriette Ronner-Knip you can read our blog on Henriette Ronner-Knip (1821-1909), Painter of Cats & Dogs, by clicking here.