I traveled to Mongolia and decided that I needed to paint a Mongolian woman. My painting entitled From Ulaanbaatar is a result of this trip.
From Ulaanbaatar is an oil painting by Anita Louise Hummel. The painting shows a nomadic woman dressed in traditional clothes. The painting uses bright colors and gold leaf for the earrings.
The Inspiration – From Ulaanbaatar
I made a trip to Mongolia in 2019. I went to Mongolia for a BYU Management Society Conference in Ulaanbaatar. Ulaanbaatar is the capital of Mongolia.
While I was in Mongolia, I decided to take some extra days to go out and see some of Mongolia's countryside. We traveled 6 hours outside Ulaanbaatar to the Gobi Desert.
I was able to spend the night in a Mongolian Ger (Yurt). We ate our meals with a nomadic Mongolian family and stayed with them in their Ger camp.
From this trip, I began to understand a little more about their nomadic life. Four times a year, they would move their Ger camp to new grazing land for their herds.
Like most Mongolian nomads, this nomadic family had camels, horses, sheep, and goats at their camp. Their main income was from the selling of the wool from their herds.
They also had a tourism business where they had Gers that people, like me, could stay in overnight. As part of this service, they offered some camel rides.
Mongolia is a fascinating and beautiful country. The land so vast and undeveloped, especially once you get outside the capital city of Ulaanbaatar.
I decided that I would need to paint a nomadic Mongolian woman. The result of this is my painting – From Ulaanbaatar.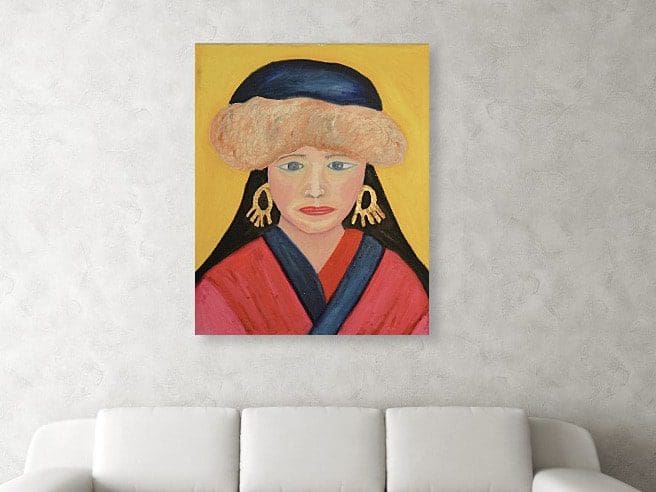 About The Painting – From Ulaanbaatar
My painting of the nomadic Mongolian entitled "From Ulaanbaatar" is in bright colors. I have always loved bright colors especially yellow. I want to be sure to paint #ArtThatMakesYouSmile
Here are a few points about this painting:
Yellow Background – I really love this right kind of yellow background. Yellow is such a happy and fun color, and yellow is one of those colors that makes everyone smile. This yellow background also helps my painting of the nomadic woman stand out.
Pink and Indigo Blue – The other two colors I use predominately in this painting are bright pink and indigo blue. Indigo blue is my "new" black color. I will use Indigo blue in places where I normally would have used black; Indigo blue is a beautiful color.
Blue Eyes – You will notice in the painting her eyes are also indigo blue tones. I realize that Mongolian women do not have blue eyes, but I use blue in almost all my women's paintings; I find blue eyes fascinating.
Pink Lips and Cheeks – The same pink in her outfit I have used on her lips and rosy cheeks. I am sure that most nomadic women working in the fields may not always take the time to put lipstick on their lips or blush on their cheeks, but I always love to paint a woman on how I see them as beautiful inside and out.
Gold Leaf on Earrings – Another signature of many of my paintings is the use of gold or silver leaf. In this painting, I have used gold leaf on her earrings. I feel like the gold leaf adds something to the entire painting, especially for these earrings.
You can purchase the print of this painting from Fine Art America. Fine art America will allow you to purchase this as a printed frame with a matt and frame or as a canvas print. They offer a nice range of frame types, matt colors, and print sizes. You can find out more about buying From Ulaanbaatar by clicking here,
If you would like to have From Ulaanbaatar printed on a notebook, facemasks, water bottle cup, or anything else, you can also purchase that from either Fine Art America or Red Bubble. You can find out more about Fine Art America by clicking here or Red Bubble by clicking here. They both offered you some great choices to print From Ulaanbaatar on cards, notebooks, T-shirts, and products.
If you have any questions or comments about the From Ulaanbaatar painting, feel free to contact me, the artist, Anita Louise Hummel by clicking here. We would love to have you be part of our community and sign up for our newsletter by clicking here.
Related Questions
Why Are Oil Paints Preferred When It Comes to Painting?
Many artists prefer oil paints as they are a classic art medium to use. Oil paints also offer rich, lush colors; oil paints are versatile paints to use and have a slow drying time. Oil also paints very durable and stable paints while also giving you a great color blending quality. Use can use a variety of brushes or even a palette knife with your oil paints.
You can learn more by reading Why Are Oil Paints Preferred When It Comes to Painting? by clicking here.
How Can The Procreate App Help You Become a Better Oil Painter?
There are many ways that you can use procreate to become a better oil painter. Procreate can help you set up palettes with color combinations and layout your painting before you paint it. I find it an essential tool to help me with my oil painting.
You can learn more by reading How Can The Procreate App Help You Become a Better Oil Painter? by clicking here.