Procreate is an award-winning IPad App that has been designed specifically for the Apple Ipad. Like many of the Apple programs, this program is very user-friendly and has many very nice features. There are many ways that you can use procreate to become a better oil painter.
Procreate can help you set up palettes with color combinations and layout your painting before you paint it. I find it an essential tool to help me with my oil painting. Procreate can do a lot of things that can be done in Abode Photoshop. But Adobe Photoshop can take a lot of time to really master, and it is also quite expensive. The advantage of Procreate is that it is very user-friendly and ONLY USD 9.99 without any monthly or annual fees.
Here are some of the great ways you can use Procreate to help you with your oil painting:
Set Up Color Palettes.
Procreate has an amazing feature called palettes. This feature will allow you to set up your own color palette or to use one of the preset color palettes that they already have set up.
Setting up a color palette is quite easy. The main thing you need to do is find the color and then press that color on your iPad until it shows up in the top right-hand corner; once that color shows up in that top right-hand corner, you can add it to one of your palettes.
Procreate can also help and show you:
The color on the color wheel – Procreate will tell you where the color is on the color wheel. This should help you to be able to mix the color better as you can see where it is located on the color wheel. Procreate will give you several ways to look at the color. You can view it on a palette with other colors or see it in what they call the classic view or disc view. The classic view shows part of the color wheel but gives you more details for those colors. For example, if I have a white color and from the classic view, I can see that it showed some green tints to the white color. The color disc shows you where it is located on the color wheel itself.
Color Values – Procreate will give you the value of the colors such as the HSB, RGB, Hexadecimal values.
Different Brushes or Brush Strokes
Procreate has many fun brush tools that you can check out and see how they will look. The tools include sketching, inking, calligraphy, painting, artistic, airbrushing, textures, abstract, charcoals, elements, spraypaints, touchups, retro, luminance, industrial, organic, and water. Each one of these brush tools will also have about 8 different ways it can be used, and you can also adjust the size of the brush.
One of the more common ones that most oil painters would use is the Painting brushes or Artistic Brush tools. Below I am showing you some ideas of how one color looks when used with different brush tools. This was all done using the Apple Ipad pencil.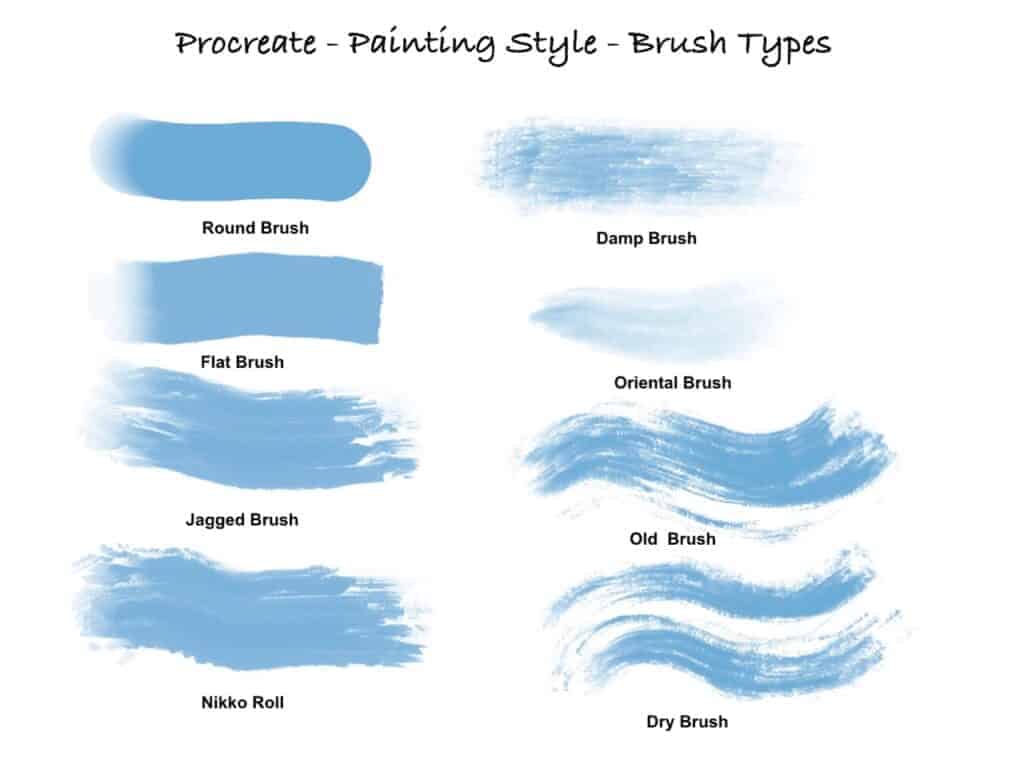 Layout Your Paintings Before You Paint
I layout my paintings on the Procreate program. I like to paint animals, but I always want to humanize them when I paint them. So I will usually put on some hats, glasses, or flowers on the animals I paint. Procreate make it easy to be able to do this.
You can import photos as this photo I am showing below a camel I rode this year in the Gobi Desert in Mongolia. The minute I rode him, I knew that I wanted to find a way to paint him but to do it in a fun way.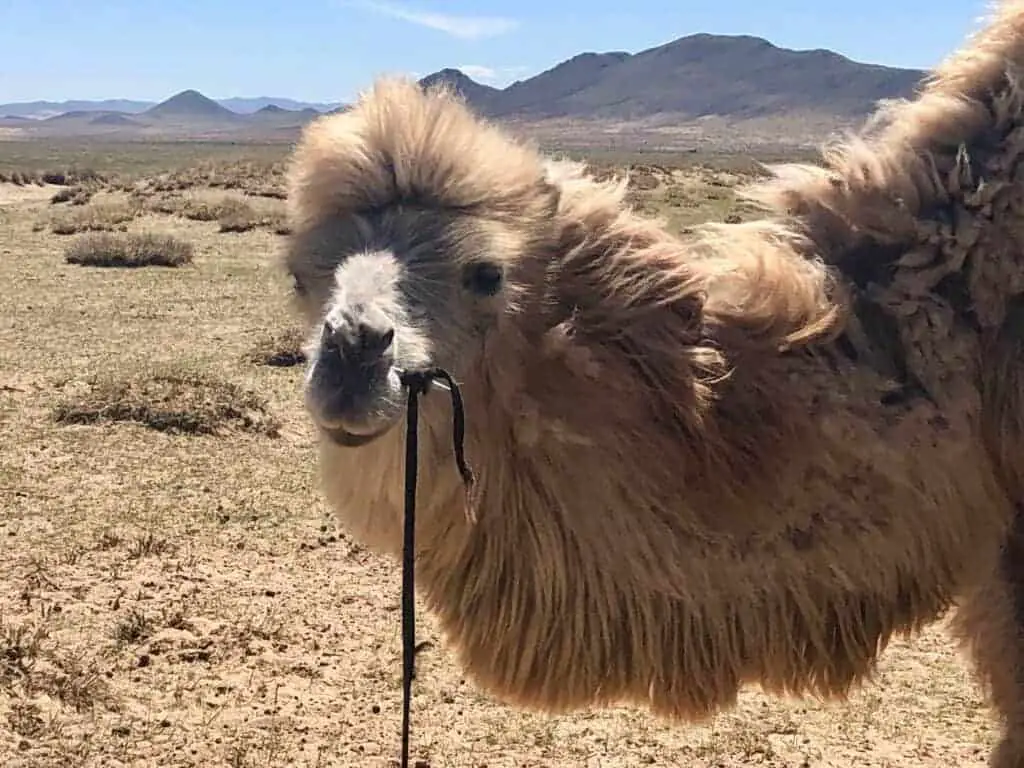 I decided that I would make him Joe Camel – The Pirate of the Gobi Desert. So I needed to find a pirate's hat, patch, and a scarf to paint on him. As Procreate works in layers, similar to photoshop, you can add layers on top of a photo to create the photo you need.
Here are the steps I took layer my photos in Procreate:
Import Photo as the First Layer – I imported the camel's photos onto the first layer of Procreate. On the left-hand side of Procreate has a tool button (This is right next to the Gallery), and then look under Actions, Add, and then Add Photo. You can insert a file, insert a photo, or take a photo and then insert it.
Erase Background with Eraser Tool – I then took the erase tool at the top left-hand side of the screen and erased all the background. I did not really need to do this step, but as I wanted to have a clean background to work from, I decided to do this step, so my background was white. I also wanted to see how the camel would look without a background as was in the original photo, and I wanted to see different back color combinations as it was going to be a painting. I also did not need it to be perfect, just enough to trace the photo onto my canvas.
Found hat and scarf and eye patch for other layers – I went onto Google and found a hat and scarf I liked and the eye patch to have them ready to work with for the next few steps. I placed them in my photos, so I could easily find them.
Placement of Second Layer onto the First Layer – I then placed this second layer on to the camel's first layer. Thie second layer was the hat and scarf I had found. I did this the same way as I added the first layer, adding a photo on the layer.
Erased the second layer background – As I did on the first layer, I then erased the second layer's background, so I also had a clean background.
Placed hat and scarf on the Camel – Once this is completed, I can then place the hat and scarf on the first and camel layers. What is great about Procreate is that you can play around with the size using your two fingers or a pencil on the iPad. This allows me to decide how large or small I want the hat and scarf to look on the camel. If needed, I can also easily flip it using the flip tool at the bottom of the screen. All these steps help give me some perspective on what I want and how it will look before I actually paint it.
Add the Eye Patch – Like the first and second layers, I will add the third layer, the eye patch.
Erase Background of the Third Layer – I will also erase all the background of the third layer or the eye patch, so there is no background.
Placement of the Third Layer to the First Two Layers. – Then, I will adjust the third layer or the eye patch and place it where I want to on the camel.
Export to Your Photos – Once this is completed, you can go back to the Tools, Actions, and go to the Share Button. I usually share the image as Jpeg and then export it to save the image in my photos. Procreate gives you quite a few ways to share the image, such as a Procreate image, PSD, PDF, Jpeg, PNG, and TIFF. You can choose the format by which type of image is better for you to use.
Now that my photograph is complete, I can use this as I would any other photo on my iPad. ] I will usually take this photo and print it out to trace some of the proportions onto my canvas.
One of the things I love about this method is that before I have even painted anything onto the canvas, I already have an idea of what I am going to paint and how I will paint it. If I want to, I also adjust any colors on Procreate. The scarf happened to be red, and I liked the red color, but if I wanted to change the color or adjust the red color, I could have also changed the color by using Procreate.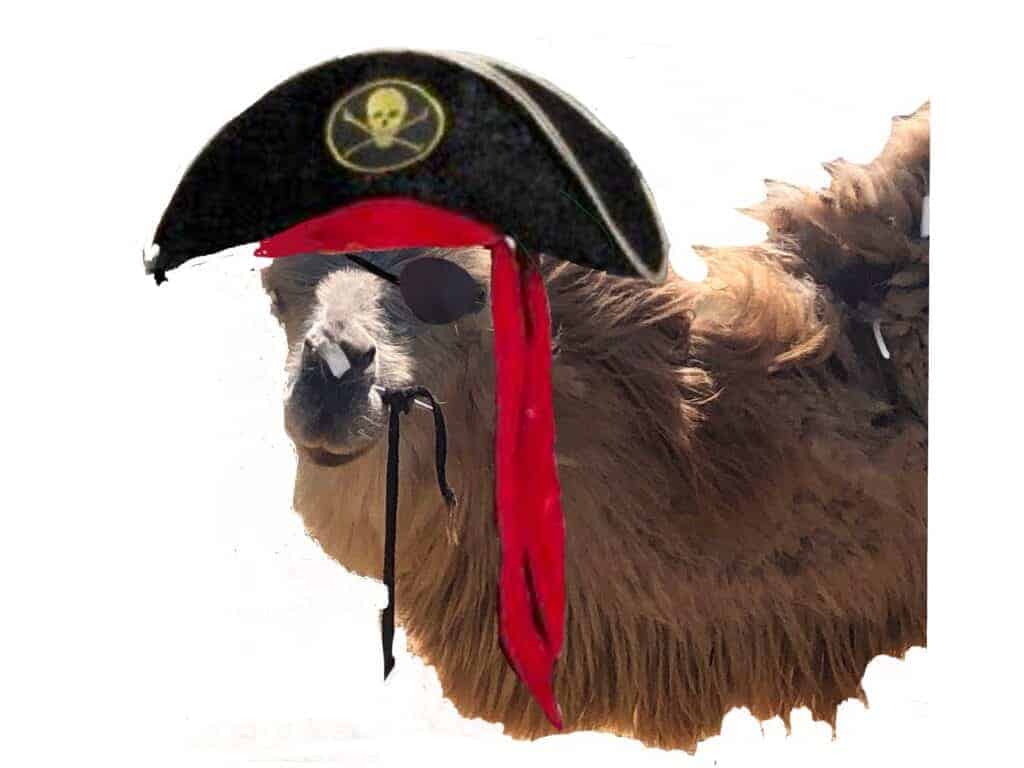 I love about Procreate because this entire process, once you master it, is straightforward. And I find it saves me time with my painting as I am not painting over mistakes as much as I use to. It also helps me think and plan what I will put on a canvas before I start painting. But like most artists, I am a visual person, so I love being able to see it all visually first.
Check Out Your Color Combinations
With the Procreate app, you can check out how colors will look on a painting before painting them on the canvas. Here is an example of my Camel Joe, Pirate of the Gobi Desert painting. I checked out several background color combinations before I decided on the yellow color for the background.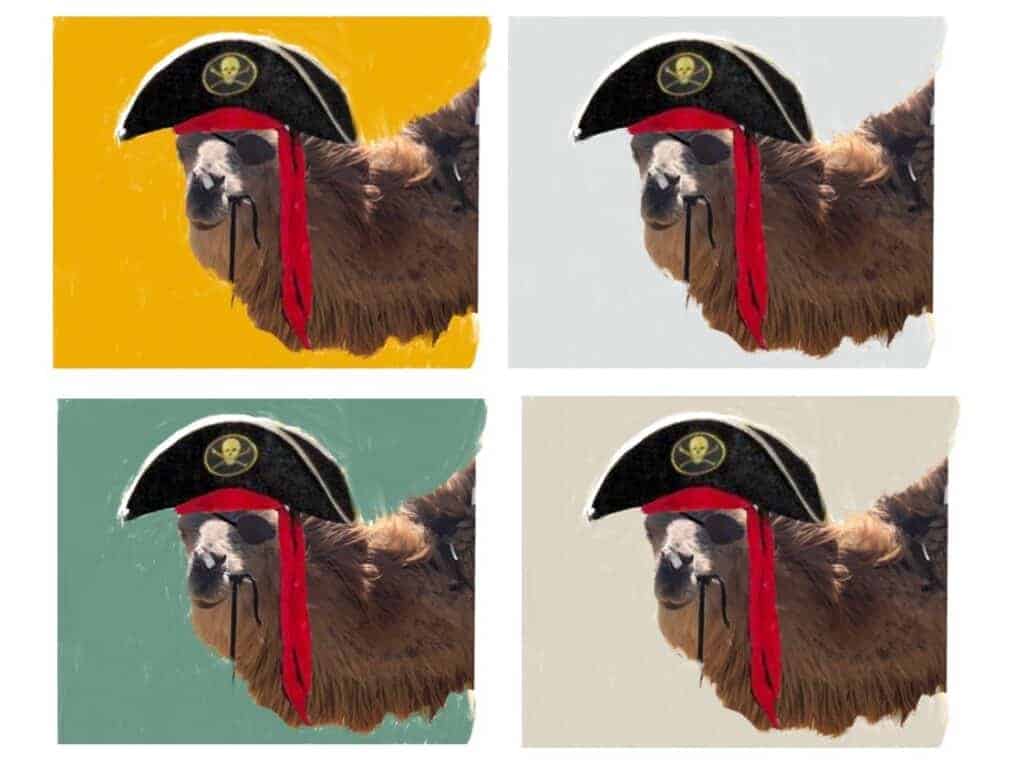 I mainly used the old brush on the Procreate brushes (you can see an example of these brushstrokes above in my chart). I wanted the background to be one solid color as I tend I have a background that may have several color tones to it.
This is my final Camel project that I painted using Procreate. You can see the color yellow background and the hat, scarf and eye patch on the camel.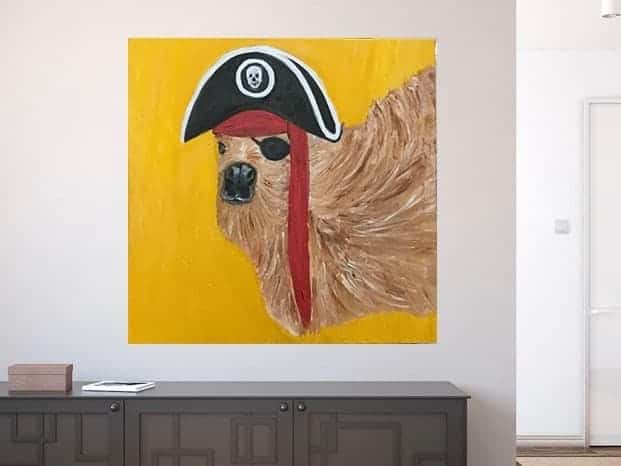 Procreate is really a great tool to use to help you with your oil painting. It can help you to save time by not making mistakes with colors or other things. You can decide on a palette of colors with their palette features, and you can layout how the canvas will look before you actually paint on the canvas.
One of the best things about all this is that Procreate is easy to learn. You need to master a few basic steps and then start to experiment and let your creative imagination run wild on the IPad first and then paint it all down on your canvas.
Related Questions:
What IPad do I need to buy to use for Procreate?
To use Procreate, you need an Apple IPad Pro, Apple Air, or Apple IPad. All the new models of the IPad should work just fine. You will need an IPad that will be able to use the Apple Pencil. You can check out these models by clicking below on the links provided.
Once you get your iPad, to use Procreate, you will need an Apple Pencil. Here are the pencils that you will need for each model:
Apple IPad Pro Pencil – The Apple Ipad Pro has a special pencil. But you can also use the other pencil if you wish (see below). This pencil will attach to the IPad to charge. This pencil is compatible with the iPad Pro 11-inch and iPad Pro 12.9-inch (3rd Generation). You can click here to see this pencil.
Apple Pencil – This is the IPad pencil. It is compatible with iPad Air (3rd generation), iPad mini (5th generation), iPad (6th), iPad Pro 12.9‑inch (1st and 2nd generations), iPad Pro 10.5‑inch, and iPad Pro 9.7‑inch. Basically, all the newer IPads. You can click here to see this pencil.
How do I purchase Procreate?
You can download Procreate direct from the App Store. The cost is USD 9.99. It is a real bargain as you do not need to pay any additional subscription or other charges. You can click here to see the app on the app store.