I have several social media accounts, so I know that having a social media account can be hard work, and it can take a lot of time and effort. But even with the hard work and effort it takes to manage a social media account; I feel it is important for every artist looking to get exposure for their artwork to have an Instagram account.
There are many reasons why every artist should have an Instagram account. Some of the reasons include that Instagram is free and easy to use as a visual social media platform. Instagram allows you to tell your story and can help you get exposure for your artwork.
Instagram can also help give you inspiration and ideas. Through Instagram, you can also meet fellow artists and friends.
Here are the reasons why every artist should be on Instagram:
1 – Instagram is free
Instagram is completely free. It does not cost you anything to sign up for an Instagram account. You first need to sign up for a personal Instagram account, and then if you want to, you can then change it over to a business account.
Instagram works best on mobile devices like your phone or iPad. I tend to use it a lot on my iPad as I find it easier to use on the iPad than on my phone or computer. It really is set up more to be used on mobile devices, but you can also use it on your computer if you want.
If you want to see other people's profiles, you need to have an Instagram account.
Here are a few things to know about Instagram:
People can follow you on Instagram – you can register your account for others to follow you and see your artwork. If you want it to be private, you can sign up so that you must approve anyone who wants to follow you. I do not do this as I feel like my Instagram account is about getting my artwork out there for people to see, so I allow anyone to follow me. But you can decide what is best for you and your artwork.
You can also follow other people on Instagram – There are many other artists. I enjoy this doing this as it gives me a chance to see their work and what they are doing. You can do some searches and find other artists that you want to follow.
2 – Instagram is easy to use
Instagram is a straightforward platform to use. Once you learn a few basic things about it, like putting up photos or how to like or comment on what other people have posted, it is then extremely user-friendly.
Here is a brief outline of how to use Instagram:
Home button – This will take you to the home or where you can see all the things other people have posted.
Search button – you can search for people, contacts, or hashtags. Some art hashtags you can consider would be #art #oilpainting #artistsoninstagram #artists, to name a few.
Plus Button – the plus button at the center of the page at the bottom is what you can press to post photos or videos.
Heart Button – The heart button is where you can see who has liked or commented on your posts.
Button with your photo – will take you back to your page to see all your posts.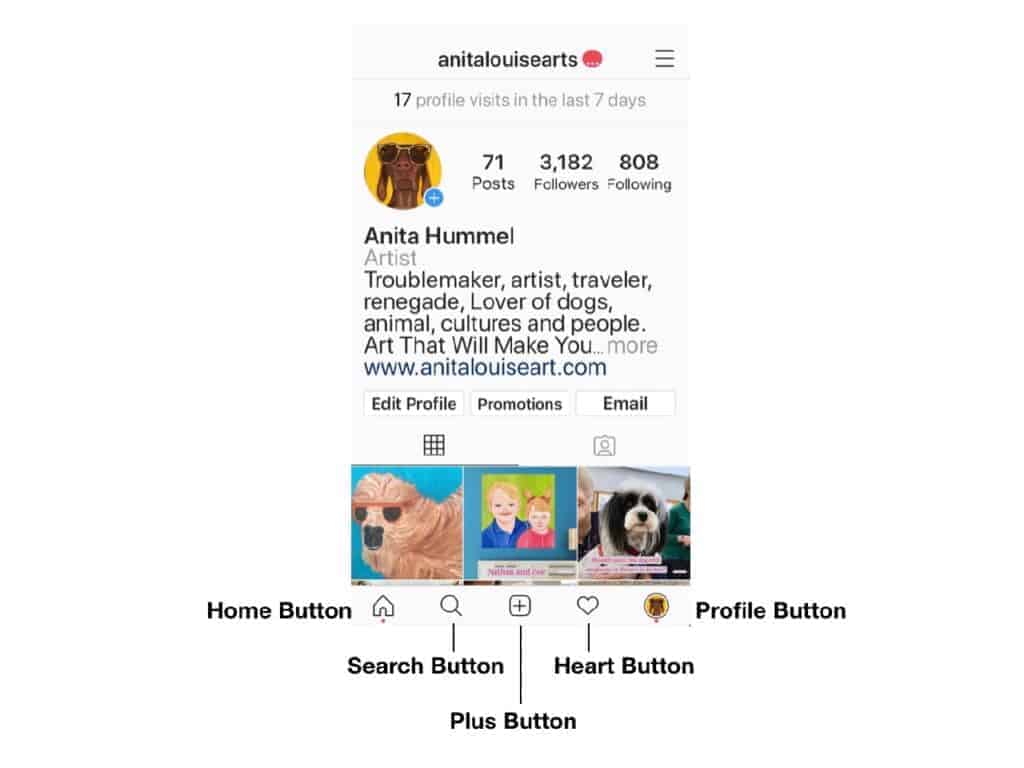 3 – Instagram is a visual platform
One of the great things about Instagram is that it is a visual platform. As artists, we tend to be visual people. So Instagram is a way for us to tell our story in a very visual way. You can look at Instagram as a visual photo album that gives you a mobile platform to show your photos and artwork.
4 – Instagram allows you to tell your story
Instagram allows you to introduce yourself to the world and tell them a little bit about yourself. But you need to tell that story in 150 characters, so think carefully about what you want to say and how to say it.
It is good if you can also include a photo. On my art page, I do not have my own photo but one of my paintings. I think this is a personal preference. But feel free to have some fun with your bio and tell your story in a fun way.
5 – Instagram can give your art some exposure
Instagram can give your art some exposure. Just getting the photos out there is better than no one ever seeing it.
Also, write up a bit about your art when you are posting it. You can write about what inspired you to paint this painting. Or what does this painting mean to you? Make it personal and try to relate to your audience and let them know what inspires you and why.
You can also add some hashtags to your artwork. Hashtags can help people to be able to search for your art as they can search by hashtags. There is a limit of 30 hashtags per post, but most people do not post many hashtags. Some of my favorite hashtags are:
#art
#painting
#oilpainting
#artistsoninstagram
#contemporaryart
#abstractart
#womensart
#artists
#modernart
#newart
#newpainting
6 – You can get artistic ideas by following other artists you admire
As Instagram is a social platform, it is all about sharing. It can also be a great place to see what other artists are doing and how they are doing it. You can follow the artists that you admire and keep up with the artwork they are doing.
If I ever lack inspiration, I may go on to Instagram and search some profiles or even do some hashtags to see what comes up on the Instagram feed. I can usually find some inspiration once I have done that for a while.
Sometimes I may even search for some of my favorite impressionist artists on Instagram. If you want to learn more about impressionism, you can read our blog called Why Was Impressionism Art At First Rejected?
We all need some inspiration from time to time, and as Instagram is all about the visual or photos others are posting, it can be a great resource for an artist to look for inspiration.
7 – Your followers can help give you ideas
I recently started to post on Instagram some photos I was thinking of painting and asked my followers what they thought I should do or paint my painting. I got back some really great ideas.
Instagram is a great place to go to engage your followers and ask them what they think. They may help you get some ideas.
8 – Potential customers are searching for Instagram
Many potential customers collect art and are searching for Instagram for new art or new artists. They are also out searching for new talent or people who may have something interesting to show.
This is another reason why every artist must have an Instagram account. You never know who is looking at your art and where that can all lead.
9 – It is good to be social
It is always good to be social, and Instagram offers artists a great platform to show their art and meet other artists around the world. As this is a social platform for you to be really successful on Instagram, you also need to be social and engage with other users. That really is the key to your success on Instagram – getting on Instagram and engaging with other Instagram users.
An Instagram account is the one social media platform that can help artists get some excellent exposure to show their artwork. You never know where it can lead and who can see it. But best of all, having an account is free, and it is easy to use.
If you are interested, please follow me on Instagram at AnitaLouiseArt or by clicking here or click on our Instagram icon on the sidebar of this blog post. Feel free to also check out the hashtag we use #ArtThatMakesYouSmile
Related Questions
When should you post your art on Instagram?
Many say that the time and day you post on Instagram can make as much of a difference as what you post. But most people agree that Monday's are generally not good days as people are busy at work during that time. But between Tuesday to Friday are generally good times as then people are starting to look at Instagram.
But whatever the time or when you post, the most important thing is that you start posting and come up with a posting schedule.
What is the main purpose of Instagram?
The main purpose of Instagram is for people to share with their world their photos, their lives, their likes, and dislikes. Its main purpose is about people being social and getting out to get to know other people.
Think about it as you are at a party and you see all these people you do not know, so you go around the room and start to meet them one by one. That is what Instagram and social media are about except you are not in a room meeting people, you are on a computer meeting them.