I have spent a lot of time in Cambodia and one of the things that I have always enjoyed is the amazing hand woven fabrics that the Cambodian weavers are able to produce. Cambodia's handweavers can produce can intricate handwoven fabrics.
The Cambodian Ikat is an original oil painting by Anita Louise Hummel. The painting uses Indigo blue tones, orange and white colors that are blended together to give the look and feel of a Cambodian Ikat fabric. The paint colors are layered one-on-top of each other to form this brushed or worn fabric look and feel.
Read on further to discover what inspired me to paint The Cambodian Ikat oil painting and learn some of the painting's details and techniques. Prints of the painting are available at Fine Art America, or you can contact me if you want to purchase the original. As with all my art, my goal is to paint #ArtThatMakesYouSmile.
The Cambodian Ikat – The Art Inspiration
The inspiration for The Cambodian Ikat oil painting comes from the many wonderful Cambodian Ikat fabrics handwoven in Cambodia. The Cambodian Ikat weave is quite difficult as the Ikat design is on the weft of the loom.
I have always been a huge fan of all kinds of fabric, but especially hand-woven Ikat fabric. The fabrics woven in Cambodia are all handmade on a wooden loom; in fact, many of the weavers will weave the fabrics in their homes. Hubert de Givenchy said this about fabric:
As Hubert de Givenchy said, the fabric is extraordinary and has its own life. These handmade Cambodian Ikat fabrics have a life of their own given to us through the hands of the women who have woven them; the life of fabric speaks of these many women and their handwork and hard labor.
My goal in painting The Cambodian Ikat was to bring to life this extraordinary fabric, while at the same showcasing the fabric's texture, look and feel.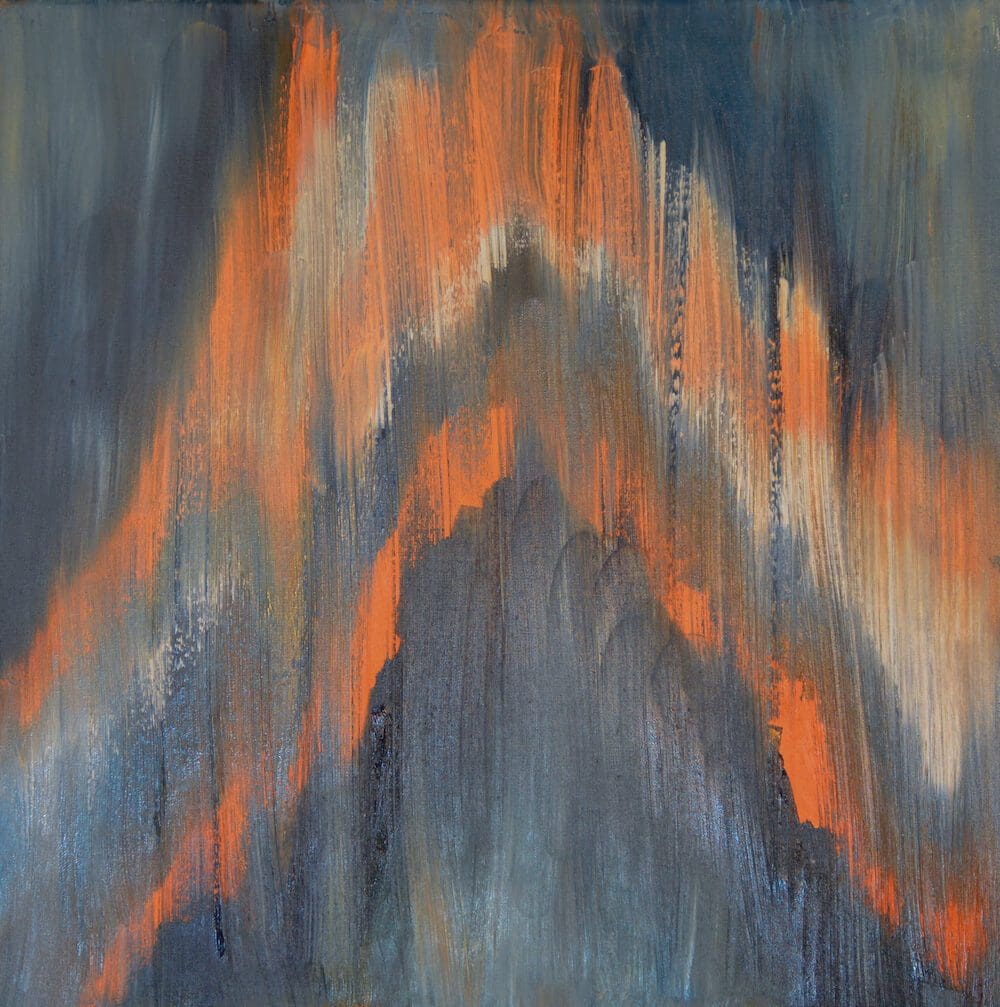 The Cambodian Ikat – About the Oil Painting
The Cambodian Ikat painting is bright yet subdued color tones. I love for a painting to be cheerful or for the art to be #ArtThatMakesYouSmile. I am a great believer that art and happiness should go hand-in-hand. Like many of my other oil paintings, this painting does not use any gold or silver leafing.
Here are a few points about The Cambodian Ikat Oil Painting:
Indigo Blue – Indigo blue is one of my favorite colors to paint with; in fact, I will use it a lot in place of black. The Cambodia Ikat painting uses many indigo blues; there are a variety of blue tones used in the painting.
Orange – Another one of my favorite colors is orange. The orange in this painting is bright but also subtle. I really like the combination of indigo, blue, and orange.
White – The other main color that I have used in this painting is white. White is the base color that helps to give all the other subtle color tones of the other colors. When I am painting, I tend to mix the color onto the canvas and not mix it.
Feather Brush – I have used a feather brush for most of the painting. This brush gives the effect of a feather so that it allows the colors to blend. If you are a painter, this is a great way to experiment with different colors and brushes using this type of brush technique. In this painting, the feather brush does most of the heavy lifting for the actual painting.
Layers of Colors – When painting this piece, I layered many different layers of colors on top of each other. This painting is literally made up of layers of colors.
You can purchase the print of this painting from Fine Art America. Fine art America will allow you to purchase this as a printed frame with a matt and frame or as a canvas print. They offer a nice range of frame types, matt colors, and print sizes. They also offer a wide range of other products that you can use to print on for this artwork. You can find out more about buying The Cambodian Ikat by clicking here.
If you would like to have The Cambodian Ikat printed on a notebook, facemasks, water bottle cup, or anything else, you can also purchase that from either Fine Art America or Red Bubble. You can find out more about Fine Art America by clicking here or Red Bubble by clicking here. They both offered you some great choices to print The Cambodia Ikat on cards, notebooks, T-shirts, and products.
If you have any questions or comments about The Cambodian Ikat painting, or you want to have a conversation, feel free to contact me, the artist, Anita Louise Hummel by clicking here. We would love to have you be part of our community and sign up for our newsletter by clicking here.
Other Artwork By Anita Louise Art
The Selfie, By Anita Louise Hummel – Even Dogs Can Take Selfies
The Selfie is an original oil painting by Anita Louise Hummel. This oil painting is medium to bright oil paints of a dog holding his phone and showing us the selfie he has just taken. The painting is, in part, asking the question, "if our dogs could take a selfie, what kind of selfie would they take?"
Discover more by reading The Selfie, By Anita Louise Hummel – Even Dogs Can Take Selfies by clicking here.
From Ulaanbaatar, By Anita Louise Hummel, Painting of A Nomadic Woman
 traveled to Mongolia and decided that I needed to paint a Mongolian woman. My painting entitled From Ulaanbaatar is a result of this trip.
From Ulaanbaatar is an oil painting by Anita Louise Hummel. The painting shows a nomadic woman dressed in traditional clothes. The painting uses bright colors and gold leaf for the earrings.
You can discover more by reading From Ulaanbaatar, By Anita Louise Hummel, Painting of A Nomadic Woman by clicking here.