One of my favorite things to paint is all kinds of dogs. When I paint a dog, I try to imagine his personality and what the dog is like.
Picking Flowers by Anita Louise Hummel is an original oil painting. The dog is black and white, so I painted a bright yellow background to compliment the dog's natural black and white coloring. The pink flower hanging from his mouth symbolizes a flower that he mischievously picked in the garden that he should not have.
Read on further to discover what inspired me to paint the Picking Flowers oil painting and learn some of the painting's details and techniques. Prints of the painting are available at Fine Art America, or you can contact me if you want to purchase the original. As with all my art, my goal is to paint #ArtThatMakesYouSmile.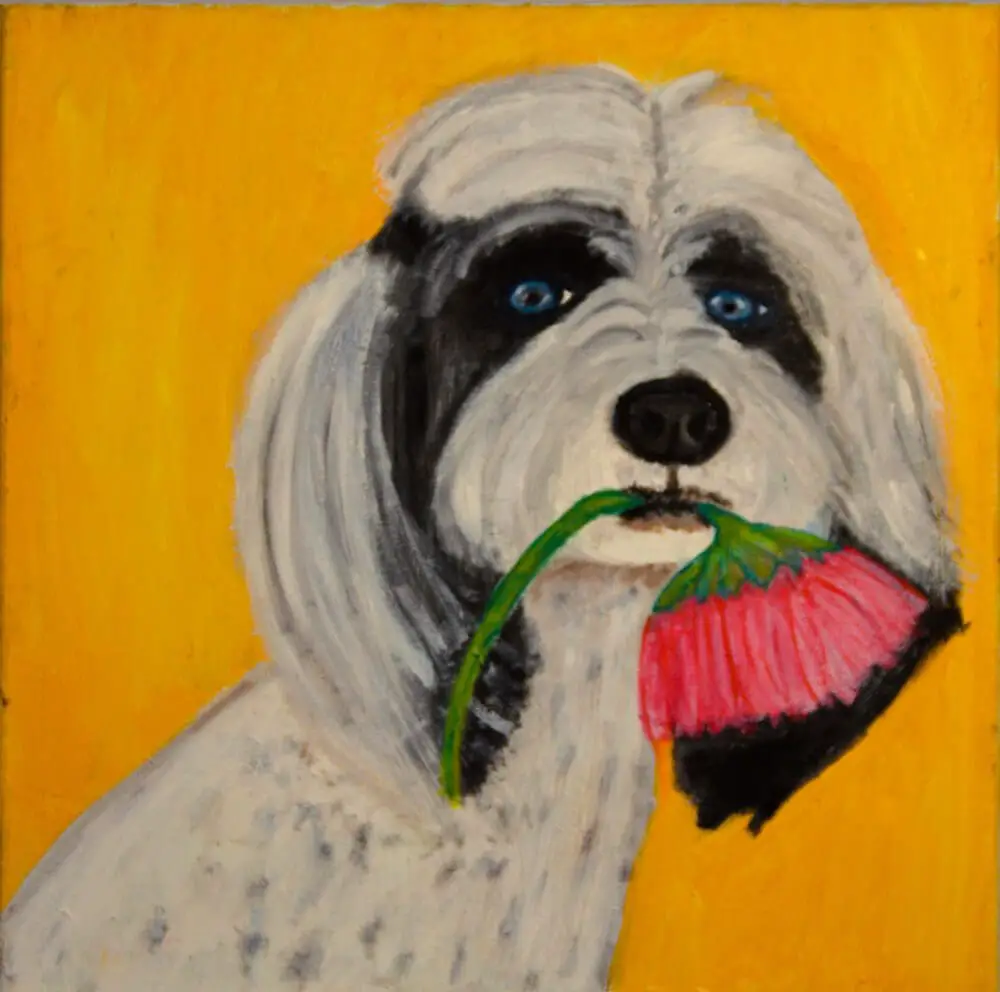 The Inspiration – Picking Flowers By Anita Louise Hummel
I was sitting at the Apple Store at the Mayfair Mall In Milwaukee. Wisconsin waiting at the Genius Bar for my appointment. A woman and her daughter came into the Apple Store with this dog and sat across from me. I took one look at the dog, fell in love with his look, and asked if I could take a photo and paint him.
For a long time, the photograph of this dog sat in my photographs under "dogs to consider painting." I was not sure what or how I should paint the dog but knew I wanted to.
The more I looked at this dog's photograph, the more I saw those sheepish eyes that looked like somehow he could get himself in trouble. The dog had a perfect mouth to have a flower casually hanging out of it as if he just picked some flowers in the garden he should not have.
I love flowers and love to put them in my paintings. Flowers are the essence of life and make our life beautiful and rich. As Han Christian Andersen rightfully said:
Our furry friend understood that the best of life was sunshine, running around with freedom and having a flower brighten up our day.
About The Painting – Picking Flowers By Anita Louise Hummel
The Picking Flowers oil painting is bright and cheerful colors. I love for a painting to be cheerful or for the art to be #ArtThatMakesYouSmile. I am a great believer that art and happiness should go hand-in-hand and that art should show the world about happiness. Like many of my other oil paintings, this painting does not use any gold or silver leafing.
Here are a few points about the Picking Flowers Oil Painting:
Black and White– I really love the black and white of this dog; those are two of my favorite color combinations for painting any dog.
Yellow – I painted the background yellow as I felt like it worked well against the black and white color of the dog. One of my goals with the background is that the background color will help the dog stand out against it. I feel like this yellow color helps to do this.
Blue Eyes – I like to paint a lot of my animals with blue eyes. This portrait of picking flowers is an example of how I put blue eyes on this dog painting.
The Pink Flower – I love the flower, and to me, the flower also symbolizes that he was able to run wild and free in the garden, picking any of the flowers he wanted to. I choose the color pink as pink symbolize youth, good health, and playfulness.
You can purchase the print of The Picking Flowers painting from Fine Art America. Fine art America will allow you to purchase this as a printed frame with a matt and frame or as a canvas print. They offer a nice range of frame types, matt colors, and print sizes. They also offer a wide range of other products that you can use to print on for this artwork. You can find out more about buying The Picking Flowers by clicking here. #ArtThatMakesYouSmile
If you would like to have The Picking Flowers printed on a notebook, facemasks, water bottle cup, or anything else, you can also purchase that from either Fine Art America or Red Bubble. You can find out more about Fine Art America by clicking here or Red Bubble by clicking here. They both offered you some great choices to print The Picking Flowers on cards, notebooks, T-shirts, and products.
If you have any questions or comments about The Picking Flowers painting, or you want to have a conversation, feel free to contact me, the artist, Anita Louise Hummel by clicking here. We would love to have you be part of our community and sign up for our newsletter by clicking here.
Related Paintings
The Selfie, By Anita Louise Hummel – Even Dogs Can Take Selfies
The Selfie is an original oil painting by Anita Louise Hummel. This oil painting is medium to bright oil paints of a dog holding his phone and showing us the selfie he has just taken. The painting is, in part, asking the question, "if our dogs could take a selfie, what kind of selfie would they take?"
Discover more by reading The Selfie, By Anita Louise Hummel – Even Dogs Can Take Selfies by clicking here.
From Ulaanbaatar, By Anita Louise Hummel, Painting of A Nomadic Woman
 traveled to Mongolia and decided that I needed to paint a Mongolian woman. My painting entitled From Ulaanbaatar is a result of this trip.
From Ulaanbaatar is an oil painting by Anita Louise Hummel. The painting shows a nomadic woman dressed in traditional clothes. The painting uses bright colors and gold leaf for the earrings.
You can discover more by reading From Ulaanbaatar, By Anita Louise Hummel, Painting of A Nomadic Woman by clicking here.