So many times when I see people taking selfies of themselves with their phones. It has made me think – what would it be like if our dogs were able to also take selfies of themselves?
The Selfie is an original oil painting by Anita Louise Hummel. This oil painting is medium to bright oil paints of a dog holding his phone and showing us the selfie he has just taken. The painting is, in part, asking the question, "if our dogs could take a selfie, what kind of selfie would they take?"
Read on further to learn about what inspired me to paint this painting and some of the painting's details. Prints of the painting are available for sale at Fine Art America, or you can contact me about purchasing the original or for more information. As with all my art, the goal is to have "ArtThatMakesYouSmile.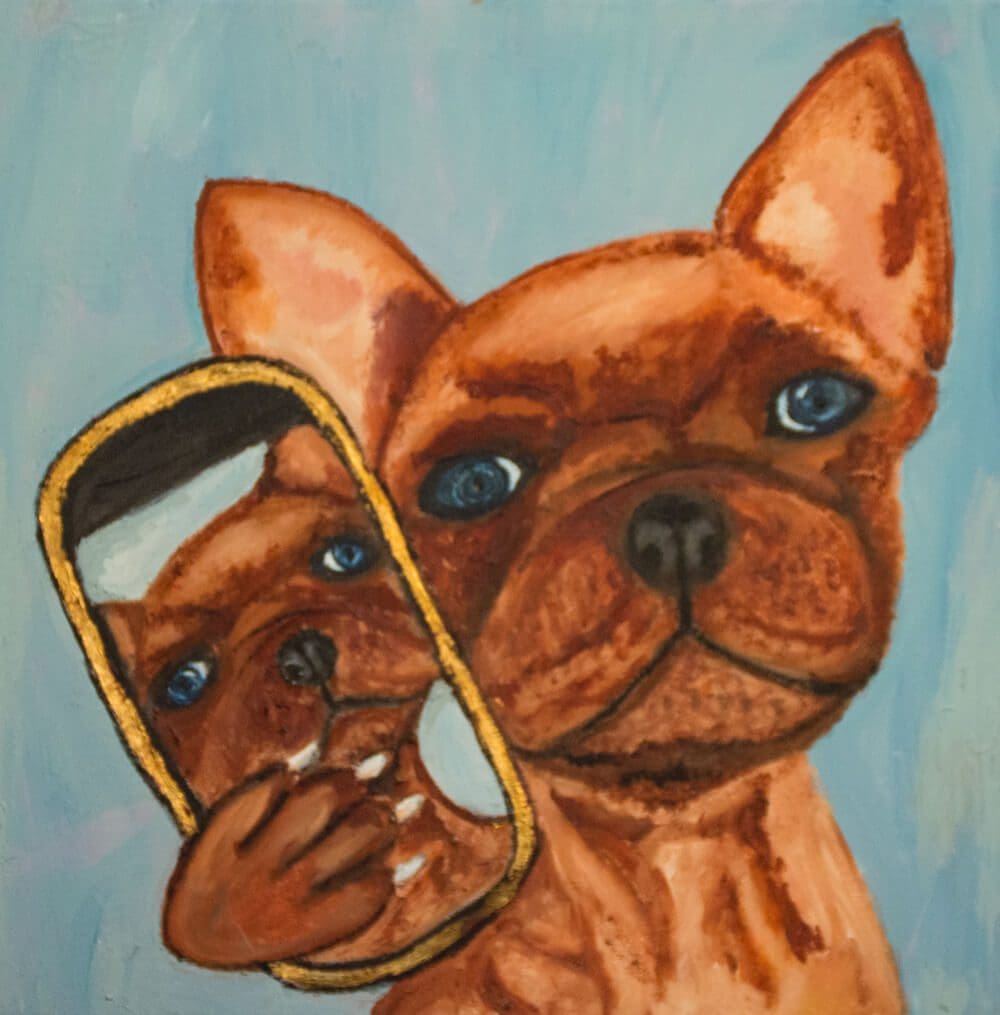 The Inspiration – The Selfie
I am not someone who takes a lot of selfies as I prefer not to have my photo take. But I am fascinated by the selfie culture that is now so prevalent around the world.
This worldwide selfie culture inspires this oil painting; it is an oil painting of a dog with his camera taking a selfie of himself. The painting is inspired by and a tribute to all the many selfies people take. I love how this dog is showing us his photo that he has just taken – he is saying, "look at me and how totally adorable I am."
It makes me wonder if dogs and other animals could use a phone or camera would they also be taking photos of themselves to show off something to their friends? Would they say on their Facebook or Instagram page "look at me I got to ride in the front seat of the car all the way to the park," or "look at this nice big bone I had to chew on and did not have to share with anyone?"
This oil painting is in tribute to all our canine friends who get stuck in a selfie with us or watch us take our own selfies. This painting is about them showing us that if they had the latest iPhone, they could also take their own selfies.
About the Painting – The Selfie
This painting called "The Selfie" is in bright to medium colors. I love for a painting to be cheerful or for the art to be #ArtThatMakesYouSmile; I am a great believer that art should make you happy and make you smile.
Here are a few points about The Selfie Oil Painting:
Blue Eyes – You may notice that the women, dogs, or others I paint may have blue eyes. I believe the eyes look into the soul of a person or animal, and I love the color blue. As my own eyes are also blue, you are in a sense looking into my soul through this painting and these blue eyes.
Blue Background – To match and bring out the blue eyes and not distract from the actual painting, I have also painted the background as a subdued blue color. I did this as I wanted your focus to be on the dog and his phone and not the background.
Phone with Gold Rim – You will notice that the phone has a gold rim. On this rim, I am using an actual gold leaf, so it gives a look and feels like real gold.
The Dog Photo – I found this dog's photo online, so I do not own this dog, nor is it not a dog of someone I know. What appealed to me about this dog was that I just loved how he looked and the expression on his face. I felt it was perfect for a selfie painting.
You can purchase the print of this painting from Fine Art America. Fine art America will allow you to purchase this as a printed frame with a matt and frame or as a canvas print. They offer a nice range of frame types, matt colors, and print sizes. They also offer a wide range of other products that you can use to print on for this artwork. You can find out more about buying The Selfie by clicking here.
If you would like to have The Selfie printed on a notebook, facemasks, water bottle cup, or anything else, you can also purchase that from either Fine Art America or Red Bubble. You can find out more about Fine Art America by clicking here or Red Bubble by clicking here. They both offered you some great choices to print The Selfie on cards, notebooks, T-shirts, and products.
If you have any questions or comments about The Selfie painting, or you want to have a conversation, feel free to contact me, the artist, Anita Louise Hummel by clicking here. We would love to have you be part of our community and sign up for our newsletter by clicking here.
Related Content
From Ulaanbaatar, By Anita Louise Hummel, Painting of A Nomadic Woman
I traveled to Mongolia and decided that I needed to paint a Mongolian woman. My painting entitled From Ulaanbaatar is a result of this trip.
From Ulaanbaatar is an oil painting by Anita Louise Hummel. The painting shows a nomadic woman dressed in traditional clothes. The painting uses bright colors and gold leaf for the earrings.
You can learn more by reading From Ulaanbaatar, By Anita Louise Hummel, Painting of A Nomadic Woman by clicking here.
How Can The Procreate App Help You Become a Better Oil Painter?
There are many ways that you can use procreate to become a better oil painter. Procreate can help you set up palettes with color combinations and layout your painting before you paint it. I find it an essential tool to help me with my oil painting.
You can learn more by reading How Can The Procreate App Help You Become a Better Oil Painter? by clicking here.