Paul Jackson Pollock was an American painter and also a major figure in the abstract art movement. He was widely known for his technique of pouring and splashing liquid household paints onto a canvas.
Jackson Pollock is considered by some to be one of the most brilliant American abstract expressionist artists that ever lived. Others consider his work of art as tossing around cans of paint by an artistic madman. One thing for certain is that Jackson Pollock is an important American abstract artist. To understand more about Jackson Pollock it is good to know a bit more about his life and his artwork.
Table of Contents
Jackson Pollock – Early Years
Paul Jackson Pollock, known simply as Jackson Pollock, with born in 1912 in Cody Wyoming.  He was the youngest of five sons. His parents both grew up in Iowa but they later moved to Wyoming,  where his father had some work.
Soon after he was born his mother took all of her sons to San Diego and they would never return to Wyoming. So, therefore Pollock actually grew up in Arizona and Chino. California.  He's growing up in this area was important because it was during this time that he began to explore Native American culture and started to admire the work of many Mexican muralists such as Jose Clemente Orozco.  
It was also while he was living in Los Angeles that he enrolled in the Manual Arts High School. He was subsequently expelled from that high school. Actually, this was the second high school he had been expelled from.  This is important to point out as it shows that from the very beginning Pollock had a rebel streak, that pushed the limits with his art and personal life.
His older brother Charles was also an artist. In 1930 he decided to follow his brother to New York City where they both studied under Thomas Hart Benton at the Art Students League.  The Art Students League is an art school that is located in Manhattan in New York City.  The league is known for it is appeals to both the amateur and professional artist. Artists can study there full-time but there is no degree program or grades assigned at the school.  
Benton and his rural America subject matter had very little effect on Pollock'sp[l; art. But what did affect him was Benton's use of rhythmic paint and his own fiercely artistic independence. In the 1930s, Pollock spent a summer touring the western United States with Glen Rounds, another- art student, and Benton their art teacher.  
Jackson Pollock's Struggle with Alcoholism
When you look at Pollock's life one thing that comes to mind is that he is a man who lived on the edge. He lived on the edge in both his personal life and also with his artwork.
Between 1938 and 1942 Pollock worked for the WPA Federal Arts Project. During this time he was dealing with alcoholism. He started to undergo psychotherapy with several doctors. One of his doctors, Dr. Joseph L Henderson encouraged him to make drawings, which may have lead to his using alcohol and art together.
Over the years some people have said that they thought that Pollock was suffering from bipolar disorder. Part of the reason why people have said this is because of his erratic behavior.
Jackson Pollock's Drip and Liquid Paint
It was at an experimental workshop in 1936 in New York City by the Mexican artist David Alfaro Siqueiros that Pollock was first introduced to the use of liquid paint.  He started to use this paint pouring technique on several of his canvases in the early 1940s.
In 1943 he also signed a gallery contract with Peggy Guggenheim. He received a commission to paint a large scale 8 x 20′ (2.4 x 6.1 meter) mural for her new townhouse.  As he wanted the mural to be portable he painted it on canvas rather than directly onto the wall.
When Clemente Greenberg, a well-known art critic saw the big mural he said:
Many of his most famous paintings were made during what is called the drip period between 1947 and 1950. There was a four-page spread the Life magazine in August 1949 that helped Pollock gain popularity.
The Life Magazine asked this question:
After 1951, Pollock's artwork started to become darker in color. This period of time is known as the "black pouring" or black period.   
He exhibited some of these paintings at the Bette Parsons Gallery in New York City and none of them sold. He later sold one to a friend at half price.   In these black paintings, Pollock was trying to find the balance between abstraction, light, dark, and figures.  
Jackson Pollock's Marriage to Artist Lee Krasner
In 1942 while they were exhibiting at the McMillen Gallery, Pollock met his future wife, fellow artist Lee Krasner.   In 1945 they were married in a private ceremony at a small church.
Just after they were married in November 1945, they decided to move out of New York City and into the Springs area of East Hampton on the south shore of Long Island. With the help of a down payment from Peggy Guggenheim, they bought a small old framed house with a barn.
Pollock converted the barn into his art studio. In that large space, he started to create his very big drip paintings. This was a painting technique that he would be primarily identified with.
At the beginning of their married life, they would spend time cooking, baking, working on the house and the garden, and entertaining friends. This marriage bliss was not to last long as Pollock suffered from alcoholism and had many affairs.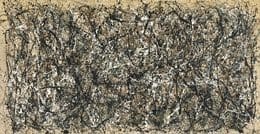 Critics and Pollock's Artwork
Pollock's artwork continues to be a subject of important critical debate. Many critics are divided as to whether his work was one of genius or madness.
The art critic Robert Coates once said this of Pollock's work:  
In a 1952 article in ARTnews, Harold Rosenberg coined the term "action painting" which many people assumed he modeled on Pollock's work. Harold Rosenberg wrote:
Reynold's News in a 1959 headline said this about Pollock's artwork: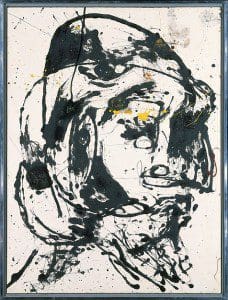 Jackson Pollock himself has said:
So maybe at the end of it, Jackson Pollock was just telling us that he understood that he was living a messy life, a bit like his paintings.
In 1956 just before his death he was struggling with his continued alcoholism. He also had an affair with another American artist, Ruth Klingman.  
On August 11th, 1956 at about 10:15 PM Pollock was in a single-car accident while driving his Oldsmobile convertible under the influence of alcohol. He was only 1 mile from his home. Another passenger Edith Messer was also killed in the accident, but his mistress and fellow artist Ruth Klingman survived.
Pollock- Krasner House and Study Center
After Pollock's death in 1956, Lee Krasner never remarried. She spent a lot of time helping to ensure her husband's artistic legacy.
When Krasner died in 1984 she instructed that the house and the property be given to a charitable institution. She had envisioned the house as a public museum and library that would show her and Jackson's works of art. She also wanted the property as a place of study for modern art.
In 1987, the property was deeded to the Stony Brook Foundation. The Stony Brook Foundation is part of the State University of New York at Stony Brook also known as Stony Brook University, a top-rated New York-based University.
In 1987 as the Stony Brook Foundation was preparing the house to be able to receive visitors they took out one of the floorboards that had been put into the house in 1953. When they took out the floorboard they found intact paint remnants for some of Pollock's most famous paintings.  
The floorboard paint surface was stabilized by a team of art conservators.   Now an exhibition of photographs and text panels that chronicle the two artistic careers of Pollock and Krasner were also installed on the walls of this museum home.
If you are visiting the Long Island New York area, this is really a wonderful museum house and studio to tour.  The house contains all the furnishings and artifacts that were in the house at the time of Lee Krasner Pollock's death in 1984. The house also has exhibitions of other artwork that is constantly changing.
During the summer months, the museum will offer guided tours. You can find out more about the cost and the tours by clicking on the link here.
Whether you love or hate Jackson Pollock's artwork or you think he was a madman who was throwing bits of paint around on a canvas, one thing is certain in that he had a great impact on abstract art in America and around the world. This is an artist whose work and life will continue to be studied for many years to come.
Listen To Our Podcast About Diving Into American Abstract Art: The Life of Jackson Pollock Below or By clicking here.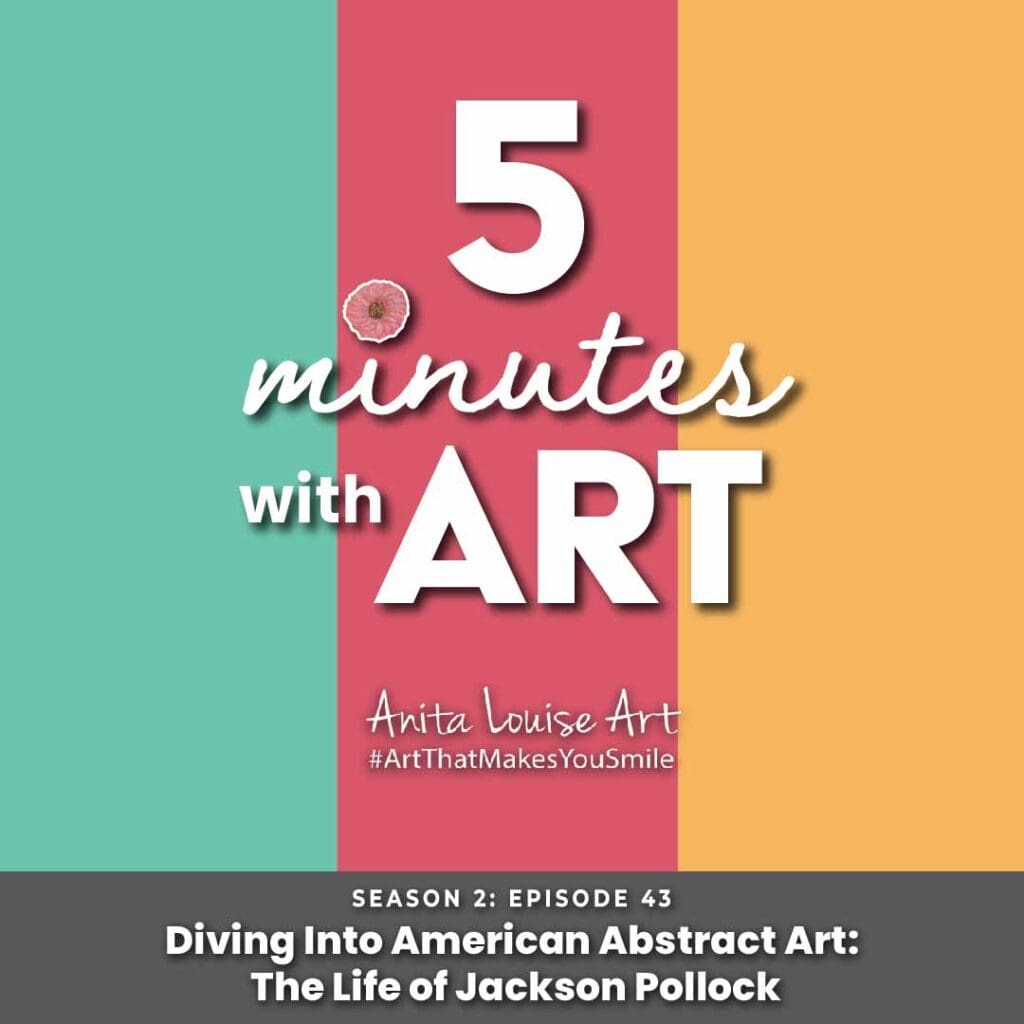 Anita Louise Art is dedicated to art education, great artists, and inspiring others to find and create their art. We love art that uplifts and inspires. #ArtToMakeYouSmile! #ArtToMakeYouHappy!
If you are interested to see any of my art, you can find out more by clicking here. If you are interested in what inspires me and my paintings, you can discover more by clicking here.
We have a free newsletter and would love you to be part of our community; you can subscribe to the newsletter by clicking here. If you have any questions, I would be happy to talk to you any time. You can reach me, Anita, by clicking here.

Subscribe to our Anita Louise Art YouTube Channel filled with great videos and information by clicking here.
Frequently Asked Questions
Who was Jackson Pollock?
Jackson Pollock was an American painter and a major figure in the abstract art movement. He is known for his unique technique of pouring and splashing liquid household paints onto a canvas.
What is abstract expressionism?
Abstract expressionism is an art movement characterized by abstract forms and expressive brushwork. It emerged in the 1940s and 1950s in New York City, with artists like Jackson Pollock at its forefront.
What is Jackson Pollock's most famous painting?
Jackson Pollock's most famous painting is arguably "No. 5, 1948." It is a large-scale abstract artwork featuring intricate drips and splashes of paint.
How did Jackson Pollock develop his unique painting technique?
Pollock developed his unique painting technique by experimenting with different ways of applying paint to the canvas. He would often pour, drip, and splash paint onto the surface, creating dynamic and chaotic compositions.
What is the significance of Jackson Pollock's drip paintings?
Jackson Pollock's drip paintings revolutionized the art world by challenging traditional methods of painting. His technique allowed for a more spontaneous and intuitive approach to creating art, emphasizing the act of painting itself rather than the final image.
What influenced Jackson Pollock's artistic style?
Jackson Pollock drew inspiration from various sources, including Native American art, Mexican muralists like Diego Rivera, and European modernists such as Joan Miró and Pablo Picasso. He was also influenced by the Surrealist movement.
What impact did Jackson Pollock have on the art world?
Jackson Pollock had a profound impact on the art world, particularly in shaping the abstract expressionism movement. His innovative painting technique and emphasis on artistic process influenced generations of artists and expanded the possibilities of abstract art.
How would you describe Jackson Pollock's artistic philosophy?
Jackson Pollock believed in the spontaneous expression of the subconscious mind through art. He sought to convey emotions and energy through his abstract paintings, rejecting traditional notions of representation and embracing the act of creation itself.
Related Content
Who is the Swedish Artist Hilma af Klint (1862-1944)?
Hilma af Klint was a Swedish woman artist who was painting revolutionary modern artwork for her time. A trailblazing, creative figure who kept her art and paintings secret for many years. Despite her amazing works of art and legacy she left us, it has only been during the last 40 years that she has started to gain international acclaim.
You can discover more by reading our blog Who is the Swedish Artist Hilma af Klint (1862-1944)? by clicking here.
Who Was the Mexican Artist Frida Kahlo (1907-1954)?
Frida Kahlo is one of Mexico's premier artists. She suffered from polio and was in a bus accident that left her in a lot of pain. Kahlo married the famous Mexican artist Diego Rivera. She is well known for her self-portraits that depict pain and suffering, but are also filled with passion and bright bold vibrant colors. Her art is a personal statement of her life, paint, and culture.
You can discover more by reading our blog Who Was the Mexican Artist Frida Kahlo (1907-1954)? by clicking here.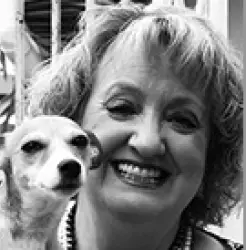 Latest posts by Anita Louise Hummel
(see all)