Frida Kahlo's art is very personal and unique. Her art gives us a glimpse into her life that was filled with pain and suffering. That is why to really understand Frida Kahlo's art you need to understand a bit about her life.
Frida Kahlo is one of Mexico's premier artists. She suffered from polio and was in a bus accident that left her in a lot of pain. Kahlo married the famous Mexican artist Diego Rivera. She is well known for her self-portraits that depict pain and suffering, but are also filled with passion and bright bold vibrant colors. Her art is a personal statement of her life, paint, and culture.
Frida Kahlo's art was very personal in nature. She painted a lot of self-portraits. And those that were self-portraits she may have painted about people she knew as her husband Diego Rivera.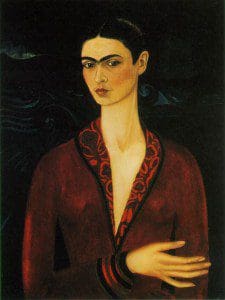 About Frida Kahlo
Frida Kahlo did not set out to become an artist but due to unforeseen circumstances, her life drastically changed and the new dream to become an artist emerged.
Frida Kahlo – The Early Years
Frida Kahlo was born in Mexico City in 1907 as Magdalena Carmen Frida Kahlo y Calderon in the Caza Azul or the Blue House in Coyoacan, Mexico City. Throughout her life, she was known by the name Frida Kahlo. Later in her life, she would tell people that she was born in 1910 which was the year of the Mexican Revolution.
She was born in humble circumstances to a German father and a mestizo mother. A mestizo or mestiza person refers to a person who had a combination of both European and Indigenous American blood and descent. Her father was a photographer.
Frida described the atmosphere of her childhood home as extremely sad. Both of her parents were often sick. Her relationship with her mother was known to be strained, whereas she got on quite well with her father.
In speaking of her father she said:
Frida spent most of her growing up years and her adult life at La Casa Azul in Coyoacan Mexico City. La Casa Azul is also known as the Blue House as the house has bright cobalt blue walls. Today it is the Frida Kahlo Museum.
The Fight Against Polio
As a child Frida Kahlo contract polio. This left her with one leg that was shorter and thinner than the other leg. In speaking of her feet, Frida Kahlo said:
Because of this, she spent a lot of time at home during her growing up years being homeschooled. She also started school much later than other children her age.
Because of her deformity, she was often bullied. This experience also made her a recluse for many of her younger years.
But despite this hardship she had with polio, she was a very promising student. She had been accepted to the National Preparatory School in pre-medicine. At the time, out of 2,000 students, only 35 girls had been accepted into the school. She had performed extremely well and at the age of 18 was on her way to becoming a doctor.
At school Frida became well-known for being brave and outspoken. It was also at this school that in 1922 she first met Diego Rivera who was painting a mural for the school.
Frida along with many of her friends from school. joined a group that had similar political and intellectual views as the Mexican Communist Party (PCM). Diego Rivera was a prominent member of the Mexican Communist Party.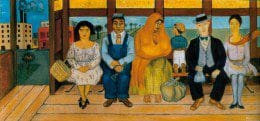 The Bus Accident
In September 1924 Kahlo and her boyfriend were on their way home from school when the wooden bus they were riding seriously collided with a streetcar. Several people died.
Kahlo and her boyfriend both survived the accident. But, she was very badly hurt and spent months in the hospital. This accident was to leave her in pain and her health fragile her entire life. From the accident, she had suffered from multiple fractures of her spine, collarbone, ribs, along with a shattered pelvis, broken foot, and a dislocated shoulder.
In essence, she was so beaten up and broken so badly that she was lucky to be alive. She knew with all the damages she had suffered she could never physically become a doctor as her injuries were just too severe and damaging. The damage was so severe that over her lifetime she had over 30 operations.
It was also at this time that Kahlo started to return to her childhood hobby or art and painting. Her parents encouraged her to paint and made her a special easel and gave her paint supplies so that she could paint in bed while she was still in her full body cast.
Living through something as painful as this would be difficult for anyone. But to have suffered both polio and the accident would have been unbearable for many people. In speaking of her sorrows Frida said: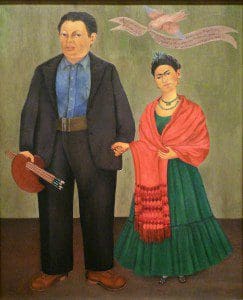 Marriage to the Mexican Artist Diego Rivera
As Kahlo started to paint she wanted to know if she had any talent as an artist. Her parents had spent a lot of money they did not have on all her operations so she wanted to try to find a way to earn a living. In 1928 she reconnected with Diego Rivera and asked him to look at and critique her artwork and her talent as an artist. He told her that she was very talented and that she had a gift and should continue painting.
Besides their interest in art, Frida and Diego also had similar political views with their activism in the Mexican Communist Party. They attended many of the same parties and political events for the Mexican Communist Party
Diego was twenty years older than Kahlo and already had two previous common-law wives and countless affairs. In total Diego would marry 5 times in his lifetime. Frida and Diego were married in a civil ceremony in 1929 or 7 years after they met at her school in 1922.
Diego was wealthy and so he was able to help her family financially. But by all accounts, her marriage to Diego was not an easy one.
As Diego was very large man and Frida were tiny and petite. He was over 6 feet tall and weighed in over 300 pounds. She, on the other hand, was about 5'3″ and only about 98 pounds. Her mother did not approve of the marriage. And her parents said their marriage was:
Frida admits that her marriage to Diego was not an easy marriage, though they were together until her death. Frida said this about her relationship with Diego:
Frida Kahlo – Wife of Master Painter Diego
In 1930 Frida and Diego moved to San Francisco, California, and the later to Detroit, Michigan. It was in San Franciso that Frida started to become extremely productive with her painting. She started to also further develop the Mexican folk art style of her artwork. She also participated in her first exhibition in San Francisco.
In Detroit, she experienced a failed pregnancy and other health problems. But she also continued in her art as she experimented with different techniques like etching and frescos. It was also during this period of time that many of her paintings also started to show themes of pain, suffering, wounds, and terror.
In Detroit, she also had another exhibition of her artwork. She gave an interview to the Detroit News and the article was entitled:
Even though Kahlo was a wonderfully accomplished artist, her work was not taken very seriously. Instead, she was looked upon as just the wife of Diego Rivera who was "dabbling" in art.
Turbulent and Affairs Filled Marriage.
In 1934 Frida and Diego returned to Mexico City. During this period of time, she would go through periods of not painting to times when she would be extremely productive in her painting. In part, this could have been because her home life and marriage to Diego was in deep trouble.
Frida discovered her husband Diego was having an affair with her sister Cristina Cristina was recently divorced and had two children from her previous husband.
This betrayal really hurt Frida. She was so saddened by it that she cut off her long hair to show how desperate she was with the betrayal. Added to this was the fact that over many of these years, though she longed for children she could not have any and suffered several miscarriages.
In speaking again of her relationship with Diego she said:
Frida was a loving aunt to Cristina's children. Cristina, Diego, and Frida all lived together. Diego and Frida would divorce and then about a year later would marry again. Their marriage was always a volatile one, and both Frida and Diego had hosts of illicit liaisons and infidelities through their relationship.
Frida was known to be bi-sexual as she had affairs with both men and women. She had an affair with Leon Trotsky, the famous Russian revolutionary, and founder of the Red Army.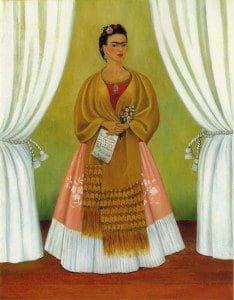 Throughout her life Frida was politically active and involved in political causes. The injustices between the rich and poor were always very important to her. In speaking of this she said:
Exhibitions in New York and Paris
Her overseas exhibitions in places like New York and Paris helped Frida to become a more recognized and important Mexican artist. Her New York exhibition went very well.
Her Paris exhibition did not go very well, this was in part due to the fact that at the time Europe facing the second World War. Even though the Louvre purchased one of her paintings, she still did not take very well to Paris and her Paris experience. In speaking of her exhibition in Paris she said:
Frida still continued to struggle to make any money from her art until the mid to late 1940s. One reason is that she refused to adapt her artistic style to suit any clients or potential clients' wishes. She remained true to her artistic style.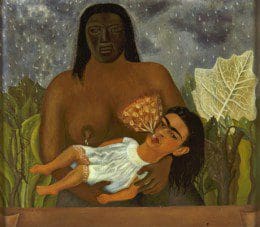 Recognition in Mexico and Abroad
Slowly Kahlo's art started to become more recognized and accepted in Mexico. She became a founding member of the group Seminario de Cultura Mexicana which was a group of 24 Mexican artists.
The group Seminario de Cultura Mexicana was a group founded in 1942 by the Mexican Ministry of Public Education. The purpose of the group was to spread and promote Mexican culture. It was through her participation in this group that she started to exhibit her work in Mexico.
In 1943 Kahlo accepted a teaching position at the National de Pintura, Escultua y Grabado "La Esmeralda" This was an art school in Mexico City that teaches Painting, Sculpture, and Printmaking. Diego Rivera also taught at this school as did other notable Mexican artists.
When her health got so bad, that she could no longer teach, she started to hold her art lessons with her students at her home La Casa Azul. She was by all accounts a beloved teaacher who had many devoted studetns.
In speaking of her art work she said:
The Last Years of Life
In the 1950s Kahlo's health condition declined. She was diagnosed with gangrene in the right foot and was bedridden for at least nine months.
She continuned working on her paintings and despite all these hardships and her illness, she had a solo exhibition in Mexico in 1953. She was so ill that she arrived to the opening ceremony by abulance and greeted the attendees on a bed that had been set up for her in the gallery.
A few months after this, her right leg was amputated from the gangrene. All of these health setbacks put her into a deep depression. She was said to have even contemplated suicide.
Frida died in 1954 in her lovely blue house just a week after her 47th birthday. The official report was that she died of a pulmonary embolism but there is speculation that she died of self-inflicted suicide.
A few days before her death she wrote in her diary: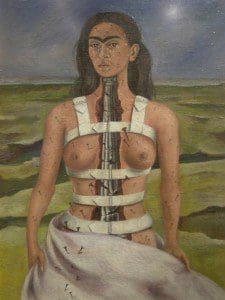 Frida Kahlo's Artwork
There are many things that make Frida Kahlo's art so appealing. Among one is the message of pain that is in such an intricate part of so many of her paintings. When you look at her life and all the pain she went through, there is no wonder that she painted about pain and suffering so much.
In speaking of her artwork she said:
There are many things that make Frida Kahlo's art appealing. Here are some of them:
Vibrant Colors – Kahlo used a lot of vibrant colors in her paintings.
Life experience – One of the major themes of her paintings is her life experiences.
Personal – Her painting is very personal They give us a glimpse into Frida Kahlo and her life.
Pain and suffering – On the canvas, she shows both the physical and emotional pain she was suffering. This is evident in paintings like The Broken Column where she painted herself split down the middle, stark naked as a broken column, her skin dotted with nails and surgical brace, and being held up by a metal pipe.
Self Portraits – Of her 143 paintings, 55 of them are self-portraits.
Mexican folklore – She put a lot of Mexican folklore into her paintings. She shows this in some of the artifacts and also jewelry she is wearing in her portraits.
Nature – Many of her paintings show elements of nature in them, such as vines, trees, and animals. A great example is her painting called Roots.
Frida Kahlo's Legacy
During her lifetime Kahlo was only moderately successful. She did not even sell her first painting until 1938. It was her husband Diego Rivera that was very well known. She was mainly known as "Diego Rivera's wife."
But today that has all changed. It is Frida whose work is more popular than her husband Rivera's work. She has worldwide popularity and fame that most people now know Rivera as "Frida Kahlo's husband."
She is so popular that numerous books, documentarties and movies have been made about her life and art. Here some of the more notable:
Frida: The Biography of Frida Kahlo – The book Frida: The Biography of Frida Kahlo (1983) by Hayden Herrara. This book is about her life and also her relationship with Diego Rivera.
Frida, Naturaleza Viva – Translated this means to Frida, Still Life. This is a 1983 Mexican film about her life. This film was directed by the Mexican director Paul Leduc and was a huge success.
Frida – This Hollywood film was produced in 2002. Salma Hayek played the Frida Kahlo. The film won two academy awards.
The Frida Kahlo Museum – The Blue House
After her death in 1954, Diego turned the Blue House where Frida was born and had also died into a museum to celebrate her legacy and artwork. The museum is located in one of the oldest and most beautiful neighborhoods in Mexico City.
The Caza Azul or the Blue House hosts many of Frida Kahlo's personal objects. It also reveals to us all more about the life and work of this celebrated artist. The museum shows some of her most important artwork.
The Frida Kahlo Museum is one of the most popular museums in Mexico City, Mexico. You can find out more about the Frida Kahlo Museum, by clicking here.
Frida Kahlo is an amazing artist who has an amazing life story to tell. We understand more about her work as an artist as we understand more about her life.
Related Questions
Was the Mexican Artist Frida Kahlo (1907-1954) A Surrealism Artist?
Frida Kahlo had a life that was filled with alot of pain and suffering. She painted her pain and suffering on her canvas. Andre Breton, head of the Surrealism movement mistakenly labeled Friday Kahlo as a Surrealism Artist, but Frida Kahlo never considered her art to be Surrealism Art.
You can read more about this by reading our blog Was the Mexican Artist Frida Kahlo (1907-1954) A Surrealism Artist? by clicking here.
Who Was The Western American Artist Minerva Teichert (1888-1976)?
Minerva Teichert was a cowgirl from Idaho who loved art. She was so determined to study art, so she studied art in both Chicago and New York. Minerva is known for her artwork of daily life in the western United States, plus other historical events, and scenes from the scriptures.
You can find out more about Minerva Teichert by reading our blog Who Was The Western American Artist Minerva Teichert (1888-1976)? by clicking here.
Who Is the Swedish Artist Sigrid Hjerten (1885-1948)?
Today, Sigrid Hjerten is considered to be one of Sweden's most important modern artists. She married the Swedish artist Issac Grunewald. Both Sigrid and Grunewald studied together in Paris, France under the French painter Henri Matisse. What made Sigrid stand out is that her artwork was very personal and extremely daring for this time period. She suffered from mental illness and died at a young age in Stockholm, Sweden in 1948.
You can find out more about Sigrid Hjerten by reading our blog Who Is the Swedish Artist Sigrid Hjerten (1885-1948)? by clicking here.