When I think of paintings that depict the life of Christ, I normally think about the Danish artist Carl Heinrich Bloch. Carl Bloch was one of the most important Danish artists of all time.
One of Denmark's greatest artists, Carl Bloch, almost did not become an artist. His parents wanted him to join the Navy, but he was consumed with art and proved early in life to be artistically gifted. Throughout his life, he painted many important paintings. One of his most important art commissions was to paint 23 scenes from the life of Christ at the Fredriksborg Castle in Denmark. Later in life, he became a very skilled printmaker. Carl Bloch was married and had eight children. Both Carl and his wife Alma died quite young.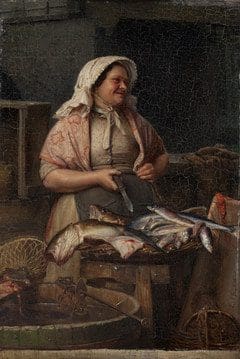 Fact 1: His Parents Did Not Want Him to Be An Artist.
Carl Bloch was born in Copenhagen, Denmark, in 1834. His parents, who were merchants, did not want him to be an artist. In fact, his parents had been preparing him for another career. They wanted him to have what they considered a more noble and respectable profession of becoming a Naval Officer.
One of the reasons his parents may have wanted the Navy as a profession for their son was that in 1814 Denmark and Norway separated relatively peacefully after having been together for over 300 years. The once-powerful Navy of the two nations was split into two separate Navy forces of the Royal Danish Navy and Royal Norwegian Navy. There must have been a lot of national pride that now Denmark had its own Navy.
Fact 2: Bloch Was Determined To Become An Artist
Carl Bloch had no interest or intention in joining the Royal Danish Navy. His only interest was to draw and paint. In fact, he was completely consumed with becoming an artist.
In 1849 at the age of 15, his parents finally gave in to their son's demands and allowed Carl to draw in his spare time at the Royal Danish Academy of Art. In 1852 Carl Bloch won the silver medal at the Academy, and in 1853 he went on his first art study-trip to Jyderup, Denmark. This trip helped to start to define him as an artist.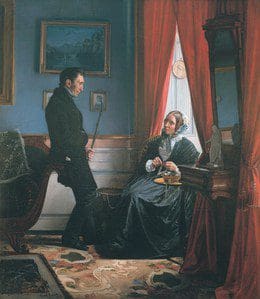 Fact 3: Earned A Travel Grant to Europe
In 1855 Carl Bloch officially joined the Royal Danish Academy of Art. He was such a successful artist that by 1859 he received a travel grant from the academy to travel Central and Southern Europe to gain more exposure to the great masters of Europe.
Bloch traveled together with his best friend and fellow artist Anton Dorph. They traveled to Holland, France, and Italy. While in Holland, Bloch became acquainted with the works and masterpieces of Rembrandt. It would be Rembrandt who would become a major influence on Bloch's art.
Fact 4: Lived and Studied Many Years in Italy
Since 1859 when Carl Bloch first went to Italy, he spent many years living and working there. During his time in Italy, he studied the work of the Italian masters and used his painting skills to paint a lot of stories and scenes from great events throughout history.
Carl Bloch chose Rome to call his home base in Italy during his years in Southern Europe. But he also traveled and lived in other parts of Italy as Sorento, Naples, Palestrina, and Firenza.
During his lifetime, he traveled quite a few times to Holland and France and spent a year in 1864 living in Athens, Greece. The travel around this part of the world undoubtedly influenced his artistic themes and style as he centered his painting and work on Danish historical events and the stories of the Bible.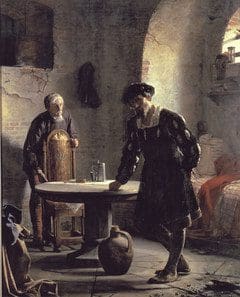 Fact 5: He Married Alma Trepka
Carl Bloch married Alam Trepka on the 31st of May, 1868. When they got married, she was 23 years old, and he was 34 years old. At the time of his marriage, Bloch would have been involved in his commission to paint the Castle Chapel paintings at the Frederiksborg Castle.
We do not know much about Alma Trepka Bloch except that she was beautiful and kind, And she was a perfect companion and support to Carl as he loved her very much. Carl and Alma were known to be happily married.
Fact 6: His Wife Died Young
Carl and Alma had 8 children (Paul Trepaka Bloch, Ida Alma Bloch, Michael Trepka Bloch, Emanuel Trepka Bloch, Jorgen A Trepka Bloch, Clara Emilie Rose Bloch, Henrik Benedict Trepka Bloch, and Alma Marguerite Bloch).
His wife died in January 1886 when she was only 40 years old. Losing his wife at such a young age and being left with eight children to care for is said to have weighed very heavily on Carl Bloch. This was a tough time for him. Carl and Alma were only married about 18 years before she passed away, and I would imagine quite a few young children were left behind for Carl to care for. Bloch never remarried.
Fact 7: Studied Under Nicolai Wilhelm Marstrand
Nicolai Wilhelm Marstrand, also known as Wilhelm Marstrand, was a Danish painter who traveled Europe extensively, especially Italy. He was said to be enchanted with Italy and the ways of life of the Italian people. You can see many of the scenes of daily life in his paintings. Marstrand was also considered one of the great painting masters in Denmark, so there is no surprise that Bloch studied under him.
After Maristrand died in 1873, Carl Bloch finished decorating the ceremonial hall at the University of Copenhagen. But all accounts Maristrand and Bloch were friends and colleagues.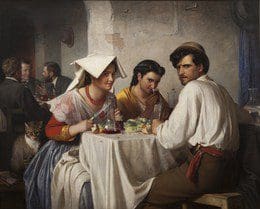 Fact 8: Painted Many Scenes of Rural Life.
Though to many people, Carl Bloch is known for his Biblical paintings; he also painted many scenes from rural life. From 1859 to 1866, Bloch lived in Italy. This period became important for the development of his artistic style as it was also the time when Bloch painted a lot of rural scenes of daily life.
One of his more famous rural life paintings is the painting called In A Roman Osteria (in Danish, it is called Fra Et Romersk Osteria). This painting is taken from a painting that Wilhelm Marstrand also painted. Called the Italian Osteria Scene. As this painting has a cat in it, you can read a bit about this painting in my blog entitled 15 Paintings Featuring Cats, My Top Picks by clicking here.
Fact 9: Friends with Hans Christian Andersen
Hans Christian Andersen, a Danish author who is very famous for his fairy tales, was a friend of Carl Bloch. Though Hans Christian Andersen was at least 28 years older than Bloch, they were friends. And he wrote to Carl Bloch many times.
Han Christian Andersen in encouraging Bloch with his art he wrote to him: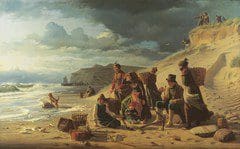 Fact 10: Success Came Early In His Life
Carl Bloch's first great success was his "Prometheus Unbound" exhibition in Copenhagen in 1865. To put a bit of this success in perspective, this was three years before he married Alma Trepka. Carl Bloch received success at quite a young age, and it was also while he was still single.
He would be well known throughout his life. The Danish Newspaper Illustreret Tidende in 1879 said:
Fact 11: Commissioned to Paint at the Castle Chapel -Frederiksborg Castle
Carl Bloch was commissioned by the brewer J. C. Jacobsen to paint 23 paintings for the King's Oratory in the Castle Chapel at Frederiksborg Palace in Copenhagen, Denmark, from 1865 to 1879. J.C Jacobsen is best known as the founder of the Carlsberg brewery.
When this commission came to him, Bloch was living, working, and painting in Italy. He was doing a lot of portrait painting. J.C Jacobsen had seen some of Bloch's work in Italy. He was so impressed with his work that he asked Bloch to return to Denmark for the commission to paint the scenes from Christ's life in the Castle Chapel.
This was a huge undertaking that took almost 14 years of what we can imagine must have been a lot of hard work, sketching, and studying the life of Christ. It is said that the commission to paint these 23 paintings changed not only Carl Bloch's artistic legacy but also changed his personal spiritual life.
If you travel to Denmark, you can view the paintings at the Castle Chapel at the Frederiksborg Castle. You can find out more by clicking here. Frederiksborg's Castle also offers some virtual tours for those who are not able to travel to Denmark. You can find out more about Frederiksborg Castle's virtual tours by clicking here.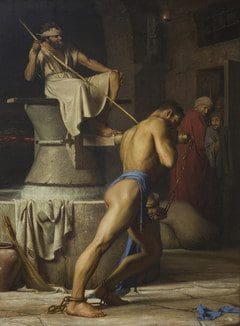 Fact 12: Original Paintings at the Castle Chapel Destroyed
The Frederiksborg Castle was originally built in the 1560s. From that time period, it underwent several renovations, but by the 1720s, it was no longer the residence of the King of Denmark or the Royal Family. The castle was used mainly to house the royal collection of portraits. In the mid-19th Century, the Frederiksborg Castle got a new lease on life when King Frederik VII decided to move into the castle with his wife, Countess Danner.
The King and Countess decided to renovate the Frederiksborg Castle to a more contemporary lifestyle, including several new fireplaces and stoves in the larger rooms. One of these new sources of heat caused the major fire of 1859, the Frederiksborg Castle. Large parts of the castle's interior were burnt to cider, and many places of the outer wall were destroyed.
After the fire of the Frederiksborg Castle in 1859, the Royal Family of Denmark decided they could no longer use the Castle as a residence. The question then became what the Frederiksborg Castle should be used for. Or what would be become of it?
The brewer J.C Jacobsen had the vision that the Frederiksborg Castle should be reconstructed and used as a National Museum. J.C. Jacobsen offered to pay for both the reconstruction and the museum/s other expenses. So under his vision, care, and direction, the Museum of National History opened in 1878 as an independent department of the Carlsberg Foundation. You can find out more about the Carlsberg Foundation by clicking here.
The Audience Chamber and the Castle Chapel did survive the f859 fire at the Frederiksborg Castle, but the fire destroyed the original paintings in the King's Oratory of the Castle Chapel. This is how providence would allow Carl Bloch to received the commission from J.C Jacobsen to paint the 23 pictures from the life of Christ in the King's Oratory from 1865 to 1879.
In Provo, Utah, Brigham Young University commissioned the Danish photographer Hans Nyberg to photograph the Carl Bloch paintings at the Castle Chapel. He has done an amazing job of giving a panoramic view of the paintings in the chapel. You can view the panoramic photography of the Carl Bloch paintings by clicking here. This panoramic photography is really a treasure as you get a feel for the room where the paintings are housed and the paintings' size.
Fact 13: Also Painted Other Churches in Sweden and Denmark
Bloch also painted at least eight other larger altarpieces on Christ's life for other churches in Denmark and Sweden. Brigham Young University in Provo, Utah also commissioned the Danish photographer Hans Nyberg to film a panoramic view of Carl Bloch's other paintings in the other churches in Denmark and Sweden. You can see all the panoramas for all the Carl Bloch paintings and churches by Hans Nyberg by clicking here. There are panoramic views of both the outside and inside of the churches. This is a great way to see the Carl Bloch paintings, especially if you cannot actually visit these locations in person.
Fact 14: A Religious Man
By all accounts, Carl Bloch was a very religious man. His paintings show his ability to understand Christianity and the life of Christ.
Most Christians appreciate Carl Bloch's paintings from the biblical scenes as they have a sense of authenticity to them. He did not try to rewrite the scriptures or rewrite history; instead, he painted as he heard and saw the scriptures revealing to truth and messages to him. This makes his paintings so powerful as they resonate with us about the truth of Jesus Christ, his life, teachings, death, and resurrection.
In speaking about his faith in Christ, Carl Bloch said:
Fact 15: Was Also A Printmaker
Besides his painting, Carl Bloch was also a printmaker. Carl Bloch took up printmaking and etching during the final decades of his career. He quickly became a master of etching subjects of every life, the Danish countryside, and meaningful moments from the life of Jesus Christ.
His printmaking- etching skills became so famous during the latter part of his life that it was written that: :
Fact 16: Died of Stomach Cancer in 1890
Bloch died on February 22nd, 1890, at the age of 55 years old. He only lived 4 years after his beloved wife Alma had died. There must have still been some of his eight children quite young and living at home. He is said to have died of stomach cancer, which would have been an excruciating death.
In 1881, Sigurd Mueller, a leading art critic for the time summed up how Carl Bloch would be viewed by the world:
Fact 17: Paintings Still Popular Today
Carl Bloch was a prolific painter and especially a religious painter. He is one of the rare painters whose art is still as relevant today as it was during his lifetime. Many of his religious paintings are still being reproduced. You can view Carl Bloch's artwork by clicking here.
The Church of Jesus Christ of Latter-day Saints uses many reproductions of Carl Bloch's paintings in their meeting houses and other church-owned buildings. In fact, you can go to almost any meeting house of the Church of Jesus Christ of Latter-day Saints, anywhere in the world, and the chances are that hanging on the walls of that meetinghouse will be a reproduction of one or two of Carl Bloch's paintings. The church also uses Bloch's paintings in a lot of printed and other multimedia.
Over 50 years ago, the Church of Jesus Christ of Latter-day Saints approached the Frederiksborg Museum officials to ask permission to rephotograph the Carl Bloch paintings in the KIng Oratory at the Castle Chapel. They also asked if the paintings could be taken off the castle chapel wall so that they could be photographed with better lighting. The museum officials agreed and also decided that while the paintings were down off the wall, they would also clean them. During this time, the paintings were cleaned to remove the years of dust and revive the paintings to make sure the colors were vivid again.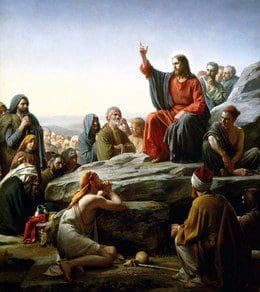 Fact 18: Some of Bloch's Original Works Can Be Seen in Utah
If you would like to see some of Bloch's work on display in the United States, you can see two of his works at The Museum of Art at Brigham Young University in Provo, Utah. Brigham Young University owns quite a few Bloch original works of art and prints. This is really a rare and wonderful collection of Carl Bloch's work that can be seen outside Denmark. You can find out more about the Brigham Young Unversity Carl Bloch Collection by clicking here.
In planning your visit to Utah, you can find out more about the Brigham Young Unversity Art of Museum by clicking here. The Brigham Young Museum of Art is free to attend.
If you are traveling to Utah, you can also see some of the Carl Bloch art pieces in the Salt Lake City Gallery. You can find out more about the Salt Lake City Gallery by clicking here.
Carl Bloch's story is about a young man who decided early in life that he wanted to be an artist. His life's adventures and work helped prepare him for what would become his greatest calling in life – that of expertly and eloquently painting Biblical scenes of the life and teaching of Jesus Christ.
Carl Bloch was truly one of the great artists of all time. When we view Bloch's life, there is a lesson for us all that there is a purpose in our lives and that what we do and how we do it does matter.
During the time of Bloch named Karl Madsen, a Danish art critic, spoke of how Carl Bloch had reached more towards heaven than any other Danish artist up to that period of time. Karl Madsen said:
Carl Bloch was the kind of artist who helped us all reach heaven with his artwork. Carl Bloch will truly sit among the noblest artists of all time.
Related Questions
Where Can I Buy Some Carl Bloch Reproduction Paintings?
There are several places you can buy Carl Bloch's art reproductions. One of my favorite places to buy art is at Fine Art America, as they have a lot of great framing and art options. You can find out more about what is available from Carl Bloch at Fine Art America by clicking here.
Are There Any Book On the Artwork of Carl Bloch?
One of the best books on Carl Bloch is Jesus, the Son of Man. The Scandinavia Publishing House originally published the book. You can usually find some used and new copies on Amazon. You can find out more about Jesus, Son of Man book by clicking here.
Another book is The Master's Hand: The Art of Carl Heinrich Bloch. This book was published in 2010 by Brigham Young University in conjunction with a Carl Bloch Art Exhibit at the Brigham Young Unversity Museum of Art. You can buy some copies of The Master's Hand: The Art of Carl Henrich Bloch by clicking here.