I love to paint cats and dogs and so it is no surprise that I also like many paintings that feature either cats or dogs in them. Cats, in particular, have had a role throughout history in many paintings.
Many artists have used cats as part of the subject matter in their paintings. Here are my top 15 picks of artwork that features cats in the subject matter. Some of the artists and artwork I have chosen are famous artists like Renoir or Carl Bloch. Others will be some lesser-known artists like Carl Kahler or maybe some you have never heard of as Ole Morton Berg or Jose Luis Lopez Galvan. But they have one thing in common in that they painted cats as part of their subject matter or as the entire subject matter in their art.
Here are my top 15 picks for the paintings I love that feature cats: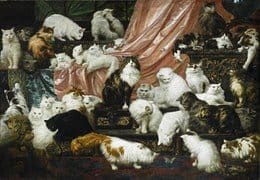 My Wife's Lovers, By Carl Kahler (1891)
If you are going to talk about cat paintings, one that comes to mind is the painting by'the Austrian painter Carl Kahler called My Wife's Lovers. Carl Kahler also is known as Karl Kahler was born in Linz, Austria in 1874. He studied art in Munich and then later in Paris. In 1885 he emigrated to Australia before emigrating to the United States.
In 1891 Kate Birdsall Johnson, an American millionaire, commissioned Carl Kahler to paint the painting entitled My Wife's Lovers which was a painting of her cats. Johnson owned 350 cats that she housed at her summer home in Buena Vista near Sonoma, California. The title of the painting was given by Kate Birdsall Johnson's husband.
As Carl Kahler had never painted cats before he spent three years studying cat poses and their habits. When you look at this painting you can see that each cat has its own unique personality. The painting features forty-two of Johnson's Turkish Angora cats. The center cat is her cat named Sultan that Johnson purchased in Paris.
This painting was also shown at the world's fair in Chicago in 1893 and then later at the Palace of Art Salon in San Francisco California. In 1906 a huge earthquake hit San Francisco. Though the painting My Wife's Lovers was hanging in the Palace of Art Salon at the time the painting miraculously survived the earthquake. Carl Kahler was not so lucky and he died in that same San Francisco Earthquake,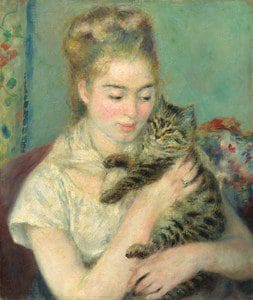 Women With a Cat, By Auguste Renoir (1875)
Pierre Auguste Renoir was a French Impressionist painter who lived in France between 1841 to 1919. He is well known for his impressionist works of art as he used a lot of soft colors.
His painting of the Woman With a Cat is a key example of French Impressionism. The Woman With A Cat is an oil on canvas that Renoir painted in 1875.
What makes this painting such a great example of impressionism is that the details are quite vague. For example, when you look at the embroidery detail in the background you cannot really make out all the details. Yet every part of the painting is painted with extremely careful attention. But yet in keeping true with impressionism, there is very careful attention to the detail of light and form.
In Renoir's true fashion of being able to really capture the subject matter. the personality of both the woman and cat comes our vividly in this painting. It is also interesting to see how he has made the cat the real star in this painting.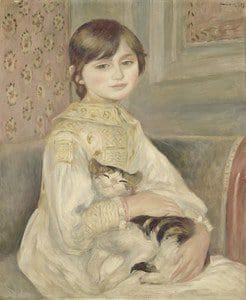 Child with Cat – L'Enfant Au Chat (Julie Manet), By Pierre Auguste Renoir (1887)
Pierre Auguste Renoir was a close friend of Berthe Morisot and her husband, Eugene Manet. Eugene was the brother of Edouard Manet. You can read more about them in our blog Berthe Morisot and the Manet Brothers – Love And Impressionist Art by clicking here.
Eugene Manet recognized Renoir's talent and asked him to paint a picture of his daughter Julie Manet. In 1887 Renoir produced the painting that is known as "Child with a Cat, Julie Manet."
Renoir was known to have produced at least four drawings in preparation for this painting. He made several changes to how he posed Julie Manet. He finally decided to not pose her with a frontal view but to pose her at an angle while holding a cat in her lap.
Julie Manet later spoke of how she recalled sitting for this painting and said it was a good resemblance to her. She also noted that Renoir did not apply his usual way of working in producing the picture but had worked in small sections to create the detail seen in the portrait. But more than that it shows how skilled Renoir was to capture the look and sensitivity of Julie Manet.
For many years this painting was part of Julie Manet's and the Manet's family's private collection. In 1999 the State of France accepted the painting for the National Museums as payment of inheritance tax for the Manet family.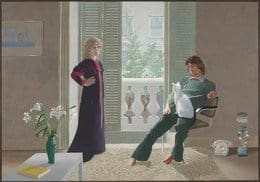 Mr. And Mrs. Clark and Percy, by David Hockney (1971)
David Hockney is a famous British painter that was born in England in 1937. One of his famous paintings is that of Mr. and Mrs. Clark and Percy in their flat at Notting Hill Gate.
The painting Mr, And Mrs. Clark and Perry is part of a series of double portraits that Hockney made. He usually painted his friends, as was the case in this painting. The painting is of the fashion designer Ossie Clark and his wife, the textile designer Celia Birtwell with their cat. Hockney was the best man at Clark's wedding in 1968.
The couple was painted in the bedroom of their flat in Notting Hill Gate. Both Clark and Birtwell are looking out so that we as the viewer of the painting get drawn into the composition. On the other hand, the cat ignores everyone and is looking out at the window instead.
The couple had several cats. The cat in the picture is actually named Blanche, Percy was actually another one of their cats. Hockney named the painting Mr, and Mrs. Clark and Percy, as he though the named Percy made a better title.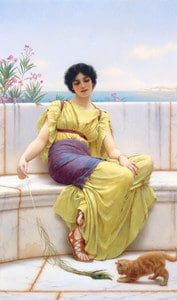 Idleness by John Wiliam Godward (1900)
John William Godward was an English Painter who was born in Wimbledon England in 1861. Godward was a protege of Sir Lawrence Alma-Tadema. Godward's style of painting fell out of public favor with the rise of modern art.
Godward is known for his paintings of women in classical dress posed against different kinds of landscapes. Godward's main inspiration came from classical civilizations and more notably Ancient Rome.
In his painting the Idleness, the woman is in the classical dress but she is lazily playing with a cat with a peacock feather. Neither woman or the cat are looking forward. The woman is looking down at the cat and the cat is looking at the feather. Because of this our eyes naturally get drawn down to the cat.
John William Godward committed suicide at the age of 61 in 1922. It is said that his suicide notes allude to the way he felt about modern art. He is said to have mentioned in his note that the world was not big enough for him and Picasso.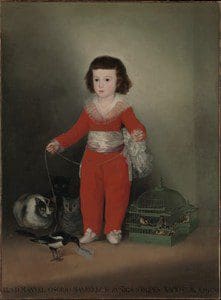 Manuel Osorio Manrique de Zuniga by Franciso de Goya (1788)
Fransisco Jose de Goya y Lucientes, known as Franciso de Goya. He was a Spanish romantic era painter and printmaker who was born in Spain in 1746. He is considered to be one of the most important Spanish artists in the late 18th and 19th centuries.
Goya was considered one of the last of the great Old Masters and the first of the modern painters of his ear. He was also one of the great portraitists during his lifetime.
One of Goya's more famous paintings is the painting Manuel Osorio Manrique de Zuniga also known as Goya's Red Boy. Claus Virch in 1967 in speaking of this painting said:
Goya's Red Boy painting was commissioned by the boy's father Vicente Joaquin Osorio de Moscoso y Guzman, also known as Altamira who held many titles and was also a director of the Banco de San Carlos.
Altamira hired Goya to paint several family portraits. The painting of the Red Boy was Altimira's youngest son who was born in 1784 and died in 1792. This painting was painted between 1787-1788.
In this painting, Manuel is dressed in a red silk costume with a white collar and cuffs and a silver satin sash. Also, he has some white shoes with some bows. Manuel holds a string attached to his pet Magpie that has Goya's visiting card in its beak. There is also a cage with some finches and three cats are intensely watching the Magpie. The boy has a very pale face which is in direct contrast to the bright clothes he has on.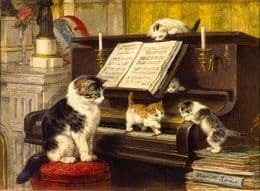 The Piano Lesson (De Pianoles) by Henriette Ronner-Knip (1897)
Henriette Ronner-Knip was born into a family of artists in Amsterdam in 1821. She was a painter in the Romantic style of painting. Henriette is best known for her animal paintings, especially her paintings of cats.
Henriette sold her first painting at the age of 15 years old. But she was also known to be quite precocious and you can see this come out in many of her paintings, especially this painting entitled The Piano Lessons (De Pianoles) where the cats in various poses are all over the piano. One large cat that looks like the teacher is sitting on the stool watching the other cats. It makes you wonder how many piano teachers around the world feel like their students are like their cats of being all over the piano?
This painting was painted in 1897 so it was one of Henriette's later paintings. She would have been 76 years old at the time she painted this painting. Henriette died in 1909 at the age of 88 years old.
In the Victorian era, the paintings of pets were extremely popular among the wealthy and bourgeois class in Europe. Many of her most popular paintings were the paintings like this one with the cats getting into mischief.
In 1850 Henriette married Feico Ronner and they moved to Brussels. As he was often ill and could not find regular employment, her husband Feico became her manager. During this time she also narrowed her artistic focus to paint almost entirely dogs and cats.
Henriette loved animals so much she had a large house with a garden where she kept hunting dogs, cats and parrots that she also used as not only her pets but also her models. She would spend time observing their behavior and poses and then would make paper sculptures of them in the desired poses. She would then set the paper sculptures together with other props as furniture or fabrics to paint them.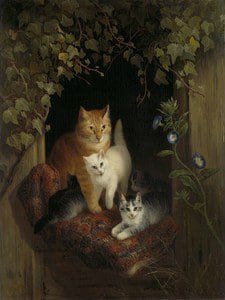 Cats and Kitten By Henriette Ronner-Knip (1844)
Cats and Kittens by Henriette Ronner-Knip is a painting she painted in 1844. The time of painting Cats and Kittens, Henriette would have been only 23 years old. You can see from the detail on this painting and how she positioned the cats as to how very gifted she was.
This painting has 4 cats, one larger Mother cat that is protecting her three kittens as she watches for them. The mother cat and two of the kittens are looking at something in the distance. The mother cat is ready to protect her kittens at any time.
Also, another interesting thing about this painting is the kittens are not the same color as the larger cat or the mother cat. They are instead white, black or a mixture of white and black.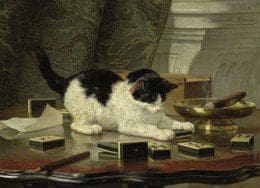 The Cat At Play by Henriette Ronner-Knip (1860)
The Cat at Play was painted by Henriette Ronner-Knip in 1860. At this time she would have been married and her husband was acting as her agent for her paintings.
In this painting, Henriette has a small cat that is on a desk playing with some small domino pieces. Also on the desk is a cigar that still has smoke coming out of the ashtray nearby, It is almost like the cat's owner is nearby and the owner in the middle of the game when the cat comes on the desk to join in.
One of the great things about all of Henriette's paintings of the cats is that she really has to way to bring out the personality of the cats in each of her paintings. You can see this in the way she poses the cats and the settings she uses.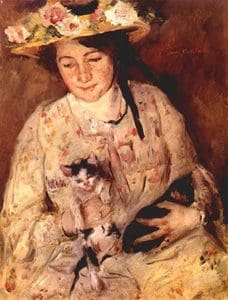 Young Women with Cats (untitled) by Lovis Corinth (1904)
Lovis Corinth was born in Prussia in 1858. He is known for his figurative and landscape paintings. He is known to have a combination of impressionism and expressionism styles.
In 1901 Lovis Corinth moved in Berlin. He would frequently paint people along with religious, mythological and historical subjects using a loose brushstroke and strong colors. This loose brushstroke is often described as Expressionist work, but Corinth is known to oppose the rise of Expressionism for at least a period of time. Later in life, Corinth did accept the Expressionism style.
In 1911 Corinth suffered from a stroke which left him partially paralyzed. Due to his stroke, his brushwork became more vigorous. It is generally thought that due to the stroke he had and his new form of brushwork Corinth painted some of his best work after 1911.
In this painting of the Young Woman and the Cats, we can see a young woman who has two cats on her lap. The woman is not looking at us but is glancing more down at the cats she has in each of her hands.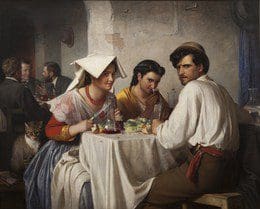 In A Roman Osteria by Carl Bloch (1866)
Carl Bloch was born in Copenhagen, Denmark in 1834. Carl Bloch's parents wanted him to have a more respectable profession like an Officer in the Navy, but Bloch had other ideas as he wanted to be an artist.
Carl Bloch painted a lot of scenes from everyday life and also painted a lot of religious art. He is famous for his 23 paintings he was commissioned to painting for the Chapel at the Frederiksborg Castle in Denmark.
Block died of cancer in 1890. In speaking of his death, the artist Sophus Michaelis has said:
In a Roman Osteria was a painting commissioned by the merchant Moritz G Melchior, a friend and major supporter of Carl Bloch and also Hans Christensen Andersen. Moritz G Mekchoir was a Jewish- Danish Businessman that owned some trading companies and property around Denmark.
Melchoir can be seen in the background of this painting sitting at a table talking to some friends The person in the back that has his back to the viewers is actually a self-portrait of Carl Bloch.
Bloch was a student of Wilhelm Marstrand who painted an artwork similar to this that is called Italian Osteria Scene. The Polish Danish painter Elizabeth Jerichau Baumann also made a version of the scene. In fact, there are at least three variations of the original Marstrand's painting.
What is interesting about this painting in that you must look very carefully at the lower left-hand corner of the painting you will see a cat has been painted into the scene at the Roman Osteria. The cat is sitting there beside the woman almost staring out at us.
If you are interested in Carl Bloch and his artwork, there is a website dedicated to him and his artwork. You can find out more about the website by clicking here.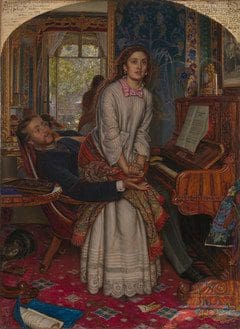 The Awakening Conscience by William Holman Hunt (1853)
William Holman Hunt was an English painter that was born in 1827. He is one of the founders of the Pre-Raphaelite Brotherhood.
Hunt's paintings are known for his great attention to detail, his use of vivid colors and the elaborate symbolism he used in his works of art. He believed it was the duty of the artist to reveal or to show the correspondence between the sign and the facts. Hunt remained true to this kind of painting throughout his life.
When you first look at this painting of the Awakening Conscience you may think it is a painting of a disagreement between a husband and wife. But upon looking at the hidden symbols you can see that it is actually filled with symbols that show us this is painting between a mistress and her lover.
Here are some of the symbols and their meaning for this painting:
Woman's Hands – the woman's clasped hands are the focal point of this painting. But on the left hand, we can clearly see she does not have a wedding ring on even though there are rings on every other finger. This is a symbol to show she is not married.
Room Itself – The room itself shows some of her kept status. The cat playing with a bird under the table. The threads of the carpet are unraveling, the prints on the wall and unfinished tapestry. This all shows that the room is a room of a woman who is kept and not a wife or mother. The room is too gaudy and cluttered to be a proper Victorian family home. For the Victorian era, the decoration in the rooms speaks of an apartment recently furnished for a mistress.
Discarded glove – as you look carefully you can also see the discarded glove tossed hurriedly on the tabletop as a kind of haphazard hurried kind of approach. With the tossed glove, the man seems like he is in a hurry.
You have to look very carefully to find that cat in this painting, but it is there n the very left-hand corner of the painting. But in the true style of Hunt's paintings, even the cat plays a role to tell us what the painting is all about.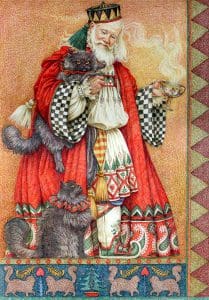 Father Christmas with Cats, by Anne Yvonne Gilbert (2012)
Anne Yvonne Gilbert, also known as Yvonne Gilbert was born in 1950, is a British artist and book illustrator. Her work and style have been called a kind of fantastically elaborate kind of work. She works a lot in colored pencil
She is known for the great detail of her work. This illustration of Father Christmas with Cats is a great example of her detailed illustration work and why she is so popular. All the detail from the clothes that Father Christmas is wearing to the cat near his feet that has a Christmas collar. All have well thought out symbolism and detail.
Many of Yvonne's work is in some private collections around the world. Both Arnold Swatzenneger and the late H.R.H. Princess Margaret have some of her works in their private art collections.
Yvonne has a website where you can find out more about her and her work and also purchase some of her work. You can find out more about Yvonne Gilbert by clicking here.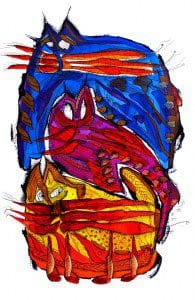 Three Cats ii by Ole Morton Berg
Ole Morton Berg is an artist that lives in Trondheim, Norway. Though he has done many things in his life from working in the computer industry in sales, marketing, consultant and project management, since 2003 he has devoted his time to be a fulltime artist.
Berg is a versatile artist that works in a variety of artistic mediums. Everything from painting, drawing, photography, design, and woodwork.
As you can see from this painting of the Three Cats ii, you can see his use of powerful colors and strong lines. That is one of the things I love about this cat painting is the fun colors and great lines and feel of this painting.
You can find out more about Ole Morton Berg and his work by checking out his website or by clicking here.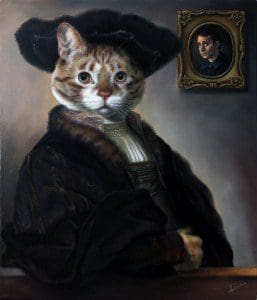 Retrato de Autor by Jose Luis Lopez Galvan
Jose Luis Lopez Galvan is a Mexican artist that was born in Guadalajara, Jalisco Mexico in 1985. He graduated in Graphic Design at the University of Guadalajara in 2008. At the beginning of his work, he was an illustrator for advertising companies. In 2009 he took an oil painting course and started to oil paint.
Animals and humans are featured in his work. A great example of this is this work of Retrato de Autor where he has a cat dressed up to look like the cat is actually a human being, I saw this painting some time ago and really just love how regal this cat looks in this painting. This is why this painting has made it into the top 15 picks of my all-time favorite cat paintings.
If you are interested to find out more about Jose Luis Lopez Galvan you can visit his Facebook page by clicking here.
If you are a cat lover as I am, there are so many great paintings and great artwork examples that you can choose from that depict cats in different kinds of scenes. Everything from cats playing the piano, to cats being held by someone in their arms or cats playing the role of looking straight at us from the corner of a canvas. Cats are a wonderful subject matter to paint.
Related Questions
What do Cats Symbolize in Art?
Cats can symbolize a lot of things in art. For some, it is the love of a cat as a cat may sit lovingly on someone's lap. In Christian art, it could symbolize both laziness and lust or deception and betrayal. In some medieval images, cats can be shown as a fall from grace by being placed with Eve's as a symbol or her fall from grace in the garden of Eden.
Why Do Artists Love Cats?
Many artists are fascinated with painting cats as they are furry pets that can have some beautiful eyes and a sweet face. Cats can also be poised as a symbol between the domestic world of the domesticated cats to the more wild cats. But many artists admire them and find them to be wonderful animals to paint.