They say behind every great man is a great woman. Many artists had a great wife or partner, helping them along the way.
Patricia Garske Still, or Patti, was the Abstract Expressionism painter Clyfford Still's second wife. Instead of pursuing her art career, she devoted her life to her husband Clyfford Still and his art and legacy. She was a key component of his success as one of the most influential Abstract Expressionism artists of the 20th Century.
Table of Contents
About Patti Still – The Devoted Wife Of Clyfford Still
So often, when there is a great artist, a great woman or partner is behind them. As in the case of Patti Still, she was also an artist, but instead of pursuing her art, she devoted herself to helping her husband, Clyfford Still.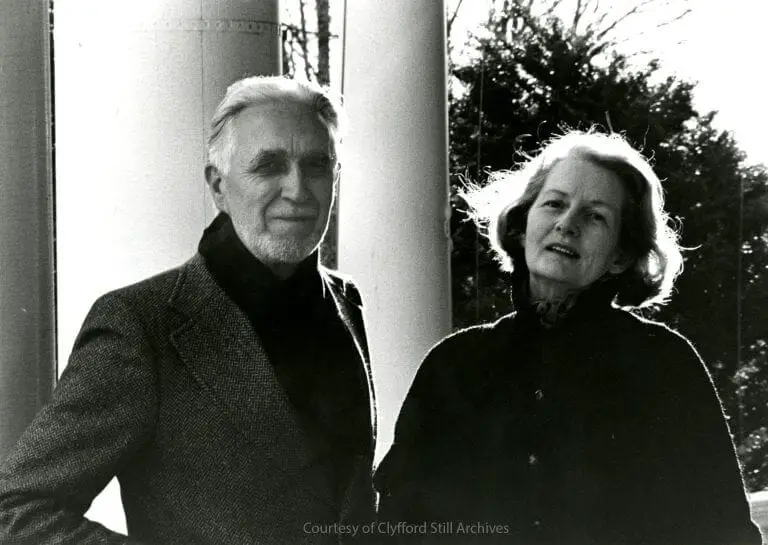 Clifford Still is considered one of the most influential American artists of the 20th century. He belonged to the first generation of abstract expressionism artists who developed the powerful yet innovative approach to painting known as Abstract Expressionism. He and Mark Rothko and Barnett Newman are mentioned as a color field painter for Abstract Expressionism.
Despite this, Clyfford Still is one of the least understood and written about Abstract Expressionism artists. Compared to many other Abstract Expressionism artists, Patti and Clyfford lived a tranquil life in Maryland, away from the hustle and bustle of New York City.
Patti was Clyfford's second wife and 16 years younger than him. They had no children; he had two daughters from his first marriage to Lillian Batten.
Patti was born in Ione, Washington, but raised in Idaho. She met Still while studying art at the Washington State University in Pullman, Washington.
He was her teacher and 16 years her senior; Clyfford Still would have also been married. Patti was a promising art student who was pursuing a degree and education in fine arts.
She quit school in Washington and followed Still to San Francisco, where he taught at the California School of Fine Art (now called San Francisco Art Institute). While in San Francisco, Patti pursued some art while working at the California School of Fine Art's bookstore.
In 1950, she moved with Clyfford to New York, where Patti got an office job as a Comptometer operator for Standard Oil Company.
Patti And Clyfford Still Marry And Move To New Windsor, Maryland
In 1957, Patti and Still were able to get married after Still's divorce was finalized from his first wife. By this time, they had been together for quite a long time; Patti always remained by his side, devoted to him and his art.
Patti was known to be a talented artist, but she gave it up to help Clyfford Still with his art.
Patti shows the sacrifice many women made during this time to support their husbands with their art while giving up their pursuit of art. We often forget that behind many of these great artists is a woman or partner who is also talented and capable.
Still's daughter Diane S. Knox of Walnut Creek, CA, said this about her step-mother Patti and her devotion to her father Clyfford Still:
After moving to New York and getting married, Clyfford and Patti Still decided to move out of New York City and settled in New Windsor, Maryland. They found a pretty old farmhouse with a barn that acted as Clyfford Still's art studio.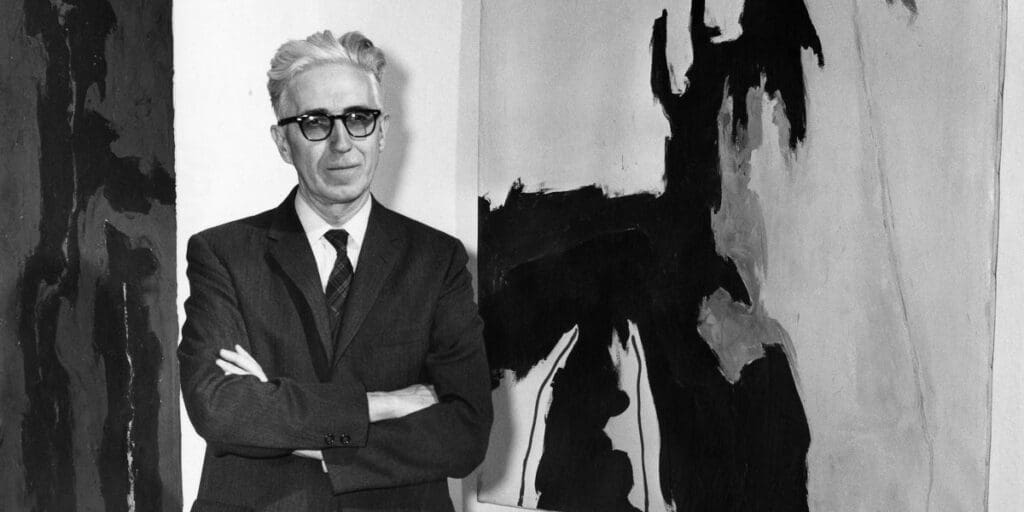 In speaking of the move, Still's daughter Sandra L.S.Campbell said this about their move to Maryland to the Baltimore Sun Newspaper:
This is where Patti and Stills would spend the rest of their lives; she would support Clyfford in his art.
Patti Became Clyfford Still's Archivist
Patti used some of her artistic ability but mainly as an archivist for Clifford's works. She reproduced his artwork into miniature watercolors so they could be documented and archived before an exhibition. She did this to ensure there was a record of his artwork.
From this reproduction that she left, we can see her artistic skill and devotion to Clyfford Still, the man she loved. Her life's artistic work was essentially his life's work to ensure his artistic legacy.
Patti Still Donates The Paintings For The Clyfford Still Museum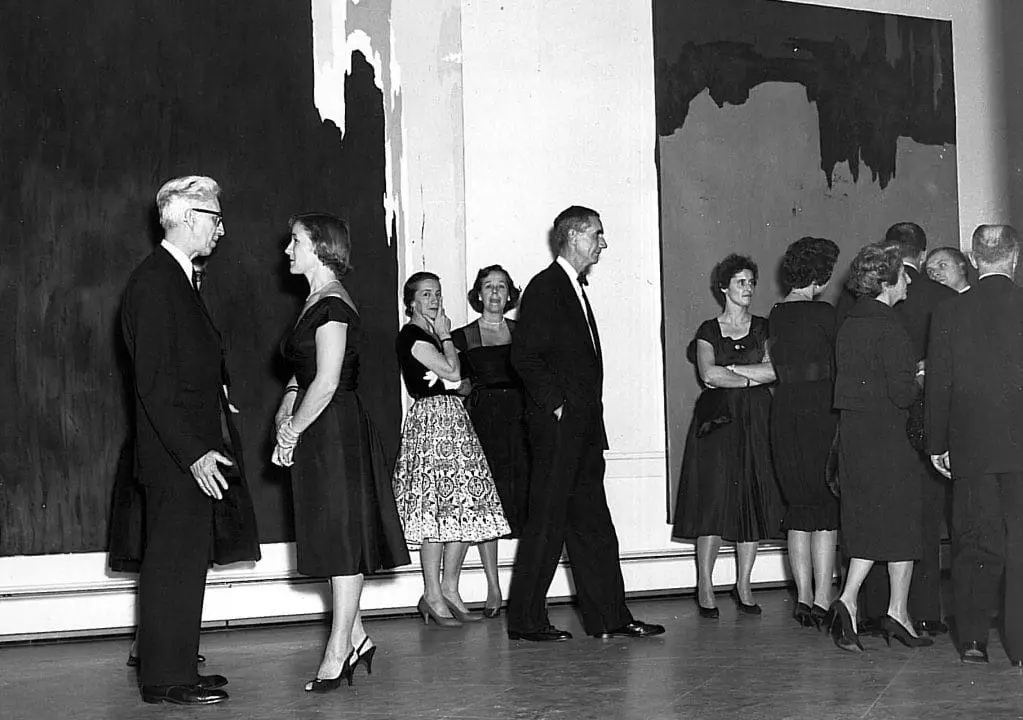 Near the end of her life, Patti made it her job to find someplace where she could donate more than 2000 of her husband's works of art and ensure his legacy. These works of art were being stored in Maryland at their home and farm.
Several cities competed to receive the Clyfford Still Collection, which accounted for about 95% of Clyfford Still's work from 1920 to 1980. Denver, Colorado, received the donation on the condition that they build a museum devoted to Clyfford Still's artwork.
The museum was completed in 2011 and is a beautiful building in the Golden Triangle neighborhood of Denver, Colorado. In speaking of the building, the Denver Architecture Foundation said:

Until the day she died in 2005, at age 85, Patti Still worked to ensure her late husband's legacy and that he not be forgotten. She confirmed that his paintings could be enjoyed by many through the Clyfford Still Museum in Denver, Colorado.
10 Reasons Why Clyfford Still is Revered as a Great American Artist
Clyfford Still, a prominent figure in the mid-20th century American art scene, has left an indelible mark on the world of Abstract Expressionism. His innovative approach and unique style have solidified his legacy.
Here are 10 reasons underscoring his importance:
Abstract Expressionism Pioneer: Still was one of the leading figures in the first generation of Abstract Expressionists, contributing significantly to the movement's formation and evolution.
Unique Visual Language: Unlike many of his contemporaries, Still's artworks are characterized by vast, jagged fields of color, often likened to natural formations such as cliffs or fissures.
Emotional Depth: His paintings are infused with raw emotion. The dramatic contrasts, intense colors, and vast scale of his canvases evoke profound feelings in viewers.
Artistic Independence: Still maintained a fierce independence throughout his career. He often distanced himself from the New York art scene, insisting on the singularity of his vision.
Vast Legacy: Over his lifetime, Still produced approximately 2,400 artworks, 95% of which have been donated to the Clyfford Still Museum in Denver, ensuring his legacy is accessible to the public.
Philosophical Approach: Still regarded art as a deeply philosophical endeavor. He believed in art's power to transcend the material world and to connect with primal human emotions and experiences.
Impact on Future Artists: Still's work and commitment to his unique vision have inspired countless artists who followed, showing that it's possible to break with prevailing trends and carve one's own path.
Rejection of Commercialism: Still was known for his skepticism of the commercial art world. He often kept his works out of the public eye and was selective about selling or exhibiting them, emphasizing their intrinsic value over their market value.
Innovative Techniques: Still's application of thick layers of paint and his unique palette knife techniques gave his paintings a distinct texture and depth, setting them apart from other abstract works.
Cultural Contribution: In an era where American art was emerging on the world stage, Still played a crucial role in defining and elevating modern American art, contributing to the nation's cultural identity.
Clyfford Still's visionary approach and unwavering dedication to his craft cement his position as a titan in American art history. His works capture the zeitgeist of his era and resonate with timeless, universal themes.
Anita Louise Art is dedicated to art education, great artists, and inspiring others to find and create their art. We love art that uplifts and inspires. #ArtToMakeYouSmile! #ArtToMakeYouHappy!
If you want to see any of my art, you can find out more by clicking here. If you are interested in what inspires me and my paintings, you can discover more by clicking here.
We have a free newsletter and would love you to be part of our community; you can subscribe to the newsletter by clicking here. I would be happy to talk to you if you have any questions. You can reach me, Anita, by clicking here.

Subscribe to our Anita Louise Art YouTube Channel with great videos and information by clicking here.
Join us for our podcast "5 Minutes With Art." Spend 5 minutes a week with us to discover and learn about great art and artists. You can find out more about our podcast by clicking here.
Frequently Asked Questions
1. Who was Patricia Garske Still, and what was her relationship to Clyfford Still?
Patricia Garske Still, also known as Patti, was the second wife of the renowned Abstract Expressionist painter Clyfford Still. She played a significant role in his life and artistic career.
2. When and where was Patricia Garske Still born?
Patricia Garske Still was born in 1920, although her birthplace is not widely documented.
3. What was Patti Garske Still's contribution to Clyfford Still's success as an artist?
Patti Garske Still made significant contributions to Clyfford Still's success by providing emotional support, managing practical aspects of his life, and assisting with his art-related activities.
4. Did Patricia Garske Still pursue her own career as an artist?
No, Patricia Garske Still did not pursue her own career as an artist. Instead, she dedicated her life to supporting Clyfford Still and his artistic endeavors.
5. How did Patti Garske Still influence Clyfford Still's art and legacy?
Patti Garske Still's unwavering support and dedication to Clyfford Still allowed him to focus more on his art, contributing to the development of his unique style and the preservation of his legacy.
6. Did Patricia Garske Still have any direct involvement in Clyfford Still's artistic process?
While there is no evidence of her direct involvement in Clyfford Still's artistic process, her presence and support likely had a positive impact on his creative endeavors.
7. What is Clyfford Still's significance in the world of Abstract Expressionism?
Clyfford Still is recognized as one of the most influential artists in the Abstract Expressionism movement, known for his powerful, large-scale paintings.
8. How long were Patricia Garske Still and Clyfford Still married?
Patricia Garske Still and Clyfford Still were married for a significant portion of their lives, although specific details about the duration of their marriage may vary.
9. Did Patricia Garske Still have any involvement in preserving Clyfford Still's artistic legacy after his passing in 1980?
Yes, after Clyfford Still's death in 1980, Patricia Garske Still played a role in preserving his artistic legacy and ensuring that his works were properly cared for and exhibited.
10. What is Patricia Garske Still's legacy, and how is she remembered today?
Patricia Garske Still is remembered as a devoted wife and supporter of Clyfford Still, contributing to his success as an artist. While her own contributions may not be as widely recognized, her role in his life is acknowledged as integral to his legacy in the world of Abstract Expressionism.
Related Questions
Who Is The Swedish Artist Anders Zorn (1860-1920)?
Anders Zorn, born in Mora, Sweden, is one of Sweden's most celebrated and essential artists. He gained international acclaim and success as a painter, sculptor, and etcher. He is known for his paintings of portraits, including three American Presidents. He was also a celebrated en Plein-air painter who painted many nude full-figured women in outdoor settings.
By clicking here, you can learn more by reading Who Is The Swedish Artist Anders Zorn (1860-1920)?.
Who is the American Artist Jackson Pollock (1912-1956)?
Jackson Pollock is considered by some to be one of the most brilliant American abstract expressionist artists that ever lived. Others consider his work of art as tossing around cans of paint by an artistic madman. One thing for certain is that Jackson Pollock is an important American abstract artist.
You can discover more by reading Who is the American Artist Jackson Pollock (1912-1956)? by clicking here.
Who is the Swedish Artist Hilma af Klint (1862-1944)?
Hilma af Klint was a Swedish woman artist who was painting revolutionary modern artwork for her time. A trailblazing, creative figure who kept her art and paintings secret for many years. Despite her amazing works of art and legacy she left us, it has only been during the last 40 years that she has started to gain international acclaim.
You can find out more by reading our blog Who is the Swedish Artist Hilma af Klint (1862-1944)? by clicking here.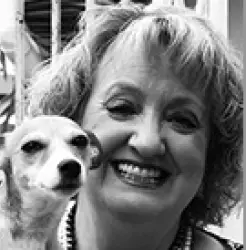 Latest posts by Anita Louise Hummel
(see all)